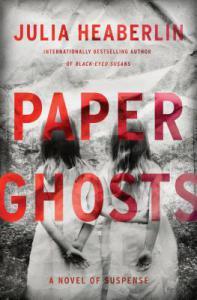 Book Cover Image: Paper Ghosts by Julia Heaberlin

" data-orig-size="263,400" sizes="(max-width: 197px) 100vw, 197px" aperture="aperture" />
BOTTOM LINE: Skip it.
Genre: Suspense; Thriller
Publication Date: 15 May 2018
Source: Publisher via NetGalley
Synopsis from the Publisher:
"An obsessive young woman has been waiting half her life—since she was twelve years old—for this moment. She has planned. Researched. Trained. Imagined every scenario. Now she is almost certain the man who kidnapped and murdered her sister sits in the passenger seat beside her.

Carl Louis Feldman is a documentary photographer who may or may not have dementia—and may or may not be a serial killer. The young woman claims to be his long-lost daughter. He doesn't believe her. He claims no memory of murdering girls across Texas, in a string of places where he shot eerie pictures. She doesn't believe him.

Determined to find the truth, she lures him out of a halfway house and proposes a dangerous idea: a ten-day road trip, just the two of them, to examine cold cases linked to his haunting photographs.

Is he a liar or a broken old man? Is he a pathological con artist? Or is she? In Paper Ghosts, Julia Heaberlin once again swerves the serial killer genre in a new direction. You won't see the final, terrifying twist spinning your way until the very last mile."
My Thoughts: By all accounts, Paper Ghosts should be a good novel. With its cat-and-mouse tale between potential serial killer and potential victim/victim's sister, you would think this would be a novel that gets your heart pounding and your pulse racing. This should be a book you read in one sitting. And yet, it is anything but that.
Instead, it is a novel that is so introspective that it is boring. It is a novel you question why you are reading it because nothing happens for the first half of the book. You spend so much time in the narrator's head, and she spends most of the time rehashing the steps she took to prepare her for this journey, that you wonder whether there is any point to the story. You question where the suspense is and contemplate quitting the story multiple times.
It mildly improves once you reach the halfway point, and if you make it that far you continue only because you want closure. Yet the closure you receive is inadequate, open-ended and leaving room for a potential sequel you have no interest in reading. It leaves you disappointed that there is not more there to capture your interest and to create tension. You regret the decision to keep reading it because the fizzle at the end is not what you hoped would happen.
Having not read Ms. Heaberlin's first novel but having read many a gushing review of it, I had high hopes about Paper Ghosts. Perhaps that is the issue, but I suspect not. The story is not set up to be a psychological thriller given the interplay between the two characters, yet that is exactly what Ms. Heaberlin ended up writing. We are in the narrator's head too much, which cancels out the little action that occurs and creates an unending series of disappointments as the story never takes off the way it should. I do plan to go back and read that first novel of hers one day, if only to compare the two novels. However, Paper Ghosts left such a poor impression that I am unfortunately hesitant to read anything else she might write in the future.












Comments
Related Stories
Two books perfect for today's enhanced social justice
Some rivers are better left alone
Space is terrifying