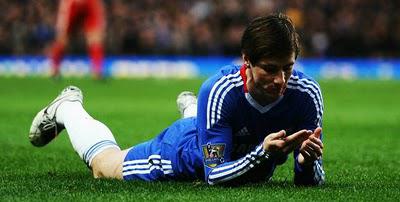 The short answer? Saturday around noon.
Torres has no choice but to get on the board this weekend. Absolutely no choice. The match is at Stamford Bridge. It's against the worst team in the league. It's against a team who has given up 51 goals on the season. It's against a team who has kept only six clean sheets in their 31 games. Its against a team who Torres has already scored against once this season. It's against a team who is averaging less than one (0.94) goal per match (okay, so that doesn't have much to do with Torres' goal scoring chances, but it's an interesting stat nonetheless).
Torres debuted with Chelsea on February 6th (coincidentally against Liverpool) and has yet to score for his new club. The last time Torres made it on the scoresheet in any competition, international duties included, was January 22nd, 2010. That's a drought of two months and seven days.. and counting. There are currently 20 players in the EPL who have scored more goals this term than El Nino.
Perhaps it's the expectations? His 40 million pound transfer fee is the highest domestic transfer fee ever recorded, and the fourth highest in the world behind only Kaka, Zlatan Ibrahimovic, and Cristiano Ronaldo.
Perhaps it's the system? It can be tough to adjust to a new squad. There's new players, new coaches, new surroundings, new tactics.
Perhaps it's the blue kit? Torres has been in red his entire career, from Atletico Madrid to the Spanish National Team to Liverpool.
Torres' lowest goal scoring tally in the EPL came in the 2008/2009 season in which he spent considerable time off the pitch with an injury. He scored 14 that year. That honor is in serious jeopardy as we near the end of the season. Torres still needs five goals to reach that number and only has eight games to get there. It's not an unreasonable feat for a striker as talented as he is, but at his current season rate (approximately 0.3 goals per game), he's on pace to have the worst statistical season of his EPL career.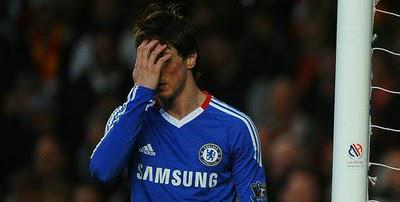 40 million pounds well spent.