It may seem like a small mundane thing when you are getting your house ready to sell or when you are looking to purchase a new home, but organization is key!  Especially when you want people to envision themselves living in the home.  What better way to get organized than tackling one of the major things that's important to buyers: SPACE!  Maximizing the space you have and organizing even the smallest of areas, leaves a lasting impression!   That is why it is really important to take a little time to declutter and update all the closets in your home.  For me, labels and baskets are a quick fix and add a big impact when you are organizing!
Here are a few photos of our linen closet after I cleaned everything out and put back the necessities...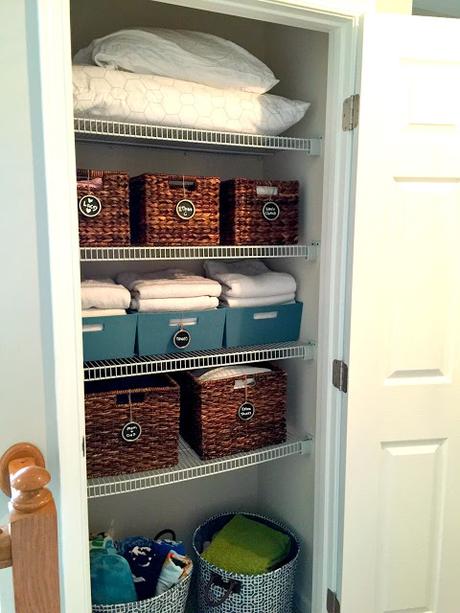 I figured each of us should have a basket for a spare set of sheets.  So out went all the random mismatch ones that didn't make a set.  In the other large basket I added guest room sheets and a few spare pillow cases for the pillows up top.  The middle shelf was for all the towels.  I went with two large linen tubs for the bottom to store all of our beach towels and extra bits.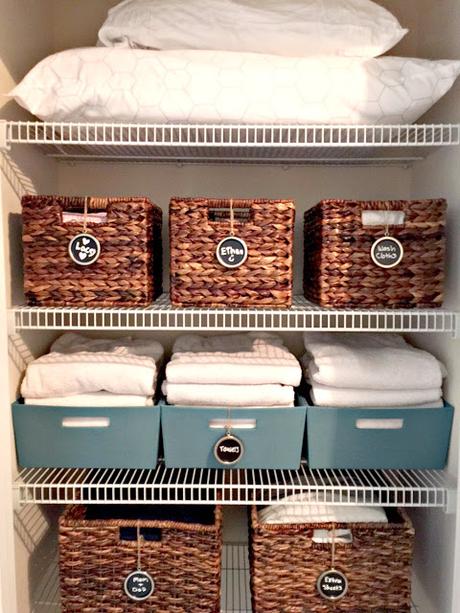 Allowing space between the shelves gives the look of a larger closet and gives the potential buyer the feel that there is room to expand.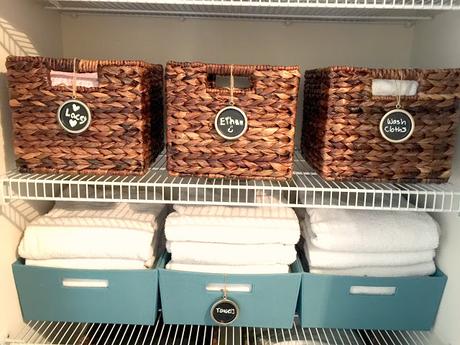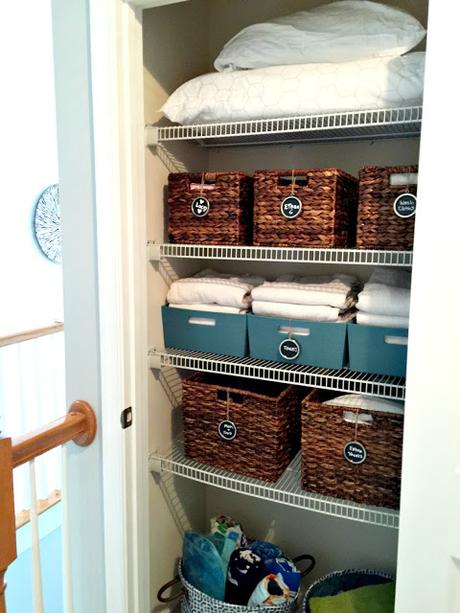 All of the baskets were purchased at Target in the storage section along with the chalk board tags from the office section.  I notice after getting organized how much it brings down my stress level and how things stay organized a lot longer when it is not overcrowded and there is a designated place for your items.  Even the smallest closets can be turned into a pretty space.  For selling a home, this a perfect way to allow your home to leave a lasting impression for potential buyers!  
You can see my Kitchen Pantry Makeover I did a few years ago HERE.
Here are a few links that share helpful tips and talk more about the impact closet organization has on selling and buying a home...
http://www.insidenashvillehomes.com/can-a-closet-really-help-sell-my-home/
http://chicagolandhomestaging.com/home-staging-in-chicago-closet-organization/
http://www.homestagingindianapolis.com/blog/2013/06/15/the-importance-well-organized-closet-when-selling-your-home/
Thanks for stopping by!