Are you willing to accept weight loss directives from your doctor if he or she is overweight or obese?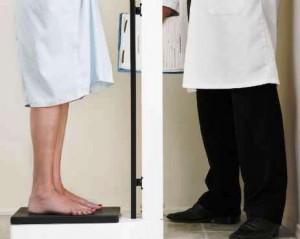 According to a recent study, doctors who are overweight are less likely than other doctors to talk to their seriously overweight patients about weight control.
According to the study author Sara Bleich, an assistant professor of health policy at Johns Hopkins Bloomberg School of Public Health, doctors in general, not just overweight doctors, are not doing a good job about bringing up weight loss with their patients.
Although, researchers did find that doctors of normal weight were more confident than their overweight counterparts in their ability to counsel overweight and obese patients about diet and exercise.
Bleich said she came up with the idea for the study after going to a dentist who had bad teeth. "I thought, 'How are you going to take good care of my teeth if you can't take good care of your own?' "
She decided to see a different dentist and began thinking about overweight doctors and their overweight patients.
Last year, Bleich and her colleagues sent a survey to 500 primary care physicians. Almost two-thirds were male, 70 percent were white and almost three-quarters were at least 40 years old. About half the physicians surveyed were overweight or obese.
Only about one-third of doctors of normal weight said they talked to obese patients about weight loss, compared to 18 percent of those doctors who were overweight.
"For physicians, weight matters when it comes to obesity care," Bleich said.
Bleich said electronic record-keeping may help doctors do a better job of treating overweight patients because the body mass index (BMI) of patients can be automatically calculated.
The BMI is a commonly used measure of whether a person's weight isn't normal for his or her height.
(SOURCES: Sara N. Bleich, Ph.D., assistant professor, health policy, Johns Hopkins Bloomberg School of Public Health, Baltimore; Robert E. Post, M.D., research director, Virtua Family Medicine Residency, Voorhees, N.J.; January 2012, Obesity