Wholesale Halloween Costumes - 


Wholesale Halloween Costumes is the world's newest, and most exciting, costume and accessory etailer. Wholesale Halloween Costumes is your year-round source for infant, children and adult costumes, teen, sexy and couples costumes; even pet and mascot costumes. Wholesale Halloween Costumes also has the largest selection of hats, wigs, masks, accessories and make-up, as well as seasonal holiday decorations and props.

Wholesale Halloween Costumes offers over 4,000 different costumes and accessories in the latest styles and from the hottest licenses including Disney, Marvel, Nickelodeon, Barbie, Star Wars, Superman, Universal, Playboy, and so many others. There is no place better to shop than Wholesale Halloween Costumes for Halloween. Our merchandising group has more experience than any other costume retailer or etailer in the country. At Wholesale Halloween Costumes, costumes are not just about Halloween.We offer fabulous high quality adult costumes, theatrical costumes, costumes for school performances, and mascots for schools and businesses. We also carry a huge selection of costumes for all holidays including Christmas, Valentine's Day, Mardi Gras, Easter, St. Patrick's Day, Purim, President's Day, Luau, 4th of July and Thanksgiving.Wholesale Halloween Costumes is dedicated to making your costume shopping experience an easy, fun, safe and satisfying experience. We hope you enjoy shopping with us. Please contact us with any question or comments. We would love to hear from you.Did you know.. That Halloween is ONLY 76 days away?! .. AHH!! I am a huge Halloween freak! I could go without any holiday besides Halloween. That includes my (Birthday) since I'm getting older they are icky..But that's besides the point right.. As I was saying.. I love Halloween. Halloween flows through my veins. So naturally I have had ALOT of Halloween costumes in my life. Cheap ones, expensive ones, short ones, long ones, pink, brown, probably even green, and orange. (I was a pumpkin when I was 5, my mom still taunts me with the photos) and even a clown and it wasn't even Halloween (long story). So I wouldn't say I was a "Halloween Costume) expert or anything.. But I do know my way around a costume or five.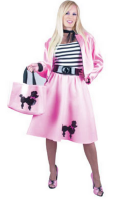 I was extremely excited when I was accepted into the spirit of Halloween with the Social Media Launch I was able to snag me a costume I never had before, The Pink Poodle Dress Adult Plus Costume (

$32.90) Size (XL) Sizes available now is sizes - 1x and 3x

(Shown left) I have wish I could have done this review sooner, but being in the hospital, in and out of Dr's offices, and then the Oklahoma fire was just 8 miles from where I live. It has been very hectic around here! and not over yet. - But onto the review! the XL was a little snug on me and shown areas that I was not pleased with (Muffin Top) but now I have lost 10bls it fits alot  better and isn't AS snug as it was. If you are a 42D cup or (about) it fit me great in the chest area. Cute right! Thank you TCR team! the costume includes •

Includes: Poodle dress, belt and scarf

.

Handbag, jacket, and shoes not included.

 I remember I had a black poodle skirt with a pink dog on it and I thought I was hot-to-trot when I was a kid. I supported that skirt for a whole week. And then I realized how hot it was to wear. Not this Halloween costume tho! this costume is almost light weight, and I didn't sweat one time in it. It was one of the most comfortable costumes I have ever had. My husband loved it, and he is a hard pleaser. He loved the colors, and the the way it curved on my body.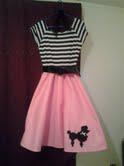 This is the Pink Poodle Dress Adult Plus Costume. The poodle skirt is a little off color compaired to the skirt in the photo off the website. But I still love it! It's more of a creamy bright pink rather then a bubble gum pink. The length of the dress goes to about my knees and I'm 5'5. The dress tag says it's from Charades. The fabric is 100% polyester exclusive of ornamentation. Spot clean. Style #01523. And it's made in the USA (I love that).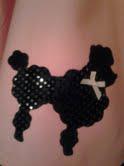 I love the poodle skirt dog.I don't know if you can see it in the picture It's all black but has spots of sequin that sparkles when you walk and swoosh the skirt. the dog itself is a black fabric that almost looks like short dog hair. It's so cute. And below the poodles neck has a cute little pink bow that adds a little bit of color to the dog that makes it so adorable.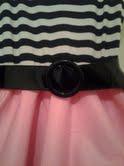 The dresses belt isn't the best made, but it isn't the cheapest made tho. The belt is all black, and the inside is made of some kind of black soft foam, the outside belt is the same fabric but it has a clear coating to make it shimmer and shine. Tho it has no holes or buckle to adjust it (that's my disappointment part) it does adjust by adjusting the belt through plastic buckle and loop it back through the buckle to have a enclosed fit.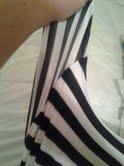 The black and white stripped shirt attached to the poodle skirt is really great. If it gets really hot this Halloween it's really breathable and stretches as shown in the photo. The shirt is almost like a thick nylon so it stretched with my body. Which was great since I have a larger chest I was afraid that the shirt wasn't going to fit my upper body when I pulled my costume out of the package. When I first got the costume the arm holes were a little tight around my arms, but again I have lost weight and They fit a little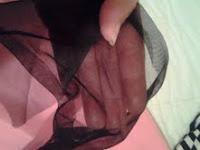 Pink Poodle Dress Adult Plus Costume I was a little concerned about the scarf. I didn't want the scarf to be around my neck all night and making me sweat, and regret wearing it, even tho it's one of the details that make the costume stand out. But to my relief the scarf is light weight and made with a soft almost tight fishnet fabric. (Shown to the left). I love this costume and would recommend it to all my readers, friends and family. Remember you don't have to have a Halloween costume just for Halloween. Costumes make a great addition to Birthday parties.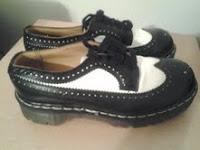 I really love the shoes in the photo with the costume, I mean REALLY love them. But unfortunately they don't come with the costume. But thankfully I have a pair of backup shoes that I got 7+ years ago back when my husband and I just started dating. I found these at a goodwill for $10.00 and they are Dr. Martins can you belive that! They were brand new when I found them. and I know they look HUGE in the photo, but belive me they are not clown size shoes. If you don't have saddle shoes like the ones I have, you could always pull out your favorite black pin up peep toe heels, or even pink heels if you have them. Special Thanks to Costume Reviewers for letting me review this F.A.B costume.♥
♥ You can find Wholesale Halloween Costumes on Facebook - Here.
♥ You can find Wholesale Halloween Costumes on Twitter - Here.
♥ I receive no monetary compensation for this review.  I was provided a Halloween Costume try and give my honest opinion.