:

 The smart, magnetic way to screen your door.


         14 standard sizes and custom screens.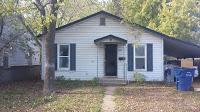 My Fiance' and I moved into an older fixer upper house about 6 months ago, that we're trying to buy. We're talking about built in 1890 old. No central heat/air old! We have 1 window unit in our bedroom, where we spend all 95% of our time when we're together, when we're not at work. We are often finding ourselves opening all the windows and doors to let cool air in, that being said... we have to always combat bugs! Gnats, flies, wasp, everything that flies. I love having a clean home. So having to constantly fight with creepy crawling things isn't on my to do list daily. So when BugOffScreen gave me the okay to review the standard size front door screen ($39.95) to review, I was sooo freaking excited! I checked the porch every day for it to come! To my surprise the shipping it came within a couple of days. (Wow). Not to mention they we're really friendly and easy to do business with. Thanks Brooke!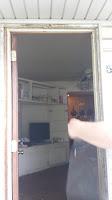 The start of putting up the BugOffScreen! Have I mentioned how cute the name of this company is? Love It!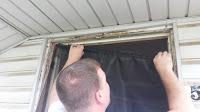 The screen came with an adjustable rod. It fits just below the upper frame of the door. It was really easy to maneuver the rod to the door to adjust it to the right length of the frame.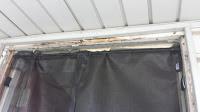 Ignore the ugly door. We're still making improvements to the house. One step at a time.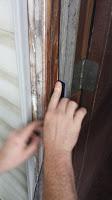 The start of our new BugOffScreen door! I'm so excited! I can't wait for it to be done! He used rubbing alcohol to remove all the dirt, grime, and nasty stuff that would keep the velcro from sticking. The velco sticks from the frame to the screen to secure the screen and protects from creepy crawlers from intruding.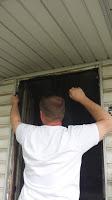 He's making the final adjustments on it. Making sure the screen is even, tight, Bug proof. And the velcro is nice and sturdy so when visitors visit or Pidi (the dog) comes flying in from going in and out, it won't come flying off the door frame. She's put it through some uses since we've had it up and well, it's taken some beatings and she's still standing!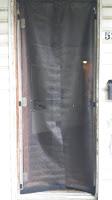 voila! It's done! It took less than 20 minutes. Well, maybe more, I kept getting in his way because I kept taking pictures. Well.. I had too! Sheesh. I love this screen. Love it. I've had several screens like this since they first came out when I was a teenager. They were always cheap made, with crappy material. Not BugOff tho. You get what you pay for! Just by the touch of it you can tell the screen is made from good made screen material. The magnet isn't cheap either! It has strong holding power! It has really done its job of not letting bugs in. I'm able to leave the door wide open and not worry about bugs flying around in my house. Even with all of us constantly running in and out of the house, the screen is super fast at re-fastening itself back quickly. Another plus to the BugOff screen is it's heavy duty mesh screen material is dark and it gives us a lot of privacy from our new nosy neighbors! Thanks for this review, BugOffScreen! 
I received the BugOffScreen to review for free. I was in no way paid for my opinions. All opinions we're of all of my own.