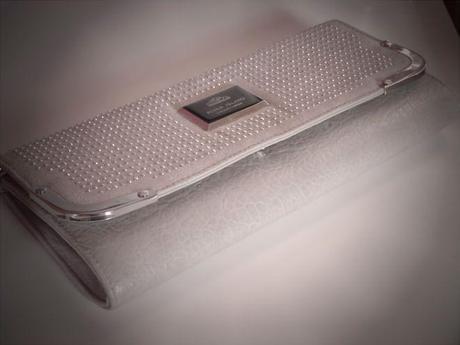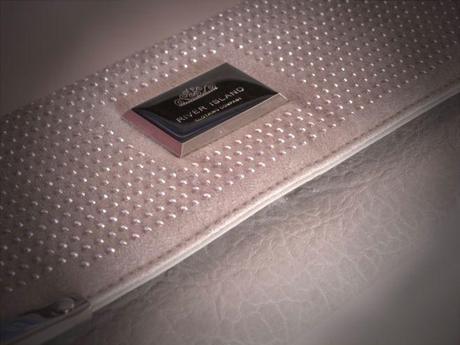 I did a whats in my handbag post some time ago but I thought I add a little spin to it. Going out isn't a weekly occurance like it used to me. And when I do go out I like to keep things as light as possible taking only the essentials to get me through to the wee hours of the morning. OK I lie these days midnight is a late one haha! My clutch is from River Island and was a gift from my best friend Lauren last year. Its a mink color with studded detail, goes with literally everything and is big enough to hold all my odds and sods without feeling too bulky and heavy so a winner all round.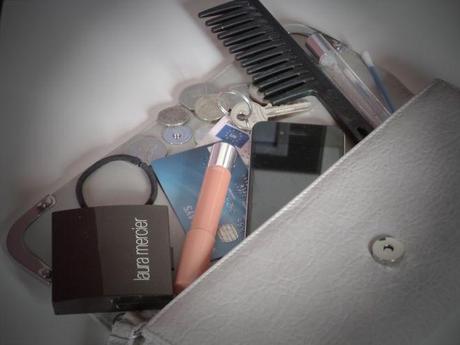 So what do I take?
Laura Mercier Translucent Powder
A powder is a must for me on a night out. A shiny face after getting sweaty on the dance floor isn't a pretty sight, trust me. A quick dusting of this keeps any shine at bay. For day to day I use a large brush with this but thats not convenient to carry around so I tend to use the little sponge applicator that it comes with and then wash it afterwards to get rid of any nastyness! 
Hair band
If like me you have long hair, all that styling and straightening goes out the window by about 11pm and  all I want to do is get that mane off of my neck. 
Lipgloss
At the moment I am loving the Revlon Kissable Balms! I usually throw in whatever lip balm/lipstick I have used to complete my look for touch ups during the night. Luckily with these they require little touch ups as they do literally stain your lips!
Cash card and ID 
I always seem to leave things until the last minute and get cash out when I am in town. I hate not having my card on me. Despite being almost 28 I still get asked for ID so this is a must. Last time I forgot it, cue my dad having to drive into town to drop it off! Oops!
Loose change
I don't actually know why I feel the need to carry loose change, but you never know when you might need it.  Generally to grab some mints from the machine in the loo's! 
Phone
Ah this is a must. I can't even count the times I have lost my friends on a night out and have to call them  endlessly.  I may even be guilty of the odd drunken text/call so its not always a blessing but I do rely on this to take pics of the night and look back on *cringe* the following day!
Door key
I think this is pretty self explanatory!
Comb
I like a brush, end of. But it takes up too much room so a comb is my only option. I hate having knotty hair so you will often find me in the ladies taming my unruly tresses! Hot clubs and bars and my hair does not bode well!
Perfume
I like to freshen up throughout the night so usually if my travel flo isnt to hand I will throw in a sample sized perfume to use on the go. I have just finished the Caudalie one that came with Glossy Box and need to stock up sharpish. 
Cotton Buds
On a night out I like to wear slightly heavier makeup. In hot climates is usual for this to smudge and move around so these are handy for on the go touch ups!
What are your 'musts' for a night on the tiles?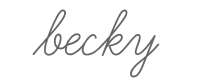 F