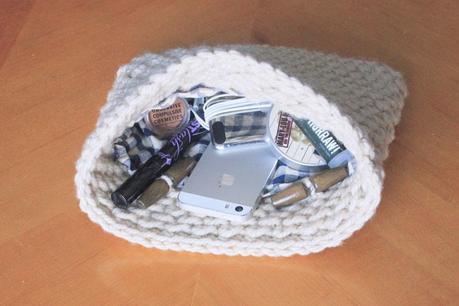 Today I'm sharing with you some of my current favorites and my new makeup pouch.
Essentials Bag 
I handmade my bag and it is now up in my etsy shop! From super soft wool free yarn and this super cute plaid I like to call 'farm house plaid'.
Purchase at etsy.com/shop/Amseleigh

Obsessive Compulsive Cosmetics Conceal
Recently I picked up this concealer from OCC that is 100% vegan and cruelty-free which is awesome. Its been my base for my most recent eye looks. I've also been trialing it out as a foundation. I don't want to get too detailed because I plan on posting a full review on it soon so keep an eye out for that but so far so good.
Purchase at occmakeup.com
Hurraw! Night Treatment Balm 
When I was younger I was obsessed with lip balms even though I always lost them and never saw the day that I could actually finish one to the end but over the past few years I just wasn't very into them and never put one on regularly. I picked up this Hurraw! lip balm on whim in my last iherb.com order and I have absolutely fallen in love.
This balm makes my lips so soft and hydrated, it's packed with moisturizing natural oils like Avocado, Argan, Rosehip Seed and Meadowfoam Seed. It also smells amazing scented with Blue Chamomile and Vanilla. I absolutely love vanilla scents. I try to put this on every night before bed but I also like to put it on after I wash my face to help keep my lips smooth before I put on any makeup.
Purchase at iherb.com 
Jordana Best Lash Extreme
I really didn't think I would be able to find a cruelty-free mascara in the drug store but I was pleasantly surprised to find out that Jordanas best lash fit the bill. I am not someone who is overly picky with mascaras and I don't like spending a fortune on them because I go through them so quickly.
I read and watch mascara reviews all the time and honestly most of the time I just have to roll my eyes I think people expect too much from them. All I ask is that it be super black and doesn't smudge and so far this has been doing me good.
Mary-Lou Manizer
Definitely one of the best powder highlighters I've ever used and it seems to work on pretty much every skin tone. I've recently been dusting it over my skin before I apply my skin base and it's been amazing is giving me gradient skin with out looking overly artificial. Definitely something I suggest you experiment with on yourself.
Music
I thought it might be fun to list some of my current most played song in itunes.
HAIM - Let Me Go
Emeli Sande - My Kind of Love
The Smiths - Asleep
The Black Keys - The Lengths
iPhone
Also been loving the VSCOcam app to edit the photo I post on my Vegan instagram @amseleigh. And Shazam has been great for helping name songs on tv shows. I love Criminal Minds and they always some awesome songs that I've never heard of before.
I hope you enjoyed seeing some of my new favorites, be sure to leave a comment below!