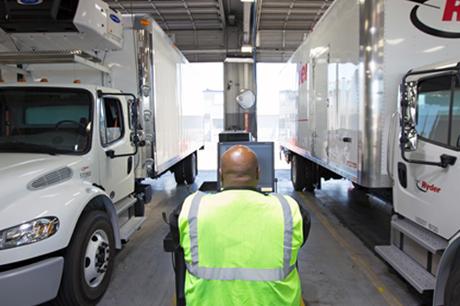 Ever wanted fast, convenient and cost predictive access to a nationwide network of expert technicians to provide maintenance or repair services whenever and wherever your fleet needs it?
Want no more. Ryder's new On-Demand Maintenance service does just that.
It's a new, contractual service that provides flexible maintenance solutions for large fleets on an as-needed basis.
Customers who sign up gain access to Ryder's team of more than 5,000 expert technicians in 450+ service locations across the U.S. and Canada. With On-Demand Maintenance, for-hire carriers with fleets of 500 or more trucks can tap into our network and expertise by contracting and paying for maintenance services they need and use.
After a two-year pilot program, the launch represents the first time a Fortune 500 transportation provider has made its maintenance network available to large for-hire fleets that want service on a flexible basis.
How does it work?
A customer schedules preventive maintenance and repair work whenever and wherever it's needed. All it takes is a call to Ryder's Managed Maintenance Center and a representative will discuss the scope of the job, obtain any necessary authorizations, and immediately schedule the work. Charges for the work are billed at pre-negotiated contracted rates and invoices (using VMRS and SRT coding) are sent weekly or monthly.
See what Saia LTL Freight has to say about it
Transportation giant Saia LTL Freight (Saia) makes more than 26,000 freights deliveries a day throughout the U.S., Canada, Mexico and Puerto Rico, and needed consistent, reliable, quality maintenance services wherever and whenever required.
Future productivity and profitability necessitated a national vendor to maintain its fleet of 16,000 vehicles in the most efficient way possible, wherever the vehicles were operating. Instead of working with hundreds of small, local, independent vendors – all with different billing systems and varying quality controls – Saia wanted just one.
Watch the video below and learn how Saia has benefited from On-Demand Maintenance.