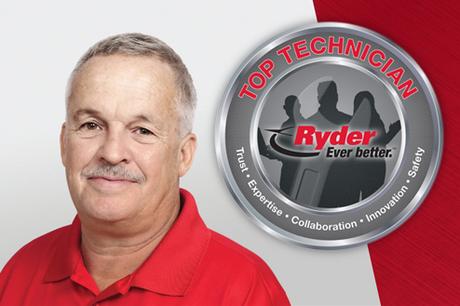 Ryder is proud to announce that the 2017 Top Technician (Top Tech) title and $50,000 cash prize have been awarded to Robert Gonzalez. The Ryder Top Tech Recognition Program for North America, designed to identify, recognize, and reward Ryder's top performing truck maintenance technicians, hosted its competition final last month at the Omni Nashville Hotel and the Music City Center in Nashville, Tenn.
"This year, more than 1,800 of Ryder's 5,900 maintenance technicians from throughout North America and the United Kingdom competed regionally to make it to the finals of our Top Tech competition," said Robert Sanchez, Ryder Chairman and CEO. "Congratulations to Robert Gonzalez for earning this year's Top Tech honor. The dedication Robert has shown to his craft is inspiring, and it demonstrates why our customers trust Ryder to provide unparalleled customer service and vehicle uptime they can rely on. Our technicians' hunger to keep learning, coupled with their willingness to help others, is truly impressive and to be admired."
After advancing through three increasingly demanding rounds of challenging written and hands-on tests, six finalists, including Mr. Gonzalez, competed for the top honors in the final competition:
Christopher Barnett of Kentucky
Ken Bilyea of Canada
Rick Grivel of Arizona
Rick Morra of California
Wyatt Stafford of Maine
In addition to a $10,000 cash prize, each finalist, along with their guests, was treated to a week's worth of fun, entertainment, and dining in the heart of Music City. They embarked on tours of the city and visited numerous notable locations, including the Jack Daniels Distillery and Bluebird Café. "Top Tech continues to serve as a valuable tool in developing the best technicians in the industry," said Dennis Cooke, President of Global Fleet Management Solutions, Ryder. "We are extremely proud of the program and all that it has accomplished over the years."
Ryder's annual Top Technician Recognition Program highlights the value Ryder places on its technicians, the importance of technical training for ensuring the quality maintenance of over 230,000 total vehicles, and a commitment to quality customer service for Ryder's lease and maintenance customers. Eligible participants for the award were selected from Ryder's team of 5,900 U.S. and Canadian-based technicians and were measured on technical training qualifications, outstanding customer service performance, and quality workmanship.
This was the first year that Ryder U.K. held a Top Tech Competition of its own, so the 2017 Ryder U.K. winner Shaun Dixon was also invited to attend this year's North America event, along with Ryder U.K.'s "Best in Class" apprentice Byron Hammond. Byron recently completed the Company's U.K. apprenticeship program, in which diesel technicians in training shadow a seasoned Ryder technician at various Ryder shop locations in the U.K. while attending college over a three-year period.
The Top Tech finalists went head to head in a series of 10 rigorous hands-on skill tests, including vehicle electronics, preventive maintenance, and air conditioning. Each station test and the overall week-long event were made possible with the sponsor support of numerous suppliers. Ryder's techs are trained to perform maintenance and repairs on a variety of vehicle brands and configurations, which enables the company to provide the greatest level of flexibility and uptime in the industry.