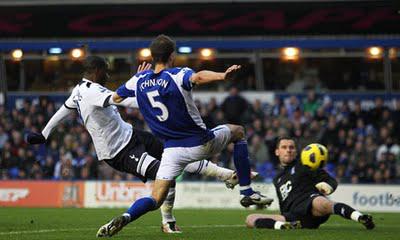 Bust out the computer this weekend, folks.  The Soccer Gods have collaborated and come up with a fantastic going away present for their loyal EPL viewers: every single match on Sunday will be available to view either on TV or online.
There's still the pesky little problem of every match having the same start time (11:00AM Eastern), but to help you decide what to focus on I'll list each match in order of importance (based primarily on relegation possibilities and potential finishing table position).
1. Spurs v. Birmingham (FSC)
- This is one of the rare matches this weekend where both teams have something to play for.  Spurs is still battling for the Europa League spot, as their one point lead over Liverpool is by no means safe.  Birmingham, of course, are fighting for their Premier League lives, which is always fun to watch.  There are two remaining relegation spots, and, excluding West Ham, Birmingham are tied with Wigan and Blackpool for the fewest amount of points at 39.  If Birmingham were to lose this fixture, they would need both Wigan AND Blackpool to lose in order to stay up.
2. Wolves v. Blackburn (FS+)
- This is the other match in which both squads have something to play for.  Both Wolves and Blackburn have earned 40 points this season, and only a win for either team would guarantee their respective safety.  Expect both teams to have an eye on what's happening below them.  If Wigan, Blackpool, and Birmingham jump out to early leads, this Wolves/Blackburn fixture will turn into the match of the week.
3. Wigan v. Stoke (on delay at 1:00pm, FS+)
- Good news!  As long as you try
really
hard (see: realistically impossible) to avoid hearing the score of this match during your morning viewing, you'll be able to flip over to FS+ at 1:00pm to see whether Wigan can stave off relegation.  The good news for Wigan is Stoke has absolutely nothing to play for, so the motivation levels are sure to be in their favor.  They absolutely have to win in order to have a chance at survival.
4. Manchester United v. Blackpool (ESPN2)
- Blackpool are fortunate that United clinched the title last week and are sure to trot out a relatively weak squad -
relatively
being the key word here.  It will still be a tough match for Blackpool to win as the talent levels, despite the likely United B squad, will still favor United.  The Tangerines, like Wigan and Birmingham, need a victory in order to have any hopes at staying up.  
5. Aston Villa v. Liverpool (ESPN3.com)
- As I mentioned above, Liverpool sit one point behind Spurs for the Europa League spot.  Liverpool will need to take care of business against Villa, as a slip up by Tottenham could see Liverpool squeak into the second-tier European competition.
6. Fulham v. Arsenal (ESPN3.com)
- If Arsenal win and Manchester City lose or draw, Arsenal would move into the third position on the table and thus avoid a few extra competitions in next year's Champion's League.
7. Bolton v. Manchester City (ESPN3.com)
- Manchester City are looking to wrap up the third spot on the table.  A win would keep Arsenal in fourth and force the Gunners into a slightly more difficult path in the Champion's League.
8. West Ham v. Sunderland (ESPN3.com)
- Technically speaking, this match means nothing.  I'm rating it top of the unimportant matches for sentimental reasons.  West Ham supporters, soak it up.  Hopefully we'll see you back in 2012/13.
9. Everton v. Chelsea (ESPN3.com)*
10. Newcastle v. West Brom (ESPN3.com)*
*Neither of these matches matter at all, but if you're looking to bore yourself back to sleep be sure to tune in to either.  
Which match are you most looking forward to?