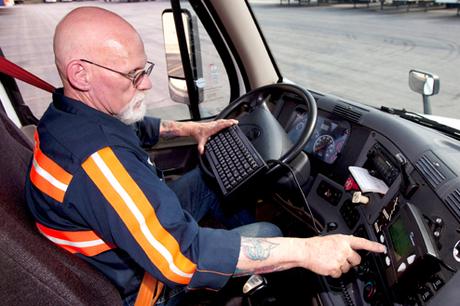 When the Federal Motor Carrier Safety Administration (FMCSA) issued its final rule in December, 2015 requiring the use of electronic logging devices (ELDs) to record hours of service (HOS) for commercial drivers, the agency did more than just demand an equipment change. The new Federal Motor Carrier Safety Regulations came with a long list of requirements necessary for carriers and drivers to meet in order to be compliant.
The regulations mandate minimum performance and design standards for HOS ELDs, and also have:
Requirements for the mandatory use of devices by drivers currently required to prepare HOS records of duty status (RODS)
New requirements concerning HOS supporting documents
Measures to address concerns about harassment resulting from the mandatory use of ELDs
The goal of the regulation is to improve compliance with HOS rules using ELDs. To be complaint, all motor carriers and drivers subject to the ELD rule must use either an ELD or an automatic onboard recording device (AOBRD) by December, 2017. By December, 2019 all carriers and drivers subject to the rule must use only ELDs.
The ELD rule:
Requires ELD use by commercial drivers - including buses - who are required to prepare HOS RODS.
Sets ELD performance and design standards, and requires ELDs to be certified and registered with FMCSA.
Establishes what supporting documents drivers and carriers are required to keep.
Prohibits harassment of drivers based on ELD data or connected technology (such as fleet management system). The rule also provides recourse for drivers who believe they have been harassed.
Exempt from the rule are:
Drivers who use the timecard exception, and don't keep paper RODs, will not be required to use ELDs.
The following drivers may keep paper RODS:
Drivers who keep RODS no more than 8 days during any 30-day period.
Driveaway-towaway drivers (transporting a vehicle for sale, lease, or repair), provided the vehicle driven is part of the shipment.
Drivers of vehicles manufactured before model year 2000.
*NOTE: Canada- and Mexico-domiciled drivers are required to use ELDs when they are operating in the U.S., unless they qualify for one of the exceptions to the ELD rule. A driver who operates in more than one country can note information in the ELD for periods of operation outside the U.S.
Supporting Documents
Motor carriers must keep the first and last documents for each day, plus six others. If a driver submits fewer than eight documents, the carrier must keep them all. Drivers must submit their RODS and supporting documents to motor carriers no later than 13 days after receiving them.
There are five categories of documents:
Bills of lading, itineraries, schedules, or equivalent documents that show the starting and ending location for each trip;
Dispatch records, trip records, or equivalent documents;
Expense receipts (meals, lodging, fuel, etc.);
Fleet management system communication records;
Payroll records, settlement sheets, or equivalent documents showing payment to a driver.
Drivers using paper RODS must also keep toll receipts - which don't count toward the eight-document cap.
Each supporting document must contain:
Driver name (or a carrier-assigned identification number) on the document or on another document that allows the carrier to link the first document to the driver. The vehicle unit number can be used, if that number can be linked to the driver.
Date
Location (including the name of the nearest city, town, or village)
Time
If a driver has fewer than eight documents with all four information elements, a document that does not include time can also serve as a supporting document.
There's a lot that we don't know yet about how the FMCSA plans to implement the new regulations. With this in mind, we educate our customers to:
Understand the deadline date, but be patient. There still may be changes.
Start your ELD research, but wait to obtain a system until the FMCSA posts the certified manufacturers list on its web-based registry.
Though it's a good idea to understand the technology involved in an ELD, the real importance lies with fully understanding how to operate the ELD to ensure compliance.
There's much more to the new regulations than we can cover here: Issues regarding data transport for law enforcement; penalties for non-compliance; location monitoring; and privacy concerns. To know more about these issues and all that the new FMCSA regulations for ELDs covers, you are invited to attend a free webinar we are hosting on May 17 and 18 on the subject. Click here to register.
BOX: What is an ELD?
An ELD is technology that automatically records a driver's driving time and other aspects of HOS records. It monitors a vehicle's engine to capture data on whether the engine is running, whether the vehicle is moving, miles driven, and duration of engine operation. ELD manufacturers must certify that ELDs meet technical standards in the ELD rule.
BOX: Benefits of ELDs
ELDs make tracking HOS easier and more accurate. This helps prevent deliberate and unintentional HOS violations and helps drivers avoid fines due to mistakes in paper logs. Improved compliance with HOS rules helps ensure drivers have time for adequate rest and to operate commercial vehicles safely. More accurate and consistent HOS records also facilitate enforcement and support carrier business operations, such as effective dispatching.
Improved documentation and record-keeping functions that come with the use of ELDs also helps protect companies from liability over the road in that they allow carriers to identify and eliminate driver behavior that could lead to significant lawsuits.
Authored by Andrew E. Leavitt
Andrew E. Leavitt is Senior Manager of Safety and Loss Prevention for Ryder in the Northeast region.