Can you picture this scene?
The
God Of The Universe
is in a baby crib, crying and dependent on others.  The one who was appointed to judge and guide ALL humankind in the afterlife is a helpless infant in a desolate place.  The savior of the ENTIRE human race is unable to even walk or talk on his own.
Personally the author finds this a fascinating characteristic of God in the Bible.  That characteristic is God as a human baby, with all of the weaknesses we all had (and have). Moreover, he is 100 percent God and 100 percent human.
The Son Of God could have chosen to stay and heaven and enjoy bliss forever.  In the same circumstance we might have even done that instead of coming to earth at all.  Yet he CHOSE to come to earth and go firsthand through the daily struggles of being a human being.
If you really think about how much he must love humankind it is
astronomical.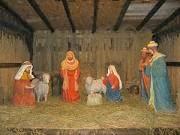 Image from stockxchng
Most people would likely picture the Son Of God in a state of all-knowing in a heavenly realm. Some could ask, "Who played the role of God when Jesus was on earth?"  Indeed the concept of the Trinity is beyond human understanding, no matter how hard humans try to comprehend it.
However, in this scene Jesus is a human like any of us, with things like physical and emotional challenges.  Being a human on earth involves learning and growing.
As a side note it is important to realize that just because a human can not answer a question doesnot there is not an answer.
What This Means To Me
The thought of Judgment day is scary.  It is just you and God and you have to account for everything you have done in your life.  You could probably think of things you have done you were not proud of, especially at a younger age.
You would want someone judging you that is not harsh and rigid.  Your eternity depends on it.
What Jesus as an evolving human means to me is that he has some understanding of just how difficult being a human really is, even underneath what others see n a daily basis.
On Judgment Day Jesus is the very person you would want judging you.  Why?  He is not harsh and rigid, based on what the Bible tells humans.
For example who, more than Jesus, knows what it is really like to be misunderstood in this world?  Who knows any more about the pain humans feel in their lives, whether it is physical or emotional?  The God of All is not oblivious to the intricacies and sufferings of being human. He went though it firsthand.
Christians generally believe that Jesus has been through everything you have as a human, even if it is in different ways or degrees.
On top of all of this the doctrine of Christianity believes he is
interceding
for you on a daily basis to the heavenly Father.  Can you picture the one who bore your agony asking the God of All for leniency?  This is  leniency we don't really deserve.
No wonder there are so many
Christmas
hymns we hear over and over this time of the year.
What will he think of YOU when it is all said and done?
Happy Holiday Season To Everyone!

From graphicstock.com
If you enjoyed reading this please subscribe to my blog near the upper right of the page. That way you won't miss other ways to try to demystify the significance of your daily life.
OR - please simply provide your comments and suggestions. 
You might also be interested in:
Why Did Jesus Die?
Why An Infant?
Seven Reasons Why Jesus Was Born
Author:  Albert Wagner