Avrie and I decided to link up with
Dawn
on her Wednesday feature of What We Made Wednesday.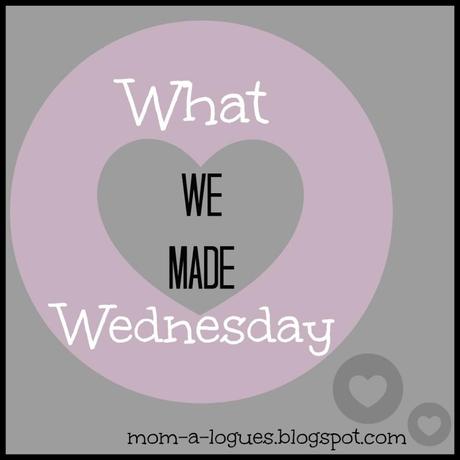 To keep things REALLY simple we went with a dump and bake cookie mix. The winter months are SO bad for me and my eating. When we are holed up for an entire day at home due to snow, all I want to do is eat and snack AND it must be sweets! So... after dinner tonight I decided to make a quick batch of cookies.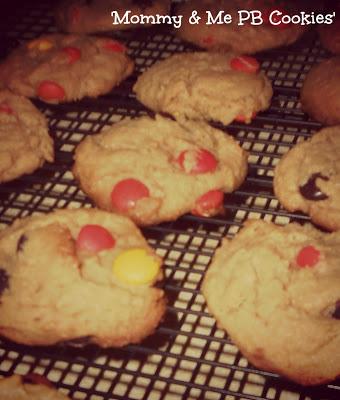 Since Avrie is all about helping mommy, I decided that she would be the prefect little helper. With this simple and quick cookie mix all we needed was a bag of Peanut Butter Cookie Mix, 3 Tbsps of Grapeseed Oil, 1 egg, 1 Tbsp of cold water & a box of Reese Pieces candy.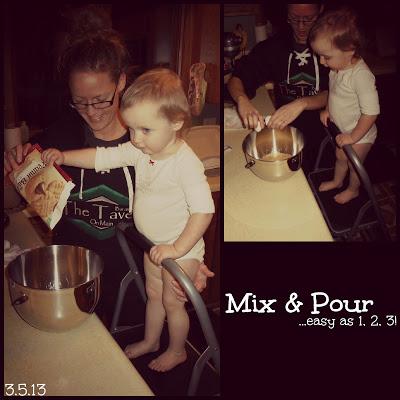 I set up a step stool for Avrie to be at counter height. She helped pour each ingredient into the bowl; water, oil & cookie mix. She helped count to three (which meant just saying the number three) and we turned on the mixer- she was thrilled!
"OOohhh cookies!!!"
After everything was mixed it was time to add the candies! Avrie thought it was REALLY cool that she knew the colors. As she put one Reeses at a time into the bowl she would name the color. We just recently learned the color brown- so that was fun to see her remember the color and say the name. I let her add about 5 before I said
"Ok, time to dump them all in..."
otherwise we would still be in the kitchen baking. We mixed some more and she continued to be thrilled by the mixing of the
"Coooookiesss!"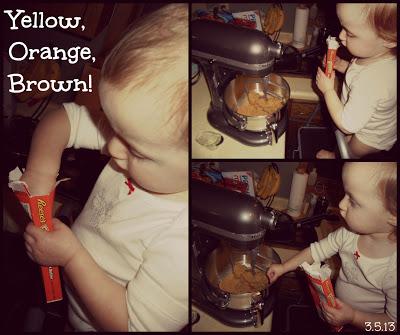 Next it was time to get them on to the baking pan. I took over this task, although- she did try to scrape the bowl and said
"i help you"
and this was followed by a tiny bite of cookie dough- what can I say, she's my kid!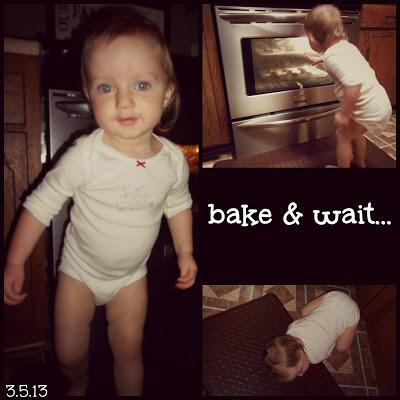 The cookies then made their way into the 375 degree oven to bake for 10 minutes. I kept the oven light on so that Avrie could see the cookies while they baked. She kept running back and forth from the kitchen to the living room while they baked. She did a little dance in front of the oven and then got sick of waiting and decided to a
"sleepy nap"
on the floor in the kitchen- with fake snoring and all! haha... she cracks me up!
Once the cookies were all done it was time for the best part! FRESH COOKIES and COLD MILK! Since it was nearing bedtime we only had a half a cookie and daddy ate the other half. That was his reward for taking a few of the photos while Avrie helped Mommy.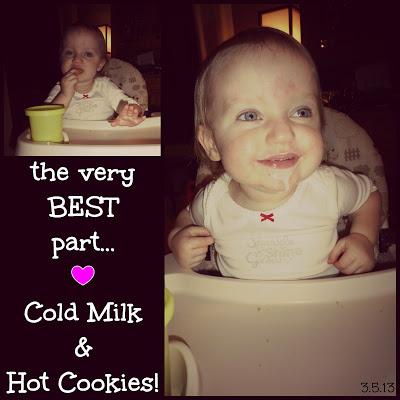 It was a fun task and I look forward to more projects with little Miss Avrie. She is a great little assistant and I see many kitchen cooking/baking dates in our future.
What have you made lately!?
Thanks for the link up Dawn!