I am in no way getting anything from this post, but wanted to share my project.
Each year I print off Avrie's Birthday events in an 8x8 hardcover shutterfly book- only catch is that I wait until they are free!
I made Avrie's 1st Birthday book and LOVED how it turned out and LOVE looking back on it, especially this time of year 'birthday week' ( and, i suppose, the week to follow ;) as well).
Last week I FINALLY got around to making her 2nd Birthday book- should show up sometime next week. and now tonight, I am making her 3rd Birthday book. Now... we didn't have a big ol' to-do last year, simply because we had a family wedding on Avrie's actually birth date- so we kept it simply as celebrating the morning of her birthday with the traditional bday pancakes, gifts from mom & dad then a day at the park & picking strawberries (see full post here)
Since I don't have much about her birthday for a 20 page book for year three, I thought it would be fun to no only include her birthday day in book 3 but also some other BIG event that occurred in year three for Avrie Jo! These events include Preschool (1st & last day), her 1st year of dance & our BIG move!
Seeing that I never did post about her last day of school and her preschool program, I will share that now- it was pretty fun & cute looking back at photos from that day.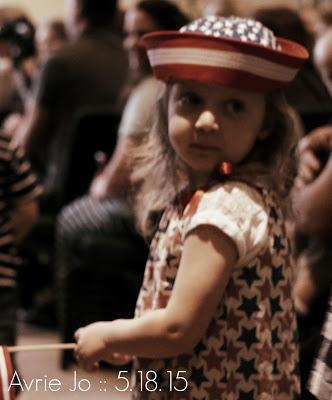 It was a Tuesday, May 18th- it was COLD, WINDY & RAINY!! I remember clearly because... it was ALSO my birthday that day. It may not have been the best weather but it was the best day spent as a family- we had Avrie's school program a pot luck to follow and then our 20 week ultrasound to follow. It was a pretty darn good 33rd birthday- full of joy!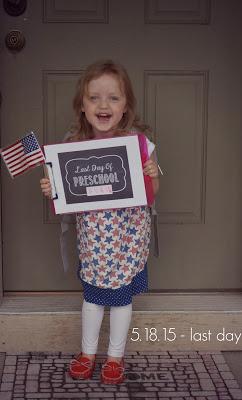 The program started at 10am- grandma Kay & Grandpa Sonnek drove up for the occasion, it was nice having them there and a fun surprise for Avrie. The kids were asked to wear red, white and blue- we have NO problems coming up with that! They sang patriotic songs with props- Avrie's performance facial expressions were nothing short of entertaining.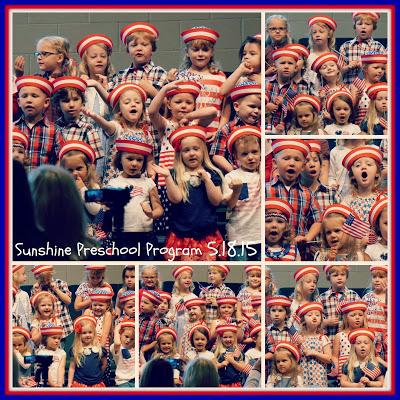 She sang & stood next to her classroom BFF, Whitney and at one point they were up there tickling one another- but remained on their best behavior for the entire show.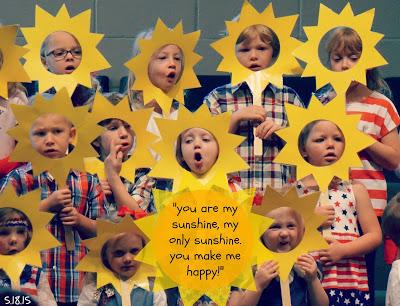 There was a year end slide show- to which I teared up, duh! SO cute! We were able to purchase the disk with a $5 church donation, such a fun & cute keepsake (among MANY) that the teachers spent time putting together.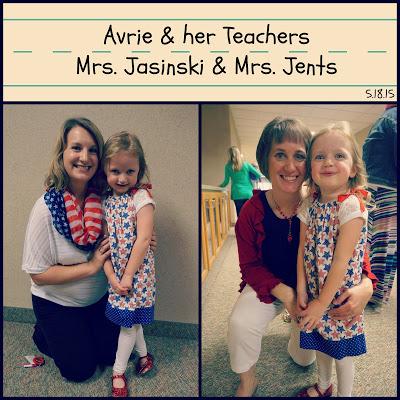 After the program there was a potluck where there was time to chat with the parents and the kids to run around. We were able to say our final goodbyes to both teachers as we won't be back next year with our move. It was a great send off, an adorable celebration and I am sure that the memories & experiences of Sunshine Preschool will be something that will remain with Avrie for a long long time. They will also be something that I will treasure forever.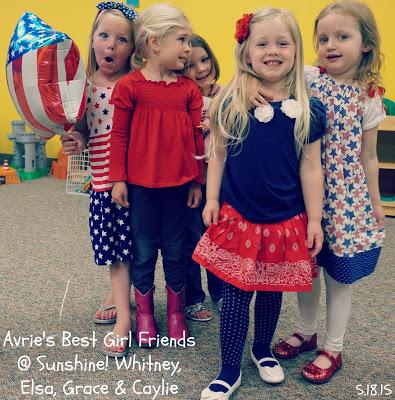 Shutterfly FREE code good thru 7/1/15 is SUNNYBOOK