Earlier this month we were treated to a 3 day long weekend. A long weekend is always nice but the timing couldn't be better. A long weekend in early June means you are not suffering in the heat and humidity that plagues Seoul later in the summer or in the constant rain that we are now experiencing.
It was the perfect weather to enjoy a sunset cruise along the Han River. If you are unfamiliar with Seoul, the Han River is a large river that pretty much cuts the city in half. We made our way to the river after we had filled up on a delicious meal at Tony Roma's. Once we got to the ticket booth our dream of enjoying a peaceful river boat ride were almost dashed because of the massive line up. Nonetheless we managed to get tickets (15, 000 WON each) and get a great place on the back deck.We sat down just in time to watch the sun hide itself on the horizon. We also sat down just in time to watch a Sea-doo mishap which sent three people into the chilly river. I think it was funnier for us than for them. Especially since they paid for the ride and were wearing the clothes they now needed to get home in.
Some of the more beautiful sights along the cruise were the 63 Building (one of the tallest buildings in Seoul) and the water and light show on one of the many bridges that cross the river. Make sure you check out the pics to see these sights and more.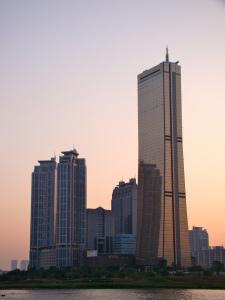 63 Building
It was also perfect weather to take in an outdoor concert, which we did on the Monday holiday. It was a worship concert with Hillsong United. It was a great time to hear a good worship band and to worship God.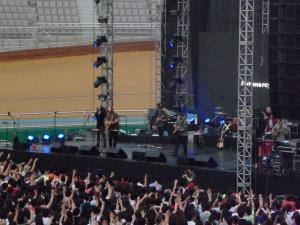 Hillsong United
I love long weekends with perfect weather!
Check it out! The pics that is….Here