Five years ago (seriously can't believe it's been five years), I wrote about using the Weird Series by Erin Frankel. It's one of my favorite units to do with students to teach about bullying, kindness, perspectives, problem-solving, self-esteem, self-care, etc.
This year, while reading the 3-part series, one of my second graders had a major breakthrough, and it seriously blew me away. While reading the last book from the character Sam's perspective, one second grade boy raised his hand and said, "It's like Sam is sad on the inside, but acting mad on the outside."
Boom. Mind = blown. This, my friends, is why I absolutely love these books. Not only do students love them and become so engaged, the books help them understand pretty deep concepts in a kid-friendly way.
After hearing this second grader's take on Sam's feelings and behaviors, we discussed a little bit during that class. But I took his words with me and decided there was so much more we could do with this idea.
Enter my new wrap-up activity for the Weird Series! I sketched and colored a life-size Sam on paper and brought her with me to each second grade classroom, along with two separate colored post-its and markers.
I posed a couple of questions to each class. My first question was how Sam was acting on the outside, and I recorded several answers on the yellow post-its, and students got to stick the post-it somewhere on the outside of Sam's body. My second question was how Sam was feeling on the inside. Again, I recorded their answers on pink post-its, and students got to stick the post-its on the inside of Sam's body.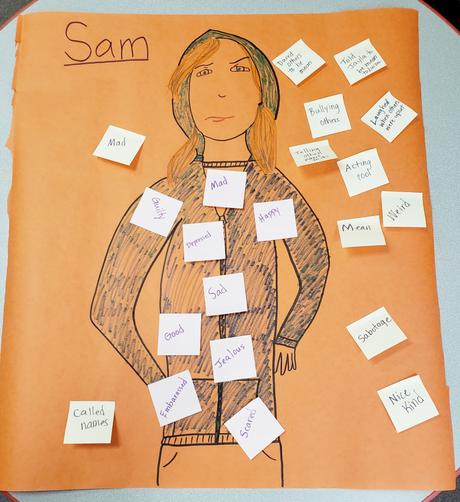 The yellow post-its around the outside of Sam say: dared others to be mean, told Jayla to be mean to Luisa, laughed when others were upset, bullying others, telling others what to do, acting cool, weird, mean, sabotage, mad, called names, and then nice/kind (after making some changes). The pink post-its inside Sam say: mad, guilty, happy, depressed, sad, good, jealous, embarrassed, and scared.
I was impressed with my second graders ability to dissect Sam's character a little bit and talk about how she was feeling on the inside affected her actions on the outside. When we discussed why Sam may have been acting mean and why this may have felt safer than sharing her yucky feelings, I heard many students say that Sam might have been worried that others wouldn't listen, or would make fun of her.
After this activity and discussion, students completed a worksheet all about self-care. They were able to circle activities or write in their own that would help them feel good if they ever felt how Sam did. Some activities on the worksheet included: reading a book, playing a game, spending time alone, talking to someone you trust, asking for a hug, going for a walk, and more.
What I've enjoyed most about doing this follow-up activity has been the long-lasting impact for my second graders. Later in the school year, we've used Sam's character when trying to problem-solve peer conflict. When trying to understand why someone is doing what they're doing, students have been able to exercise their empathy muscle and know that someone else's behavior isn't really about them; it's about that person's own feelings.
Instead of students immediately jumping to anger and retaliation when a peer does something mean, I see more students taking pause to ask themselves, "Why are they doing this? What's going on for them?"
Isn't that amazing? This is the kind of perspective and empathy that serves everyone! I'll take it. 🙂
What kind of follow-up activities have you done with the Weird Series? Let me know in the comments!
Advertisements