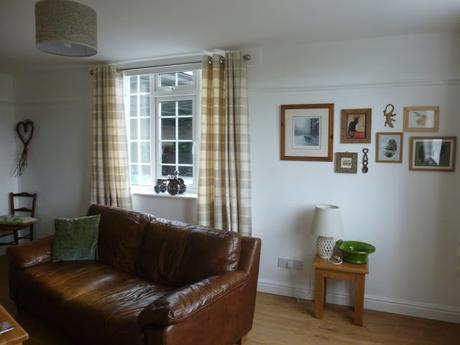 At first we couldn't make up our minds what to do with our earnings from this years car boot sales,  what to do with over £700 requires careful consideration, then over a coffee and a slice of cake we hit on the perfect thing.  Two Winters ago we had a lot of water ingress into the house, last year it was sorted out and the exterior painted and we've been waiting ever since for things to dry out so we could sort out the internal damage
All above this window was originally a sodden mess, now at last it is dry, so Alan's first job was to patch things up, then we carried on and redecorated the whole room, which is pretty easy to do when your color scheme is white ceilings, white walls and white woodwork.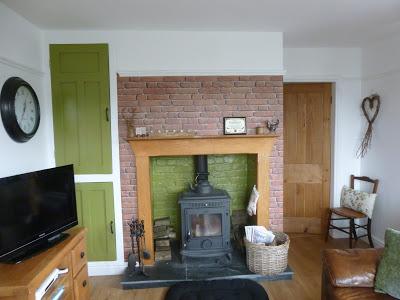 Of course we needed a flash of color on the chimney breast to keep things cheerful and that's where our two rolls of bargain wallpaper came in.  We thought a brick effect would look good and as we are going for a slightly 'older' look for the room it fitted in nicely.
Tomorrow a carpet will be fitted, we have had enough of the laminate flooring that was here when we bought the house.  The dogs are skidding round the living room for the last time today and hopefully by tomorrow we will have a cosy warm carpeted floor with no need for rugs that slide around to try and keep things warm underfoot.
And then next week the final piece of our living room makeover will be delivered, a brand new sofa and chair to add a real flash of color to the room ..... and no it's NOT green  ;-)
The good thing is we have lots of the paint left over to redecorate our bedroom which is directly above the living room and suffered even worse damage above the window.  But that can wait a little while.
Our car boot sale money has done us very well ... paints, wallpaper, curtains, a new lightshade and almost all the cost of the carpet, the sofa is our Christmas present to each other.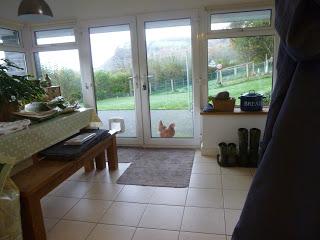 While I was busy cleaning the floor ready for the carpet fitting, I spied our regular little peeping chicken at the door ....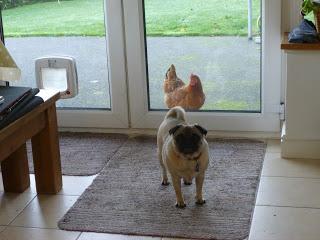 ... Suky spotted her too and went over for a closer look  :-)
Sue xx