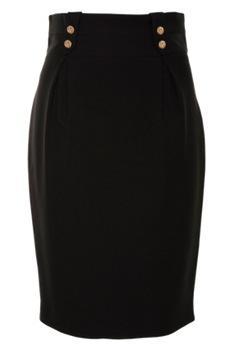 Yesterday, I got a question on Twitter from someone asking what to wear with a high-waisted pencil skirt.  I figured, instead of answering her directly, I'd write a blog about it.  After all, it's been a while since we've seen a high-waisted anything in fashion.
If you're my age or older, you probably remember the high-waisted fashion of the nineties.  Yes, bottoms were high-waisted, tops were cropped and if they weren't you had to tuck them in to your pants or skirt.  However, it's been a while since anyone has tucked a top into a bottom.  In fact, there is probably an entire generation of girls out there who have never tucked a shirt in their lives because pants and skirts have been low-slung for so long.  Additionally, women of a certain age tend to hate tucking.  Keeping a shirt untucked is like a little defense system against a belly.   Untucking a top can hide a multitude of sins.
Anyway, back to this question I received.  What does one wear with a high-waisted pencil skirt?
#1- Well first, get ready to tuck again.  Yes, a high-waisted pencil skirt, especially one that has a lot of details around the waistband, look best when a top is tucked into the skirt.  If tucking makes you uncomfortable, choose high-waisted pencil skirt without a lot of activity around the waistband.  Then choose a top that has shape.
#2- Shape is important when choosing a top to wear with a high-waisted pencil skirt.  Avoid anything too big and baggy or that has no waist definition.
#3- If you have a large chest, avoid high-waisted pencil skirts that sit too high on the waist.  The reason is because the more you shorten your torso with something too high-waisted, the larger your bust will appear.  To avoid looking like someone with just boobs and a waist without a mid-section, either choose high-waisted pencil skirts that sit lower, or shaped tops that you don't tuck and can be worn without having to be tucked in.
Okay, let's take a look at some outfits I put together using high-waisted pencil skirts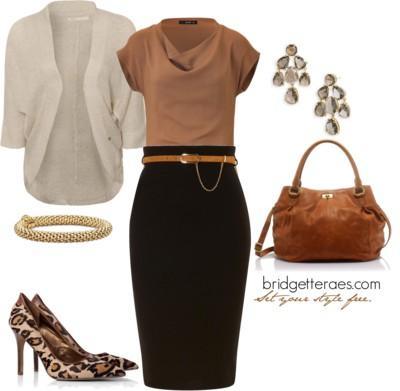 Animal Pencil by
bridgetteraes
featuring leopard print pumps
This first look has been created with a high-waisted pencil skirt that has a contrast belt.  What I want to point out in this outfit is that you can wear more relaxed cardigans over a high-waisted pencil skirt.  Not everything has to be so 'vavavavoom' shaped.  However, if you're putting something relaxed and a little less shaped over a shapely pencil skirt, make sure that you wear a slimmer top underneath and that your waistline is visible underneath the cardigan.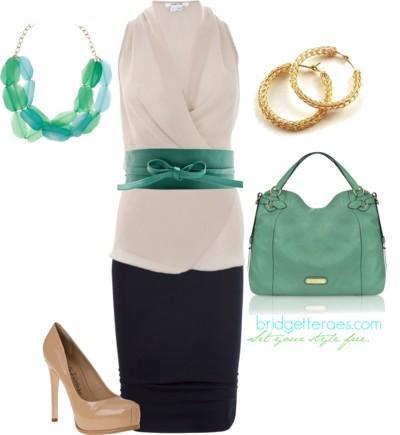 Pencil Skirt Styling by
bridgetteraes
featuring sleeveless tops
As I mentioned earlier, you don't have to always tuck a top into a high-waisted pencil skirt.  Just make sure that the skirt doesn't have a lot of embellishment along the waist and that you choose a top that has some shape.  Belting a top is a great idea as well, but be careful if you have a larger chest, a slimmer belt will probably be the better way to go in order to not look overly busty…well, unless you want to over course.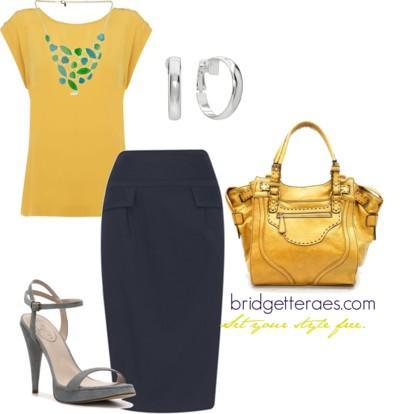 Pencil Power Look by bridgetteraes featuring clip earrings
This is a typical style of pencil skirt that has pocket details around the waist.  In cases like this I do suggest tucking your top in.  The nice thing about a pencil skirt that has details at the waist is that it becomes more of a separate skirt, vs. looking like the bottom half of a suit you just broke apart.  Bringing in some pop and accents to the skirt adds some additional novelty without drawing attention away from the details of the skirt.  Everything works in harmony.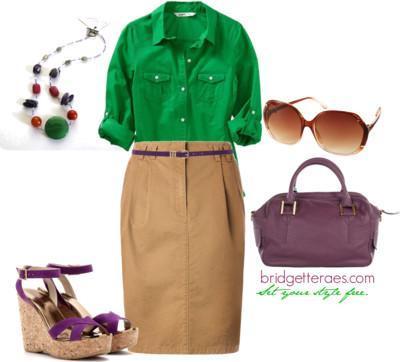 Khaki Office Casual by bridgetteraes featuring waist skirts
For a more casual pencil skirt style, either for casual Fridays at work or for fun, this khaki pencil skirt is a great look.  The skirt has belt loops and a fly, just like a pair of khaki pants would, so tucking the top makes the most sense, as does adding a belt in a fun pop color.  Additionally, with pleats in this skirt, tucking is of the utmost importance unless you want to look lumpy when wearing a shirt untucked.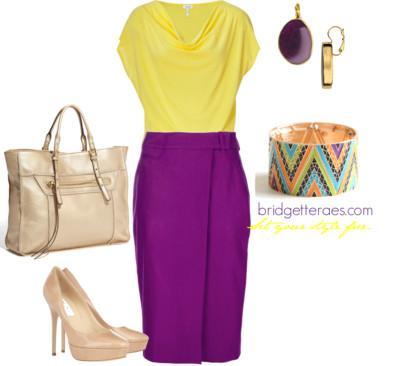 Color Blocked Pencil by bridgetteraes featuring high waisted skirts
Lastly, with color blocking being all the rage, why not wear a colored pencil skirt, vs. getting one that is predictable. In this case, I chose a fun bright purple skirt and paired it with a delicate cowl dolman sleeve top. A top like this is great because it has drape yet it has enough shape in the waist to easily tuck into a skirt.