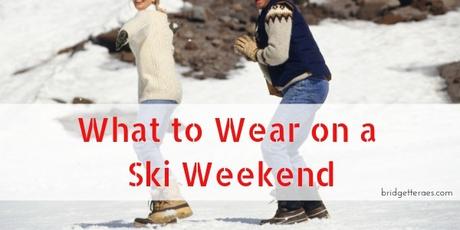 A Facebook Group member asked for a post on what to wear on a ski weekend at a resort. She won't be doing any actual downhill skiing, but has plans to be at the cabin, visiting the village and possibly doing some cross-country skiing and hiking.
You may not know this, but I grew up skiing. The first time I went skiing I was nine years old, and by the time I was in high school I was skiing black diamond slopes. Growing up in New Jersey, we could take long trips to Vermont, quick trips to New York State and day trips to smaller slopes in New Jersey. Yea, I skied a lot. Unfortunately, skiing as a family was abruptly halted when my mom ripped the ligaments in her knee to shreds and had to get taken down the mountain by the ski patrol. I just didn't keep up with it after that and now have a hard time paying money to be cold. But I do have extremely fond memories of skiing.
This is a photo from my very first ski trip in Sugarbush Vermont. I am in blue on the right.
It may be over 20 years since I went skiing, but knowing what to pack for a ski weekend is permanently ingrained in my brain. Seeing that this reader isn't planning on downhill skiing, along with the fact that technical ski gear has likely progressed since the last time I owned any, I am going to stick to suggestions that aren't for the sport itself. I am, however, an expert in how to keep warm when it is absolutely freezing on these sorts of trips.
What to Wear on a Ski Weekend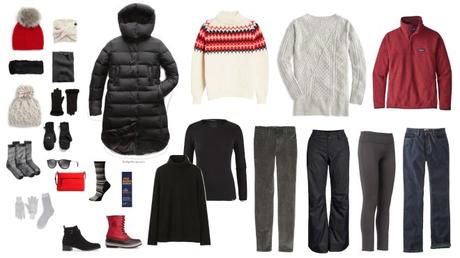 The above is an overview of what I think is the most important things to pack on a ski weekend. Below I am breaking down each suggestion.
Sweaters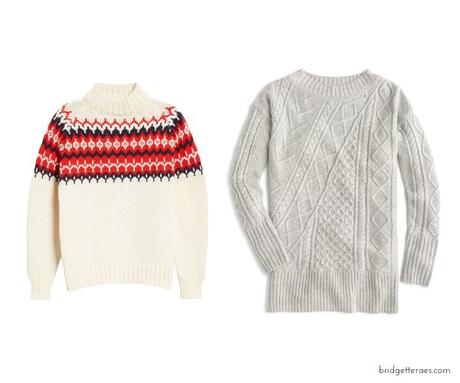 Who doesn't immediately think sweaters when they think of skiing? The first thing I thought of was a fair isle sweater simply for the reason that it just looks "ski trip." What I also like about a fair isle sweater is it helps set the color palette for packing the capsule. Using this fair isle sweater from Nordstrom, the palette of ivory, red and black was set.
Next, a cable sweater. Most people think cables in knitwear are purely decorative. As a knitter who has this strange love of knitting cables, I have learned that they actually serve a functional purpose. Cables in knitwear trap air and keep the body warmer. So, pack that cable sweater. I chose this tunic style from J. Crew for a little variety.
A warm coat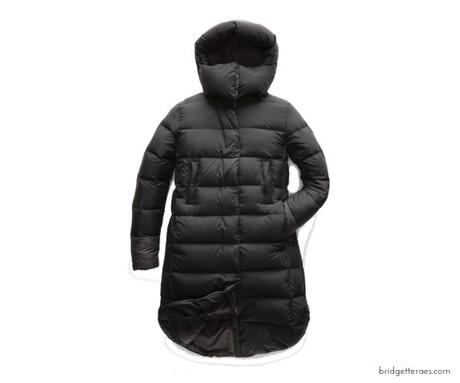 The next obvious packing essential is a good winter coat. When choosing one, it's important to select a style from a company that understands warmth. You don't have to sacrifice style, but definitely don't sacrifice function. This black style from The North Face is a water repelling, down-filled coat with elastic cuffs and hem and a detachable hood.
Layers, layers, layers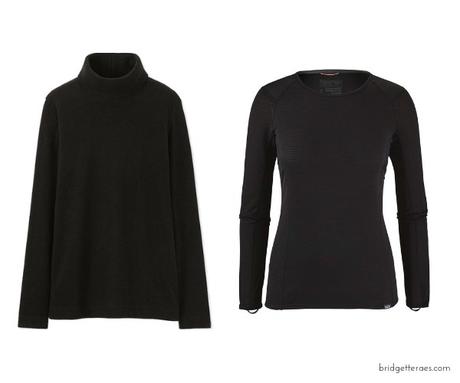 When my family would dress for a day of skiing, the coat and bulky layers were just the icing on cake. What was crucial were the thin, close fitting layers that offered thermal protection. Back in the 80's, this was primarily classic thermal long underwear. Flash forward to today and many companies are offering warming layers that are way more technical. You have products like Uniqlo's Heattech line, including this turtleneck long sleeve t-shirt and moisture-wicking thermal tops, like this one from Patagonia.
Not only will these layers keep you warm, they take up a lot less room in the suitcase.
Warm pants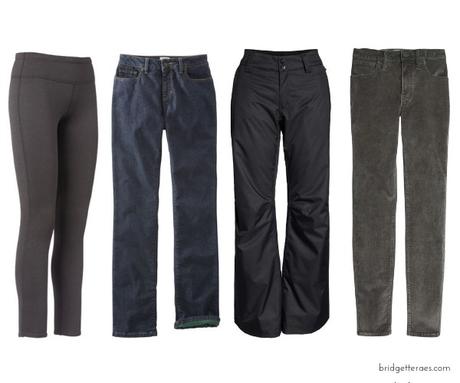 There are several options when it comes to pants to keep you warm. You can layer a pair of merino base layer leggings under your pants, shop for fleece lined leggings and even check out Uniqlo's Heattech leggings. What I also found are fleece lined jeans from L.L. Bean. Corduroy jeans will make an exceptional alternative to jeans on chilly casual days on the town on a ski weekend, and for more active days out, even if you aren't hitting the slopes, a pair of waterproof insulated snow pants can be packed for active days.
A fleece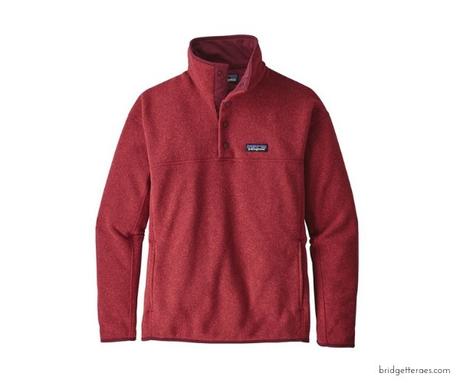 While not the most attractive or the pinnacle of fashion, a fleece has its place when packing for a ski weekend. One thing you will find on ski weekends is that function always takes precedent over style, so don't forget to pack a style like this from Patagonia.
Hats, gloves and scarves
Next, let's talk about hats, gloves and scarves.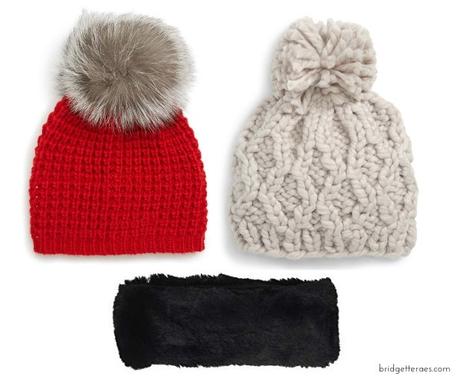 Ski weekends aren't typically about good hair days as they are about keeping your head warm. How many hats you pack is up to you. In this capsule I chose two different styles for variety and to work with the color palette. The red is by Kyi Kyi and the chunky cable is from Sole Society and was chosen, again, because cables trap heat. Lastly, I selected a faux fur headband for warmth on nights out when you want to look good stylish but also want to keep warm.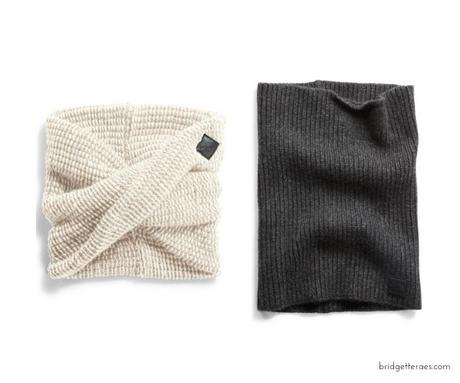 My preference for keeping warm on ski weekends are gaiters or close knit cowls. They can also be more convenient for active days when you don't want your scarf flapping around. What cowls and gaiters don't offer is chest warmth like a scarf can, but if you layer properly this won't be as much of an issue. To work with this capsule, I selected an ivory style and grey cashmere gaiter, both from The North Face.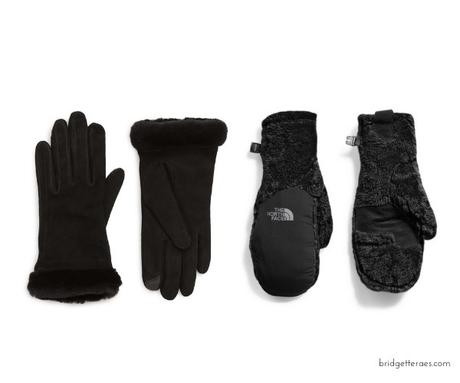 Gloves are another obvious packing must. Everyone knows that mittens are the better choice because they keep your hands warmer than gloves will. That said, I included two options, UGG gloves that are elegant fleece lined for less active days and more rugged mittens from North Face for more active outings.
Boots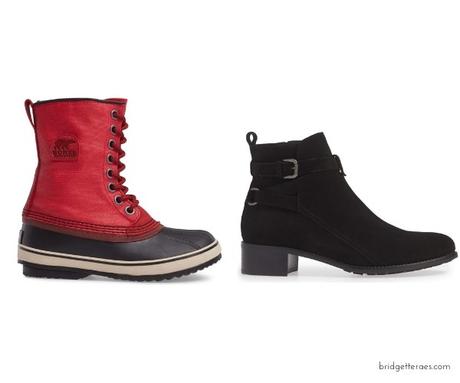 You don't need a lot of shoe options for your ski weekend, but what you do pack should be waterproof, warm and have good traction. A pair of snow boots, like this pair from Sorel, that perfectly capture the colors of the capsule, are a must-pack. While you cold tromp around in a pair of boots like this all weekend, if you have nicer plans, having a better pair that is equally warm and waterproof can be packed. I chose this style from Aquatalia because they are both insulated and waterproof. They also have a small substantial heel that will be safer to wear on icier walkways.
Socks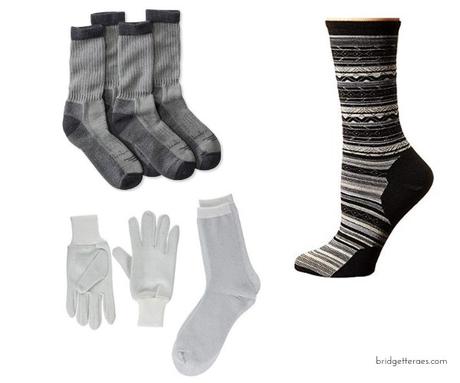 As a kid, we always kept our ski accessories in a general basket that we would rummage through when packing for a ski trip. There were always a ton of socks in there because these socks were specifically designed for cold weather. Thin, nothing socks won't cut it. Smartwool socks will keep your feet much warmer than cotton and L.L. Bean makes a merino pair of lightweight hiking socks. Most people don't know that merino also wicks moisture while keeping you very warm.
For nostalgia, I also went looking for these socks that we used to layer under our socks when we would ski. These socks that had metallic fiber running through them. My family used to jokingly call them our Michael Jackson socks. If you can believe it, I still have two pairs that I wear on cold New York days. I managed to find them online. These sock and glove liners can add insulation to any socks and gloves you might already own.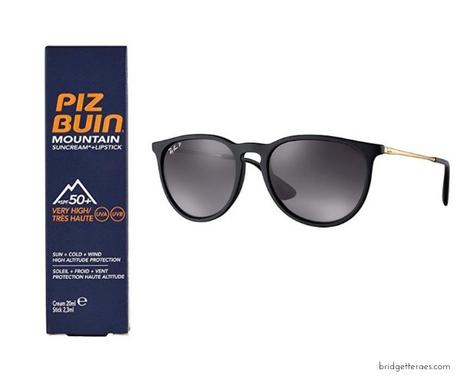 Classmates used to make fun of me when I would come back from a ski weekend with a sunburn. It's a given that people will pack sunscreen on a tropical vacation but seldom think of skin protection when they go somewhere cold. You're closer to the sun when in the mountains and every 1,000 feet in altitude will get you 10 percent more sun exposure and less atmosphere to filter. The bright, white snow is also quite reflective. You can actually get double the sun reflection from the snow. Don't forget the sunscreen, like this brand called Piz Buin made specifically for skiing, altitudes and outdoor winter sports, and the sunglasses, particularly a pair that is polarized, like this pair from Ray-Ban.
A handbag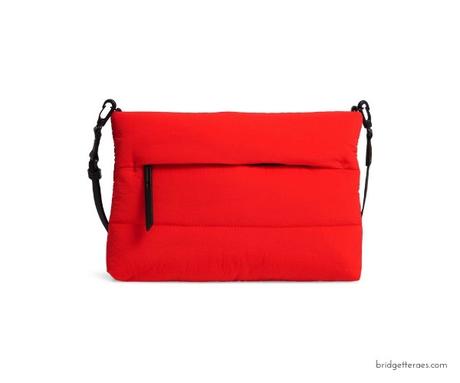 The thing I find least important is the handbag. The last time I skied I didn't even think about one, so I thought about what I would want in a bag I brought on a ski weekend. Durable nylon made the most sense, so I selected this bag from Trouvé because it is nylon and perfectly matched the color capsule.
If you are heading away for a ski weekend, I hope this packing list helps you!