I've booked quite a few maternity sessions in the past month, and the number one question I get asked is, "What should I wear?!" Just like anything else, I think maternity fashion is a matter of personal preference and style, but some looks definitely photograph better than others. Here are a few things to keep in mind…
*When in doubt, tighter is better. Normally I advocate for the opposite, but when it comes to maternity photos, we want to SEE THE BUMP. Not only that, but when you dress in form fitting clothes, you can pose in a number of ways, not just the cup-hand-under-belly pose.
*Never underestimate the power of a skinny belt. Once I really started showing, around 26 weeks, I wore a skinny belt at the top of my bump almost every day. If you don't want to invest in a lot of maternity clothes (I didn't!), you can get away with wearing your regular loose tops, belted above your belly. This look is super flattering because it cinches the thinnest part of your body. I have this belt in yellow and wore it throughout my whole pregnancy.
*Wedges are your best friend. If you can rock a pair of heels while 9 months pregnant, more power to you. I certainly could not. Wedges will make you look just as tall, and you'll be a lot more comfortable during the 1-2 hours of shooting. Nude wedges are always a good choice with a shorter dress because they elongate your legs.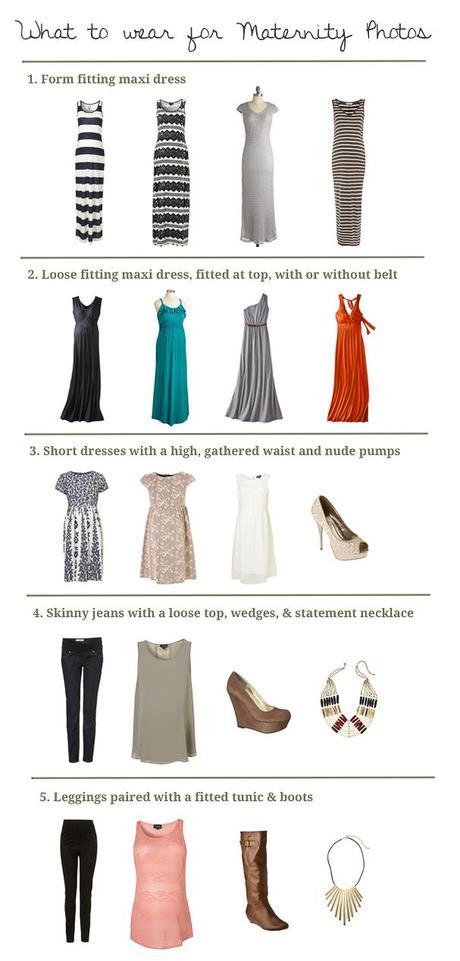 Most of these looks will work for a variety of locations, weather permitting of course. When Brett and I did our maternity photos back in March, it was freeeeeezing cold, but I wore dresses in both locations because I didn't want to wear lots of layers. Both of my dresses were from Anthropologie, not because I was opposed to wearing maternity dresses, but because I left shopping to the last second (literally, the day before our shoot) and I was desperate.
Maternity clothes can be a bit pricey, but I think it's worth splurging on one or two dresses that make you feel really great, especially for special occasions like maternity photos and your baby shower. My go-to stores for maternity clothes are Asos, Top Shop, and Target. For more maternity photo inspiration, check out On to Baby, including more pictures from our maternity shoot.
If you're interested in any of the looks above, here's where to get (most of) em…if I was doing maternity photos tomorrow, I would be all over this dress!