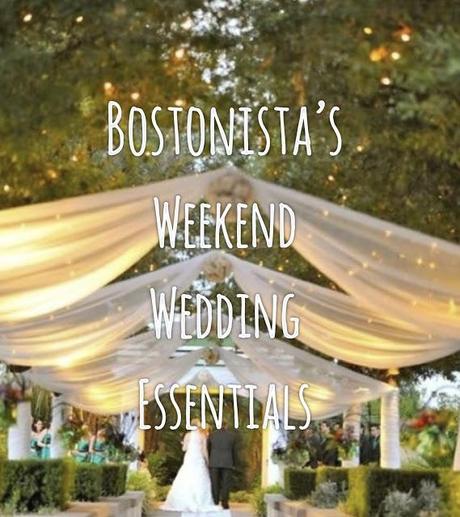 My two best friends are getting married in Maine at the end of the month and I couldn't be happier!  Well, okay, Maine isn't exactly my favorite place but a summer weekend getaway to celebrate their marriage is definitely something I'm looking forward to!
I'm a bridesmaid so my weekend wedding essentials are a little more intense than the average guests packing list but I've broken down my favorite travel products and essentials into categories so I can share exactly what I plan to pack!
Instead of a traditional rehearsal dinner, Nick and Kyley have decided to have a big welcome picnic at a lake the day before the wedding. This means having to pack efficiently for two and a half days.
First off I needed a weekend bag big enough for all the weekend essentials as well as my bridesmaid paraphernalia! It's a tad on the pricey side but I thought the "Getaway Tote" from J.Crew was just perfect and looks more chic than a regular travel bag.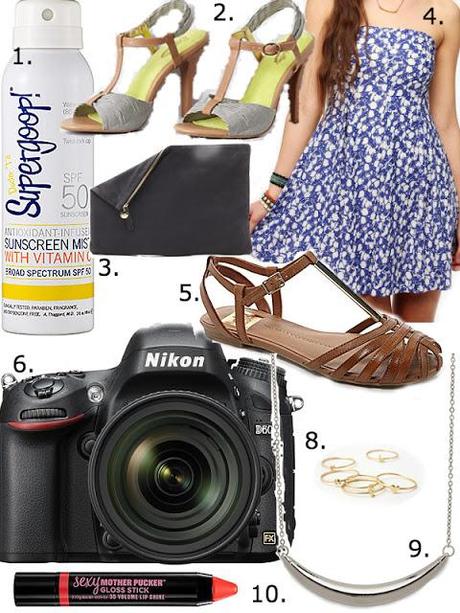 (1. SuperGoop! SPF 50 Spray 2. Marina T-Strap Sandals by Seychelles 3. Clare Vivier Oversized Clutch 4. Cooperative Textured Strapless Skater Dress 5. Zen Sandal by DV Dolce Vita 6. Nikon D600 8. Midi Rings 9. Petite Crescent Pendant at BaubleBar 10. Soap & Glory Sexy Mother Pucker Gloss Stick)


For the Saturday festivities, I'm packing a dress that can go from the picnic during the day to drinks in the evening with just a swap of shoes. If you follow my Instagram (and why wouldn't you?) you might recognize this dress! I had originally tried it on at Urban Outfitters a little over a month ago and decided that it was just too pricey for a sundress. But then last week I was killing some time in their clearance basement in Harvard Square and viola! It was on sale! I love the color, and the subtle pleating around the bodice.
I'll be wearing it with simple flats at the picnic and swapping those for a pair of heels before drinks. A swipe of bright lipstick, this pretty Bauble Bar necklace and a sleek clutch completes the look.
The best part of the Clare Vivier Oversized Clutch is that it can actually double as a laptop case (depending on the size of your laptop of course) so I'll be packing those items together.
As pale as I am, sun burns are always a concern so sunscreen is a daily part of my life. I had tried a sample of SuperGoop! recently and was surprised to find that, despite it's name, it wasn't goopy at all! In fact, it sprays on sheer and leaves a light, lemony scent perfect for every day wear.
Now, a little Kara secret: I love hotels.
I love tiny bars of soap, overpriced minibars and going to the ice machine.
So I'm really looking forward to my two nights in a king bed!
But hotel rooms can be a little cold so I pack a few things to make myself more at home.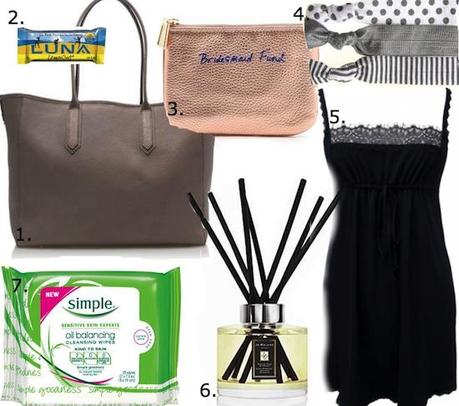 (1. Getaway Tote by J.Crew 2. Snacks! 3. Bridesmaid Fund Cory Pouch by Rebecca Minkoff 4. Steel Dots and Stripes Hair Tie Set by The Twist Band 5. Modal Lace Chemise by Hanky Panky 6. Jo Malone Lime Basil & Mandarin Diffuser 7. Simple Oil Balancing Cleansing Wipes)


Another secret about me is that I love luxurious sleepwear. Those of you who know me probably aren't surprised by this revelation since sleeping is one of my absolute favorite activities. Normally, I end up in tanks and girlie boxer shorts but I have a couple little nighties and chemises tucked away. What better excuse to splurge on a fancy, super soft chemise from Hanky Panky than two nights in a hotel?
I may love minibars but I can't actually afford whats in them so to beat the temptation I always bring lots of snacks (lately I'm obsessed with bars. Luna Bars, Fiber One Chocolate Chip Cookie bars, etc.) and bottles of water.
Some celebrities bring candles to hotels for their relaxing scents. Personally, I think candles are a little dangerous and with gosh knows how many people in a hotel at any given time its a little irresponsible. But I understand wanting to be surrounded by a comforting scent instead of stale hotel carpet so I pack along a mini diffuser. I get the affect of a candle without angering housekeeping.
Finally, I work out a budget just for "tips" before I leave and put that money into a separate pouch. This way I have it handy when the bellhop or room services arrives instead of the inevitable scramble.
Thanks to my lack of photo shop skills and weirdly crammed schedule this week, I've taken at least three days to complete this post. I don't really feel that it's done...I hadn't even gotten to my bridesmaid gear but I feel like if I keep working on it in spurts and never posting, it will just keep weighing on my mind. So I'm sharing it as is. I hope you don't mind and that I gave you some good travel tips anyway!