I know that I'm late to the party but Nordstrom's Anniversary Sale is almost half-over and there are still lots of great steals and deals to scoop up! I popped over to my local Nordstrom yesterday afternoon in search of a skirt (more on that at a later date) and was blown away by all the amazing sale pieces still left...despite the fact that it's been going on for nearly three weeks! Seriously. I was in handbag heaven.
Below, see my favorite pieces that are still available at the Nordstrom Anniversary Sale (but prices go back up on August 3rd so shop fast) and found their way into my shopping bag.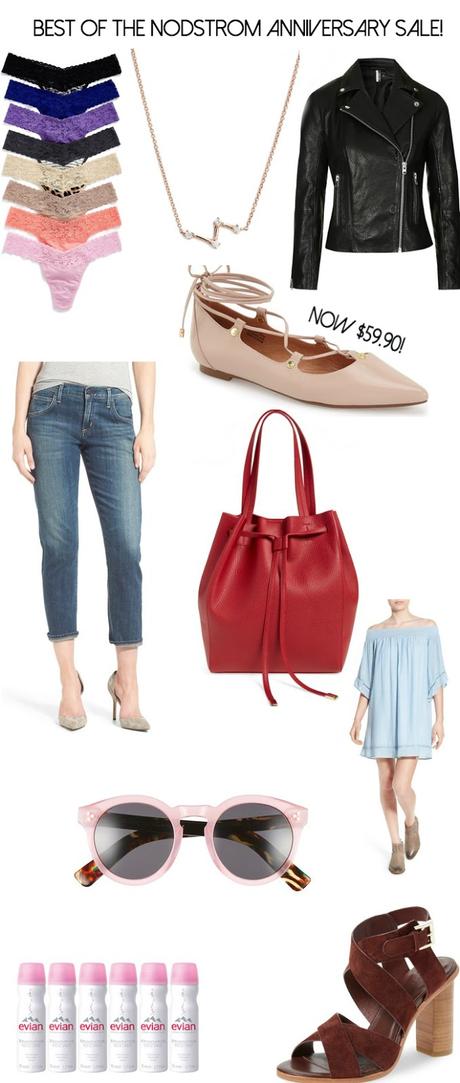 1. Hanky Panky Thongs ($14.90 each! Normally $20-24)// 2. Zig Zag Diamond Pendant by Jemma Morgan// 3. TopShop Genuine Leather Jacket// 4. 'Owen' Pointy Toe Ghillie Flat ($59.90! Normally $89.95)// 5. Citizens of Humanity Emerson Slim Boyfriend Jean in Palermo// 6. BP Faux Leather Drawstring Tote (Available in 4 Colors! Now just $35.90!)// 7. Off The Shoulder Chambray Dress by Love, Fire// 8. Leonard II 50mm Round Mirrored Sunglasses by Illesteva// 9. Evian Facial Spray 6-Pack (Just $21!)// 10. Avery Crisscross Block Heel Sandal by Joie ($194.90! Normally $295!!)//
Snapchat me (I'm @bostonista) and show me your favorite finds from #NSale!