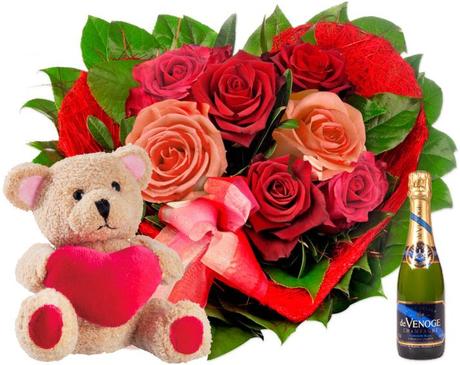 "I never knew how to worship until I knew how to love"
Yes love is eternal , love is worship , love is happiness .We do not find the meaning of life when we live alone – we find it with another person– with our beloved or the person whom we love . Valentine's day is the secret day to celebrate love all over the world on 14th February . This is the day to spread love and exchange affectionate gifts.
Given below are some gifts for him and her.
Gifts for him:

Find out your boyfriend/husbands favorite author and the genre of books he likes. Then go ahead to a book store and pick up a couple of books .Gift wrap them and give it to him along with a card which convey your feelings.
A stylish, comfortable T-shirt of his favorite color can also be a very cool option to gift the guy of your life.
Watches are always in fashion. So gift your man a classy watch, branded one-may be a Swedish watch if you want to for conveying your love for him .
Personalized gifts can never go wrong when you want to win his heart and want to remind him your memorable moments .
Get your husband or lover a valentine's gift that he will actually love – the Hi Tech Gadgets . Your tech savvy husband / boyfriend will be able to feel your love and affection for him when he will see the gift. It will definitely bring a big smile in his face.
Gifts for her:
You can gift her a bunch of red roses and express your true love for her. A flower arrangement can also be a good option to propose your sweetheart. There are many online shops that offer quick flower delivery in Churchill. So, if you want you can order flowers online and get a bouquet of flowers for her on this Day.
To show how much she means to you , you can gift her soft toys and cards with special notes in it .
You can impress your girlfriend / wife by gifting her a solitaire and express your affection for her.
You can make this day memorable with your spouse / girlfriend by gifting her a nice branded perfume, which she always craved for.
Valentine cakes and chocolates are also very tempting options to impress your valentine . Heart shaped chocolates can bring smile on her face.
Classy watches and stylish hand bags can emphasize her style statement .It is a very stylish option to gift your girlfriend.
You can give her something that she can actually use and not just adore for a single day and dump it because she did not have any practical use of it . A feature rich gadget will prove to be really useful in her routine life.
Valentine 's Day is a day of love. So, gift your valentine this 2015 to show your affection for him or her. However, these gifts are tokens of love that measure the depth of your feelings. To make your day memorable, present the love of your life with something like this.
If you have any more gift ideas, please share with us.