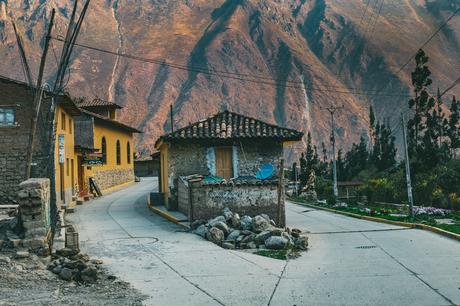 Ollayantaytambo is a can't miss town. It is located in the beautiful Sacred Valley (or the more poetic sounding La Valle Sagrade) and is the gateway to taking a train into Machu Picchu. A tour to Machu Picchu (not involving hiking the Inca trail) usually includes the Sacred Valley and Ollantaytambo town, so it's pretty accessible, very beautiful, albeit a bit touristy.
Ollantaytambo is about two hours drive from Cusco, and we arrived there around 3 pm after a wonderful, meandering drive through the Sacred Valley (pics to come in another post).
Why visit Ollayantaytambo?
If you're visiting Machu Picchu, there's no getting out of visiting Ollayantaytambo. This town is the starting point for taking the train or bus to Machu Picchu Pueblo. It's also the starting point for the Inca trail.
What's cool about Ollayantambo
Surrounded by mountains in every direction, the cobbled streets and tiled roofs of Ollantaytambo contrast to the lush scenery around it.
The town is also like a blast from the past. We arrived there after a long and beautiful drive through the Sacred Valley (pictures yet to come in an upcoming post).
As soon as we drove in, we couldn't take our eyes off the massive Inca ruins of Ollantaytambo.
Inca ruins
The ruins dominate the entire town, and it was the first place we visited.
It is definitely a bit of a hike but it is worth it to see as much of these ruins as you can. There are multiple temples devoted to the various Gods of nature.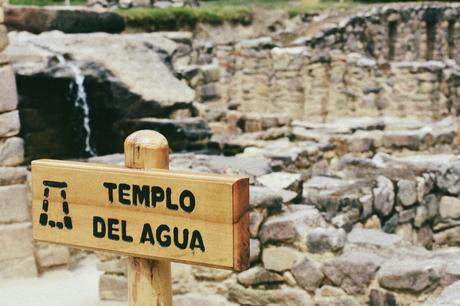 Templo del agua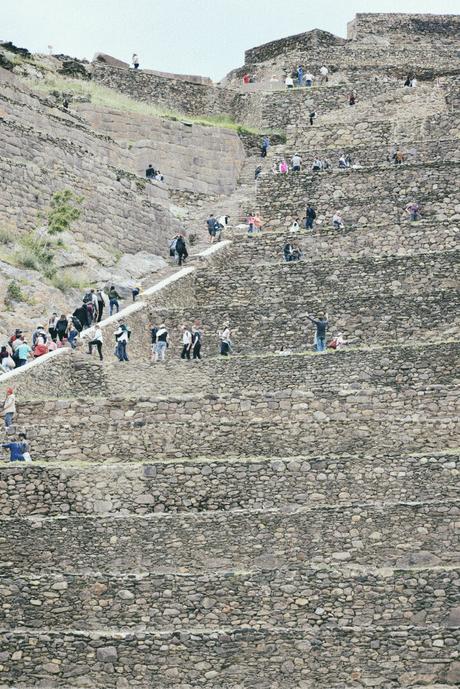 Climbing the ruins
It's history
The town was conquered in the 15 th century by the Incan emperor Pachacuti, who rebuilt the town and installed elaborate terracing, irrigation system, and a fortress. The nobility lived in the town and the terraces were used as farmland. The ruins of this once-great town can still be seen towering over the central plaza today.
Legend has it that Pachacuti's general, Ollantay, fell in love with his daughter, who was off-limits because she was of noble blood. Ollantay revolted and after a long battle and the eventual death of Pachacuti, his bravery resulted in the naming of the town after him.
Ollantaytambo was the last stronghold of the Incas during the Spanish colonization.
The markets
After roaming the Incan ruins, we headed towards the market. It was pretty nice roaming around the place and taking photos although I didn't really buy anything.
Tip: The best souvenir shopping is actually at Machu Pichu Pueblo market, while waiting for the bus to Machu Pichhu. I found it the most reasonably priced and had the best selection. Usually, touristy places hike up the prices a lot, but this was not the case in Peru. I also recommend the airport shops for buying alpaca wool sweaters and scarves. They were less brightly colored than the souvenir shops, but are also more wearable once you get back home.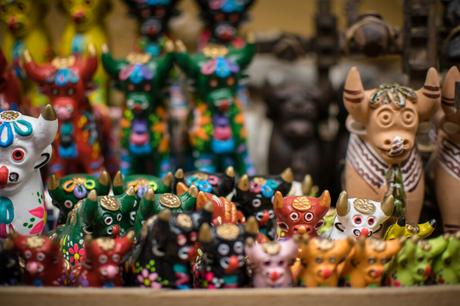 Cute dolls in the market
The people
In Peru, Lima is very cosmopolitan, with a lot of Spanish-origin, or people from different parts of the world. However, as you get into the interior - such as Cusco and Ollayantambo, you get to meet the local people, descended from the Incas, or other local tribes. And it's really interesting to speak to the locals. Cusco was packed with sight-seeing and there was less time to relax; however in Ollayantaytambo I had the time to chill and chat with the locals.
Generally, the people are super-friendly and like to chat. I had very limited toota-phoota Spanish and used that to engage them in conversation. It ended up mostly with sign language and lots of smiles and hugging. I came back to India determined to learn one foreign language at least (to be able to communicate better next time I travel).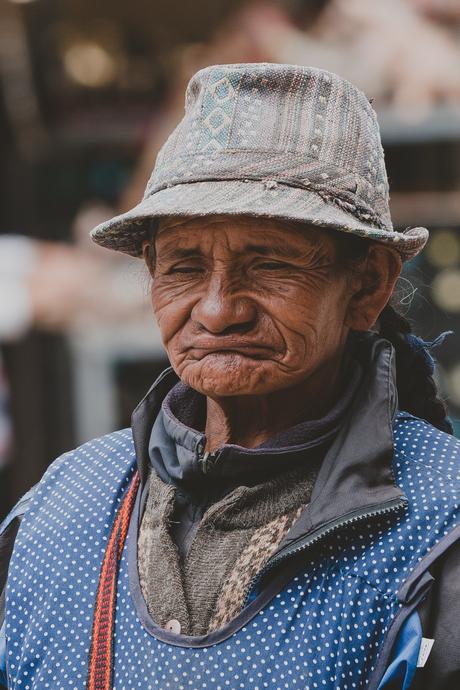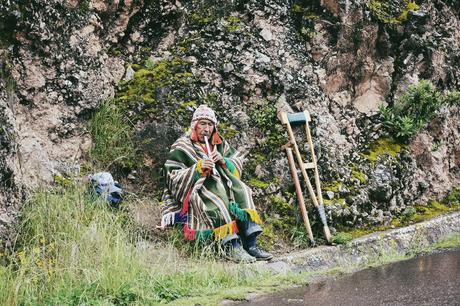 While in quarantine, I actually managed to finish my first level of Spanish certification, and am now on to the next. Too bad I didn't do this before I actually went to Peru. Hopefully, my next trip is to a Spanish-speaking place, and I"ll be able to use my new language skills then.
How much time to spend in Ollayantaytambo?
If you want to spend some time exploring the Sacred Valley - you have two choices. You could use Cusco as a base and just make a visit to Ollayantaytambo, or you could opt to spend a couple nights in Ollayantaytambo. Overall, I'd still suggest staying at Cusco - as a city, there's a lot to see and do locally as well.
I was pressed for time, so I spent one night in Cusco, one night in Ollayantaytambo, then started my day trip to Machu Picchu, and then directly back to Cusco via cab - a bit of a rushed schedule, but it worked for me. I wouldn't change a thing about this part of my itinerary.
Last thoughts
Ollayantaytambo is by no means a must-see place in Peru, but you have to visit it anyway. So, you might as well make the best of it and enjoy what it has to offer. It's a remarkably pretty and chill town, and I really liked hanging out there.