I am an avid people watcher. I love to sit on a bench, in a cafe or most especially at the airport and observe human behavior. I used to live at the top of a cul-de-sac and often observed my neighbour's comings and goings. However, I draw the line at being a peeping Tom. I think that my fear of such a predator stems from seeing a particularly nasty movie on the subject when I was quite young. 
Peeping Tom is a 1960 color British psychological horror-thriller film directed by Michael Powell, written by Leo Marks and starring Carl Boehm, Anna Massey and Moira Shearer. The film revolves around a serial killer who murders women while using a portable film camera to record their dying expressions of terror. Its title derives from the slang expression 'Peeping Tom' which describes a voyeur. .
The film's controversial subject matter and its extremely harsh reception by critics had a severely negative impact on Powell's career as a director in the United Kingdom. However, it attracted a cult following, and in later years, it has been re-evaluated and is now widely considered a masterpiece and a progenitor of the contemporary slasher film. The British Film Institute named it the 78th greatest British film of all time and in 2017 a poll of 150 actors, directors, writers, producers and critics for Time Out magazine saw it ranked the 27th best British film ever.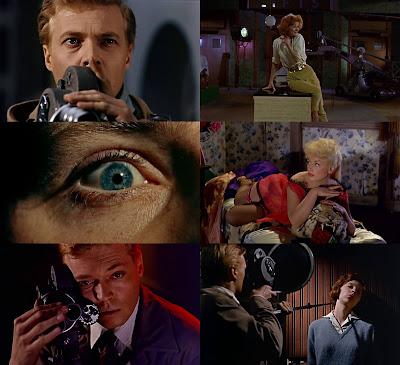 I had my own encounter with a voyeur, although not in the usual way...
The Intruder
It was the 28th September

a date I'll always remember,

the day before my daughter was born.

We were just baking cup cakes.

she left me to finish the last bakes

and went to get ready for bed.

Then the cakes started burning,

Clock hands frantically turning

and as smoke filled the air, a strange feeling

She came down in a hurry,

told me not to worry

so I went up to run the tub.

As I looked in the mirror

I gave a terrified shiver

as a figure ran past on the landing upstairs.

A noise like wind rushing

I froze, my heart racing

as I saw a small boy with red hair.

I knew upstairs was empty

Doors all locked, it scared me

that someone could enter, me unaware.

He entered my son's door,

I followed but what I saw

petrified, I could utter no sound.

My daughter came up and found me,

face expressionless, empty. 

Bravely she helped me to search.

Windows locked on inside,

so nowhere he could hide.

yet the specter was perfectly clear.

Days later I met my neighbor.

who said he's a regular visitor

he's there when she's taking a bath.

Because he likes peeing,

when ladies are steeping,

we affectionately named him Tom.

I only once made his acquaintance,

he was keeping his distance,

but there were ghostly goings-on.

TV turning on without intervention.

Phone ringing with no connection

The clock skipped an hour, sometimes two.

Undressing one evening,

I heard heavy breathing

I called the ghost-buster who knew what to do.

Arriving in holy attire,

blessed each room with prayer and fire,

he sent the child spirit away.

I still can't shake the feeling

his bones are hidden in the ceiling,

Perhaps he was murdered for peeping.

That'll teach him!
Thanks for reading. Adele
Email This
BlogThis!
Share to Twitter
Share to Facebook