At first glance this seems like a strange post- at least coming from a vendor. Certainly you wouldn't expect a tea vendor to give unbiased advice on buying tea any more than you would expect your barber to tell you if you need a haircut- to paraphrase Warren Buffett.
However as we have interacted with more and more tea lovers during our recent Farmer's Market & One East Asia events, we discovered a very common question posed to us is
"What Tea Should I Buy"
Admittedly this is one that I hadn't considered. The first time I asked it, I replied with "what do you prefer?" which a second later, I realize was not a particularly intelligent question. If the asker had an answer in mind, he or she would probably have asked for that tea outright.
Or sometimes I ask "what tea do you normally drink?" which is only marginally more helpful because either the asker wants something different or if he or she wants more of the same, it would have been requested for.
To better answer this question, it depends on the profile of the individual & whether it is a gift or for personal consumption.
Personal Consumption
The Connoisseur or Experienced Tea Drinker
For the connoisseur generally he or she would have a specific tea in mind but if this question is asked, I would interpret it as "what do you recommend".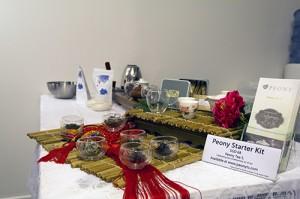 My observation is that most seasoned tea drinkers are usually focused in one or more of these categories- dark tea, green tea or oolong tea.
My follow up question would then be "any specific category of tea?"
Green:
Xihu Longjing- this would be the first recommendation, the best known Chinese green tea. The traditional beany fragrance of Xihu Longjing
At point of writing I have to stop at one, hopefully this spring I can get some Dafo Longjing (which I find intriguing), Dongting Biluochun and/or Dinggu Dafang to expand our higher end lineup.
Oolong Tea:
One of these 4
- Tieguanyin, Phoenix Dancong Mi Lan Xiang, Wuyi Shuixian or Shan Lin Xi. All 4 of which in my opinion represents a certain level of production quality that we are proud to carry.
Dark Tea:
If truth be told our Pu-er is loose leaf Shu Pu, very garden variety Pu-er, suitable for daily consumption but not something that connoisseurs would rave about.
Eventually we hope to expand our lineup in Pu-er and dark teas but it would not be within the next harvest season since this area is our Achilles heel.
The New-ish Tea Drinker
The most expensive ones of course! Start with the best!
Of course not. If you've met me in person or read this article about the weakest link in brewing tea, you will know I don't advocate new tea drinkers going for the Dahongpaos or Shifeng Longjings of this world (and not only because I don't carry them, I'm working on bringing in some Dahongpao :p).
Rather as discussed in the aforementioned article, I feel that for a new tea drinker, it is better to start with a middle-of-the road tea.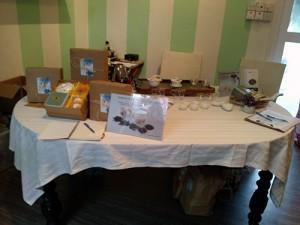 Criteria I would look for is value, quality (if you start with crappy tea you would end your journey quickly), forgiving tea and a more 'accessible' taste, for lack of a better description.
For example- dancong tend to be more finicky and some of the older trees especially tend to be high in chaqi but more bitter, not something that would appeal to new-ish tea drinkers.
For such drinkers, I would recommend:
Green tea-
Xinyang Maojian- good value and huigan
Jasmine Pearls- the jasmine fragrance covers any grassiness, rendering this more pleasant for new tea drinkers but with distinctive green tea sweetness
Oolong-
Huang Jin Gui- forgiving & best value for oolongs in our lineup, good aroma and mouth feel
Tieguanyin- similar to Huang Jin Gui, slightly more expensive but better 'yun'
Dong Ding- decent value and toasty feel should appeal to most people
Alishan Jinxuan- a bit more expensive, but the sweetness and pleasant aftertaste is quite endearing for most people
White Tea-
Bai Mu Dan- inexpensive, fuller taste compared to Silver Needles
Dark Tea
'05 Pu-er- as discussed earlier, not spectacular but decent, smooth and sweet, especially for its price
Black Tea
Qimen Black- made from buds, more delicate in flavor but full in aroma.
As a gift
If you are buying as a gift- there are a few approaches.
Firstly as what is often practiced among the nouveau riche of China- buy on reputation of the tea. The best known teas- China Top 10 Famous Teas is a good place to start but do note that with fame often comes forgery and high prices.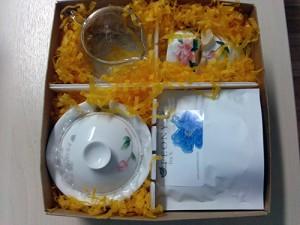 Secondly and a more prudent approached is depending on the individual preference of the recipient which is often difficult. (Again if the customer knows what the recipient likes, there would be little need for this question)
Once I was asked this question: What tea does a typical 30-40 year old man like?
I regretted my answer of "there's no typical man, is there?" because I think I came off as being condescending and unhelpful.
If I was asked a question like that again, my answer is actually to point the way to some "innocuous" teas; teas that are generally pleasant and not particularly skewed towards any palate.
For example:
Bai Mu Dan, Dongding Oolong, Qimen Black, Jasmine Pearls, '05 Pu-er and Huoshan Huangya would be some examples of fairly 'safe' teas.
You can also refer to the recommendations above for the new-ish tea drinker and the connoisseurs to tailor to your recipient accordingly.
Another approach is based on the age and TCM temperament of the recipient.
For example someone younger (below 30) would be better suited for a more 'cooling' type of tea such as a green, white or yellow tea.
For a recipient around 30-50, a more neutral tea like an oolong or black teas will be good while a more elderly recipient would be suited for aged dark tea.
However this is very much a simplification and it really depends on the constitution of the individuals and unless you are a TCM practitioner and you are buying for your patient, you can't be certain.
See other articles on Selection and Storage of Tea