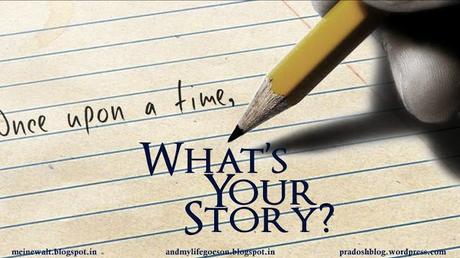 Hello my dear blogger buddies! I hope you all are doing great!
This is regarding the blog event 'What's your story?' starting 16th February, 2013. It would be conducted jointly with blogger buddies Pradosh Kumar of  'Against Pseudos' and Abhijeet of 'My World'.
This event is about you...your thoughts..and your life..
So if there is anything or anyone who stirred your life... means a lot to you...People....happenings... or memories that you wish to share..tell us! We will put up your expressions on 'And my life goes on' for the world to read. 
Mail us your story at [email protected]

Rules of the event:

1. Send in your stories prior to 15th February, 2013.

2. You may send more than 1 story. Maximum stories published from one participant will be 5. Give a suitable title to the story.

3. You may send pictures relevant to your story. It will be really good if you send one picture of yourself also, to put it in the introduction part.

4. After your story is published on 'And my life goes on', you will need to publish on your blog, a notification  along with the above picture and the link to your story, so that your readers don't miss the action!
We are awaiting your stories. Thank you.