Illustration by Reed Reibstein
TAKEAWAY: It's been a year since the publication of my digital book about tablets: so what's happening with newspaper tablet editions today? This is the last our four-part series, What's Trending with Tablets. Today: A conversation with Joe Zeff and Michael Eder on how they see newspaper tablet editions evolving
Nobody has all the answers when it comes to the creation of a newspaper tablet edition, so I have established a dialog with two digitally minded guys, one on each side of the Atlantic, Joe Zeff in New York, and Michael Eder in Vienna.
As we would expect, these two respected authorities do not see eye to eye on everything, but, overall, they seem to agree about one thing: the newspaper tablet edition that does it all is NOT with us yet.
Joe Zeff, for example, believes that apps are not the best idea for newspaper tablet editions, while Michael Eder is a proponent of what he describes as "e-paper with extras".
Here are their takes on the state of newspaper tablet editions as we get to the end of Summer 2013:
Joe Zeff,
CEO

, Joe Zeff Design

Joe Zeff is no stranger to readers of TheMarioBlog.  He is one of the most respected designers in the industry. Joe was among the first to recognize the potential for tablets and technology to transform publishing. His projects continually reinvent how books and magazines are presented on the iPad, iPhone and other devices.  I personally learn much from Joe everytime we get together or collaborate.

Joe Zeff's views about the state of newspaper tablet editions today:
As excited as I am about apps, I'm not a believer that apps are the best way to deliver newspaper editions.
Apps are best reserved for extraordinary content. Everyday content can be addressed just fine through responsive web design, optimizing content for the particular device on which it is being presented. The Financial Times is a good example of this.
There's no getting around it, apps can be expensive to produce and cumbersome to download. For those reasons, they must be special enough to justify the added burden on the producer and the consumer.
What makes apps special?
• Exclusive content that can't be had elsewhere.
• Content that benefits from flexible design that mixes together words, pictures, animation, audio and video. This promotes interaction and gets people to spend more time with your app.
-Content that could be accessible offline, making it portable regardless of whether the user has an internet connection.
-Interactive content that should work instantly and reliably, regardless of file size, because it doesn't have to be streamed.
-Experiential content that leverages the features of a tablet: gyroscopes, cameras, microphones, maps, e-commerce applications, etc.
• Tools to organize, integrate or enhance one's own personal content: photos, notes, calendars, contacts, feeds, etc.
Newspapers and apps
By those standards, newspaper editions aren't particularly special. But newspapers are capable of producing content that is special. Expanded reports about news, sports or other topics infused with multimedia and context. Guides to travel, dining, shopping and other activities that inform and enhance how we make decisions. Weekly compendiums of news and events that provide opportunities for users to interact with one another. Archival content repackaged to deliver an encyclopedic presentation of a particular subject.
How about the revenue element?
These products are monetizable through sales and sponsorship, and help to expand the relationship between publications and consumers beyond daily news. Rather than building systems for reflowing content from websites to apps, publishers would be smart to focus on creating new products that best leverage what apps can do, which is quite different than what paper and web pages can do.
About The Virginian-Pilot's new tablet edition, Evening Pilot
I've always been a fan of The Virginian-Pilot and its poster-like front pages, but its Evening Pilot app underwhelmed me. It is billed as a premier digital news magazine; I'd disagree. What makes magazines differ from newspapers is their voice, their rhythm, their curation, their spontaneity. The Evening Pilot feels trapped inside a template, struggling to break loose but ultimately confined by the structure that makes it possible in the first place. The advertising is intrusive, much more like a website than an app. It's a tall order, the idea of a daily magazine app. One can't reflow content; one must rethink content, making it special enough to justify the burden of downloading it.
Giving the tablet that which makes The Virginian-Pilot special
Rather than offering a mixed bag of original content and wire stories, tell me one special story every day, and tell that story so compellingly through words, pictures, multimedia and interactivity that I want to share it with my friends. Surprise me. Every day. Just as you do in print. Broadsheet bravado is what put The Virginian-Pilot on the map; nobody does a single-story front page better than they do. Maybe that's what a Virginian-Pilot digital news magazine app should be, too.
Michael Eder, Digital Project Manager, Kronen Zeitung (Austria)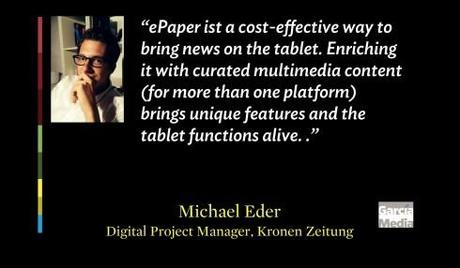 I have most recently worked with Michael Eder during the creation of the Kronen Zeitung's first tablet edition, which we have profiled in this blog, and which continues to appear as an evening edition of the popular Austrian daily.  As digital project manager at the Kronen Zeitung, Michael is in charge of thinking ahead.  As a result, he is now a strong proponent of an e-Paper, enhanced to include some of the extras that users have come to expect from their tablet editions.
I reached out to Michael on this subject.
Here is how Michael sees the news tablet trends
Over the past decades, publishers all over the world spent much of their time and money in the right presentation of a large amount of content.
Take the "Sueddeutsche Zeitung" for example. It was impressive when I first saw its "wall of fame" in the entry hall of its newsroom in Munich. It is an exhibit showing the evolution of the print product and all the details they focused on through their rich history, all of it to attract and to keep readers. So why dump all of this tradition and history and start from scratch, just because now there is this new thing called iPad?
The question for newspaper publishers everywhere is: Why reinvent the wheel when newspapers have obviously been a successful tool to convey information for centuries?  The answer is we have entered the digital age, one in which people receive information differently.
What's important in the digital age?
Cost-effective production.
Easy-to-use platforms.
Beautiful presentation.
Taking advantage of all the tablet's functions
What does the newspaper have to offer:
The latest news, analysis, and other content, presented in a hierarchical order (editors decide which stories are important and where the view of the reader should be directed ).
Multiple stories, beautifully designed and interspersed with images on one page.
Columns,  integrated across the various sections, seducing readers through personal opinions and perspectives.
Native or responsive
Then there is the one important question for the media today: should it be native apps, or responsive design?
Why native apps :
The reasons are many, among them high performance, ability of user to benefit from functionality of the operating system / Device, offline functionality, high brand loyalty, and the fact that through constant updates ,the user can easily get directed to new content ,as well as features
Why not native apps :
All it takes is a bad experience and users is likely to run away and not return. Also, native apps could be bug vulnerable, costly,and time consuming.
Why Websites / Web-Apps / Responsive Sites:
These make sense. Without installing anything, user has fast access to information. If responsive, content stays on the same presentation-level over most on the market available devices.
Costs are low, launching is fast.
Why not Websites / Web-Apps / Responsive Sites:
Since this has to work on any device , equipment feature and functionality remains in the background. Not all content can be reproduced (eg: infographics on smartphone); low brand loyalty
The Michael Eder approach
Tablet Apps should be based on the ePaper products. The tabloid is probably the most suitable for this purpose because of its compact size( as is the paper I work with, Kronen Zeitung). For other formats such as "Die Welt" or Die Sueddeutsche Zeitung" (broadsheet formats), the layout of the original print product must be digitally remodeled.
A newspaper brand consists of many factors: editors, scoops, research, format but also and above all layout, colors, type and structure of content flow. These components have to be displayed digitally, to lead the user onto the new way of consuming the brand. This is done most easily by the ePaper ( very popular in our own Kronen Zeitung ). The ePaper Apps have to offer, next to the common pinch- to-zoom, a specially created ( implemented in HTML and CSS) story level. This story level then opens up the world to more content, and the World Wide Web.
How about extras?
Using simple slideshows, video embeds , community related links , Wikipedia entries , interactive infographics ( which are ideal on tablets ) - the benefit for the user is obvious quickly. With the additional features on the digital versions of their newspaper the users gains next to the latest information also a deeper dive into the topics.
With the technical possibilities we can use nowadays, publishers are able to create playful and entertaining multimedia experiences. Contents can be upgraded with so many helpful features even to reduce complexity in long texts and make reading more pleasurable and informative at the same time.
How about staffing?
Producing these contents collaboration is mandatory. On the one hand we have the editors in the newsroom who work hard getting the scoop of the day and on the other hand we need an extra editorial staff, that is just responsible for the multimedia presentation. This group just cares about the so called "extra" content , in consultation with the news-editors they enrich the print stories. This "extra content" editors supply website, ePaper, and Tablet Edition in different ways. This, I call them "extra" dossiers are embedded depending on the nature of the medium (depending on functionality ) and so provide the unique added value.
In my opinion, the tablet and its "e-paper plus"-Apps is the perfect combination of printed paper and the connection to the 21st century.
How Kronen Zeitung tablet evening edition looks now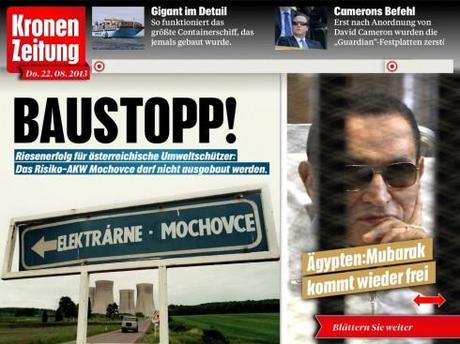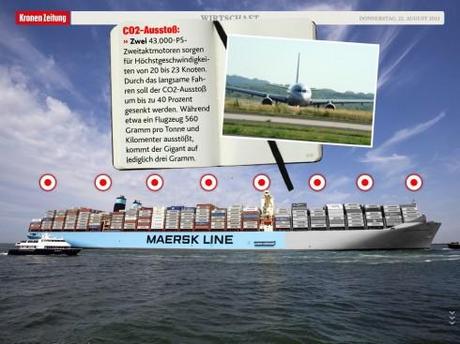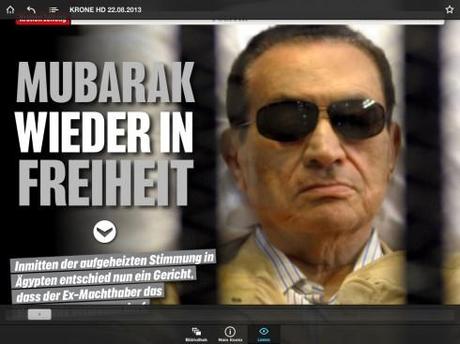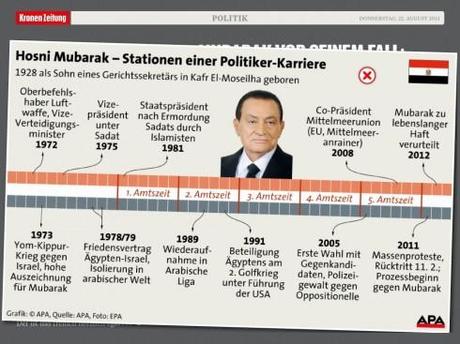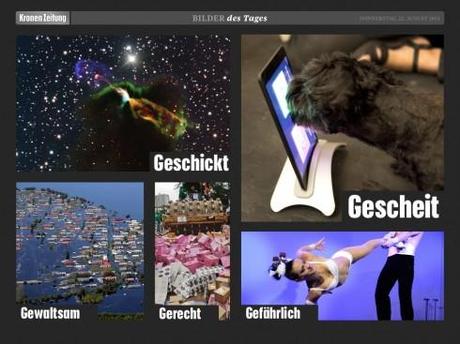 Here are some screenshots from Wednesday's Kronen Zeitung HD edition
Previously in this series:**
Part 1: What's Trending with Those Tablet Newspaper Editions?
http://www.garciamedia.com/blog/articles/pwhats_trending_with_those_tablet_newspaper_editions_p
Part 2: A brief but eventful history for newspaper tablet editions
http://www.garciamedia.com/blog/articles/pa_brief_but_eventful_history_for_newspaper_tablet_editions_p
Part 3: Evening Pilot: new tablet edition leans forward, leans back, crosses "the bridge"
http://www.garciamedia.com/blog/articles/pevening_pilot_new_tablet_edition_leans_forward_leans_back_crosses_the_brid
SND

: Graphics Garage Workshop

My good friend, Jeff Goertzen, of the Orange County Register, is looking for volunteer speakers to participate in the Graphics Garage Workshop in Louisville, KY as part of the SND Annual Workshop and Exhibit program. This all-day workshop will be conducted Thursday, November 7.

"We are inviting the general public to attend this workshop for a fee of $75. And of course, our SND crowd is welcome to register as well," Jeff tells me. "But we need your participation. We are looking for 7 volunteers to conduct either a lecture or a hands-on workshop," says Jeff.

"With this Graphics Garage Workshop, I try to cover as many topics in visual communication and design as possible. Theory is good, but try to show some "how to" tips and step-by-step examples of what works and what doesn't. Show the audience what to do and how to do it. The hands-on workshops can be product training or geared towards tips and tricks," he said.

For more information, reach out directly to Jeff here:

 
TheMarioBlog post #1320