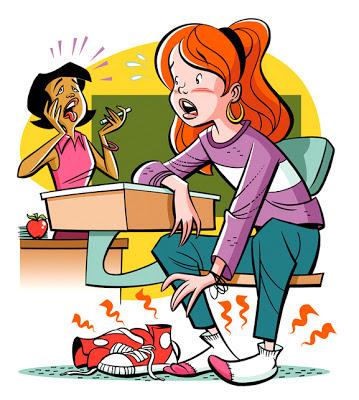 Foot odor is the unpleasant smell emanating from one's feet. There are a number of reasons that cause your feet to stink.
The presence of Brevibacteria on the surface of our skin is a natural phenomenon. These bacteria survive by eating up the debris of dead skin cell that are present mainly between the toes and sole of our feet. Pityrosporum and Micrococcus sedentarius are other bacteria that play an important role in the process of breaking down amino acids into various products, isovaleric acid and propionic acid being a couple of them. These acids are the reason behind that typical sulfur-like stink from the feet.
If there is a problem there is a remedy too. There are liquid shoe sprays and flat liners available in markets as well as online
that will definitely make your shoes odor free and help prevent smelly feet. You can apply isopropyl alcohol to your feet twice daily. 
Wearing socks and shoes may obstruct breathing of the skin, causing it to sweat excessively which makes our feet smell even worse. You should avoid socks made out of nylon or polyester. Cotton socks help your feet breathe and ensure better ventilation. You must also be careful about hygiene of your feet. 
Another cheap and easy way to prevent as well as to treat smelly shoes is to sprinkle a few pinches of sodium bicarbonate/ cooking soda inside your shoes and on the socks.
Adhering to these small and simple practices will help you avoid smelly feet and the trouble it cause to your nose.