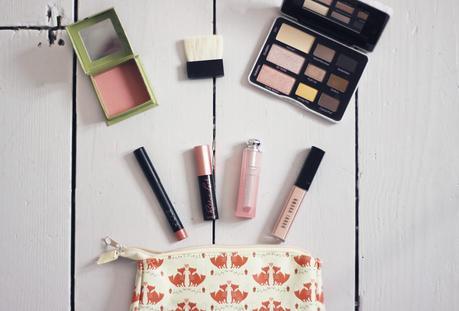 I love wearing makeup, and actually really enjoy taking the time to sit down and apply it in the mornings, but sometimes there just isn't enough time to be faffing around with lots of different products and you just need something fuss-free and easy to apply. I've found myself a makeup look that can get me ready to head out in about 5 minutes, and here's how... 
I've been skipping on the foundation recently and heading straight to concealer because, not only does it save time but, touch wood, my skin seems to be okay at the moment. The Bobbi Brown Liquid Concealer is my favorite as it's really creamy and blends out like a dream, and the medium coverage means it doesn't feel too heavy on my skin. The price point is slightly higher, but in this case I'd definitely say it's worth it! With the skin almost done, to finish it off I just like to apply a little bit of blusher on the apples on my cheeks to pep up the skin and make myself look a little more alive. Dandelion by Benefit is one of my all time favorite pink shades, and the subtle shimmer running through really helps inject a healthy glow. 
For the eyes, a neutral shimmery shade is easy to pat on with a finger and make it look like you've made a little more effort. The TooFaced Natural Eyes palette has lots of options, and for days when I have a little more time, I like to use one of the darker colours as well to get some nice definition. I then top it off with lashings of mascara, Benefit's new RollerLash being my one of choice at the moment, and it's so great at holding a curl I don't even need to bother with lash curlers - another great time saver. Finally to finish off the look, this peachy pink lip pencil in the shade Second Chance from Zoeva gives a nice amount of color and means you don't need a lip liner, or the Dior Glow Lip Balm is an equally pretty option for when my lips need a little extra nourishment. 
And that's it. All thrown in my gorgeous makeup bag in case I need it again throughout the day and I'm ready to head out the door. What are your favorite products for a minimal makeup look?