Last week I said I'd show you what's in my daily make-up bag. Here it is: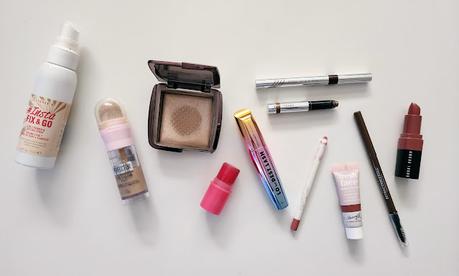 These are the products I wear every day when I'm working. When I'm not working I usually just use a brown pencil and that's it. 
Rimmel Insta Fix and GoI'm not attached to this. I'm just going through using up the setting sprays I have and this is the one that I pulled out. If I don't have another one in my collection I'll probably try the much raved about Charlotte Tilbury one. 
Maybelline Instant Perfector 4 in 1 Glow in shade 01 lightI'm not attached to this either. I have several other foundations that I like more, however I got this a few months ago and am going through it quickly so I'm using it daily until it's gone. Whilst it's a nice product it's not amazing. I need at least two layers to get the coverage that I like. I could use one layer and add concealer but I can't be bothered doing that so I just apply several layers. 
Hourglass Luminous Light PowderI've had this for so long it needs to go. It's a gorgeous setting powder and I'll happily repurchase. It blurs my fine lines and pores and makes my skin look smooth and lovely.  
100% Pure Pink Grapefruit Fruit Pigmented Lip and Cheek TintI suspect this may have been discontinued which is a shame because it's a gorgeous product. It smells good, lasts well and can be used on lips as well as cheeks. If you like a sheer but buildable blush this is worth checking out.  
Designer Brands Loudest Lash MascaraI love DB Mascara's, they're all I use now. This isn't my favorite of their range because it only comes in black and I prefer brown mascaras. Once I've used this up I'll switch back to my favorite Centre Stage Mascara.  
Colour Pop Lumiere Lip LinerI'm not loyal to any lip liner. As long as it's a soft, creamy, mid toned cool pink I'm happy. I was using a Pixie one that I loved but it's been discontinued so I moved on to the Colour Pop one. I love the shade and would purchase it again if I could buy it locally. Once this has finished I'll replace it with something in the same shade that I can buy locally.  
Physician's Formula Deep Brown Eye BoosterI have been using this for at least ten years. It's my all time favorite eye liner. I use it to tighline as I don't like the look of visible eyeliner on me. I have to buy it from iHerb now as I can't get it locally, but I'll continue to purchase it until it's discontinued. I've tried other brush style eye liners but nothing compares to this one.  
By Terry Bronze Moon Ombre BlackstarI do not love this at all but want to get rid of it. It's not awful, I just don't love it as it creases and I can't be bothered with that. When I'm at work I don't have time to be constantly checking my make-up, I need products that I can put on then forget about. Once this is finished I'll go back to my beloved Rimmel cream eyeshadows. 
Barry M Deep Rose Cheek and Lip TintOh how I love this. It's a gorgeous rosy pink tint that lasts all day on my lips. I put it on before lip liner so that even when my lip products wear off I've still got color on my lips. The pink shade is perfect.  
Models Prefer Medium Brown Retractable Brow PencilI'm not loyal to brow products. I usually use L'oreal or Rimmel but they were out of stock and Models Prefer was on sale so I picked up this one. The pencil is thicker and waxier than I like, but it does the job.  
Bobbi Brown Blue Raspberry Crushed Lip ColourThis is true love. I don't know why I haven't heard more about this shade, it's gorgeous. On me it's the perfect every day mlbb shade. If I ever use it up I'll definitely repurchase.
That's it. Basically my every day make-up can be summed up as light foundation, pinky mauve blush and lipstick, dark brown eyeliner, cream eyeshadow, mascara, brow gel, setting spray and setting powder. I don't bother with bronzer, concealer, contour or highlighter. My routine is quick and easy no make-up make-up.  If I had to replace my whole collection I'd just buy the products above with the addition of a clear lip gloss, a blue or gray eyeliner and a red lipstick. That's it. 
Do you have an everyday go to make-up routine?