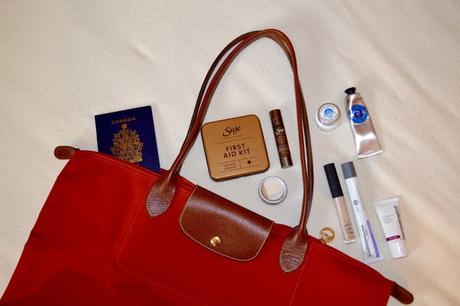 Long haul flight this holiday season? I'm sharing what I brought onboard for a 15 hour flight...with a BABY!
In the event you'll be traveling, even a short distance this holiday season, I thought I would share with you what I took along with me on a 15 hour flight, to create what I call my spa in the sky, screaming baby optional.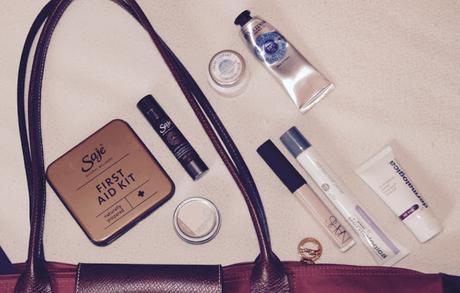 1. Natural remedies for typical travel ailments: One of the reasons I hate air travel is because I get really stiff and sore after sitting for long periods of time. My neck is sensitive and I am prone to stress headaches. Saje Natural Wellness has several saviour products that I use on a daily, and of course while I travel.  The First Aid Kit contains 4 remedies including Stress Release Tension Reducing Remedy,

this product works wonders to alleviate symptoms of mild anxiety such as restlessness and nervousness. It comes in a handy roll on which I apply to my neck before take-off. I also found a few months ago that when I am experiencing a headache this miracle product actually alleviates the pain after applied to my neck. 
2. Also from the geniuses at Saje, the Arrive Revived remedy is a must have!
3. C-thru skin treatments are awesome because you can wear them around the house without frightening the crap out of your husband if he happens to bumps into you in the washroom. They are also awesome because that means you can basically wear one at any time, in public, without anyone noticing. This includes during your next flight! Yep, I like Dermalogica's multivitamin power recovery masque which helps sooth stressed skin, and when is a better time to do so? Since you're trapped in a tin can in the sky you may as well keep your skin healthy while you're at it. 
4. My skin dries out big time whenever I'm on a plane. All of that recycled air is just not good for anybody's skin. The last time I flew I relied on 
L'occitan en Provence and two great skin care products. The hand and foot cream duo and Ultra Rich Comforting Cream, which is formulated with a high concentration of Shea Butter, and therefore is perfect when the moisture is being sucked out of your skin during a plane ride. It really is soothing. 
5. Lastly, just before I land I like to freshen up and try to look less like a Zombie who was just run over by a bus. The beast way to achieve this is to toss on some easy cover up. I rely on Dermalogica's redness relief primer, which also is spf20, and it works wonders for me. I then apply NARS concealer under my eyes and over any blemishes and simply blend with CLEAN finger tips. 
Do you have an inflight beauty routine? Share in the comments below, and let me know if any of the products I mentioned happen to be your fav as well.