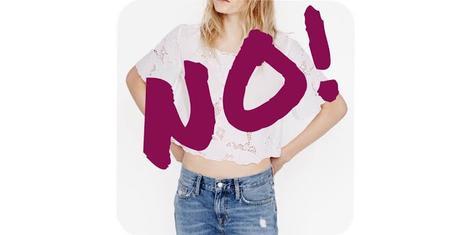 Trust me, there are MUCH better sartorial options out there! 
Now that I got your attention I can admit that I don't necessarily need you to run off and burn your cop tops. But, based on a recent personal experience I thought it was necessary to share my thoughts on why mature, mindful woman should invest in something better than a crop top. 
I know crop tops are trendy right now but after being inspired by my favorite online shopping site FarFetch, and a blogger content pack I recently perused through, it dawned on me that there were MUCH better options out there. Oh ya and of course theres that personal experience I mentioned...check out my melodramatic story, below.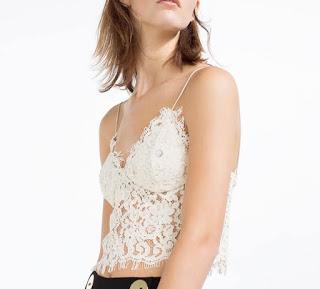 What you're most likely to find at Zara and similar stores these days..
Recently I went shopping for my "summer wardrobe" cause to say my wardrobe needed an overhaul was an understatement. I hadn't shopped for myself in two years. Well, maternity clothing excluded. I had been pregnant for most of 2014 and nursing and trying to loose weight for all of 2015. Having finally reached my goal weight I decided it was finally time to go shopping. 
So I set out on a shopping spree while my husband watched our daughter. After hours of trying on clothing and searching stores at my favorite mall I came out with ...one t-shirt. My husband was shocked! He asked, "That's it ? Do you want to go back tomorrow ?" So actually I visited that mall twice in one day. Then twice the week after . I was on a desperate mission, searching for something , anything in my size . Something that wasn't a fudging crop top. You cant say I wasn't dedicated! 
My number one issue was that my go-to store, Zara, had changed a lot since I last frequented its racks. I used to get my dress pants and cute blouses from Zara, fun patterned pants, and denim shorts. But when I tried on literally half the store this time around I was confused to find that nothing even fit over my head. 
No my head didn't grow after having a body. Rather it was a case of the shrinking clothing. It turns out the mass produced clothing has been shrunken to appeal to European and Asian markets. I promise this is a real thing.  I'm now a size 6 yet a medium or even a large didn't fit me. So I did some research . I'm not the only one questioning the accuracy of the Zara sizing. Apparently fast fashion brands such as Zara, Topshop, Forever21 etc appeal to "skinnier" clients . Their cuts are now strictly geared toward the European and Asian markets. As a result Zara is actually struggling in the U.S . 
Take a look at the interesting history of woman's clothing sizes in North America. In 1958 a woman with a 34 inch bust and a 25 inch waist was considered a size 12. Today the clothing sizes for those proportions would be more in the 0 - 8 range . With most stores only selling up to size 12 this means that if your proportions are something like, say 29 inch waist and 38 inch bust, you couldn't shop there. You are a size 16 if those are your proportions. And let me just say that those are some sweet proportions. By no means over weight and totally curvaceous.  
So sizing aside, and if you look past those damn crop tops, my final issue was the noticeable lack of quality in the garments you find at your local shopping mall. Chain stores, the ones that sell these affordable fast- fashion items now fall into the category of "disposable clothing". There is a HUGE difference between disposable clothing and well made clothing from better quality fabrics utilizing higher end manufacturing techniques. 
So now back to my wardrobe conundrum. I figured that I needed one pair of dress pants, several nice blouses , well made work out pants, a few pieces that could transition to fall easily (cause lets face it summer in Toronto is hardly the season to invest in) and zero crop tops !! ;) 
Below is my own Farfetch Edit of items currently available on their site. You just cant beat well tailored pants, luscious fabrics, eye catching patterns. Because crop tops ain't got nothin on Givenchy pinstripe blazers! Check out my picks below and let me know in the comments if you have experienced a recent "case of the shrunken clothing"? Do you notice a visible decrease in the quality of fast-fashion these days?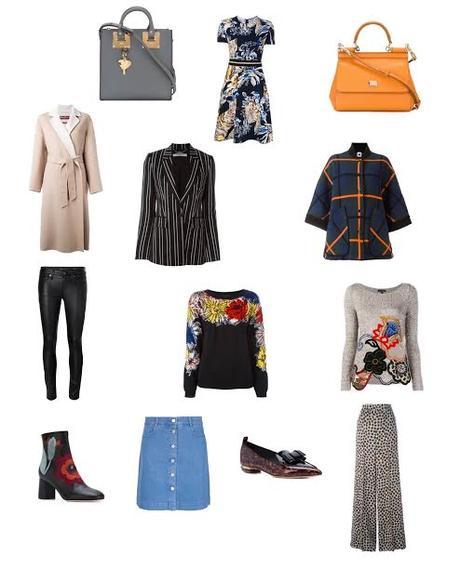 Stella Mccartney Cat Print Dress
Dolce & Gabbana Bag
M Missoni Oversized Coat
Etro Embellished Jumper
Etro Floral Print Trousers 
Nicholas Kirkwood Loafers
Stella Mccartney Denim Skirt 
Moschino Floral Jumper
Red Valentino Floral Booties
Saint Laurent Skinny Trousers
Givenchy Pinstripe Blazer
Max Mara Coat
Sophie Hulme Tote