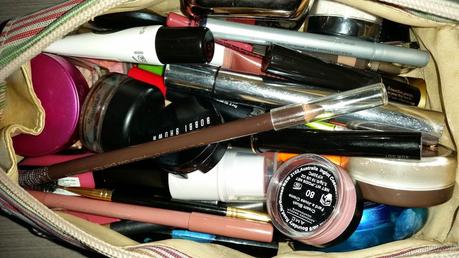 I'm sure I'm not the only one who loves looking at people's make-up bags and seeing what's in there. Make-up bag posts are one of my favorite posts to read on other blogs, so I have no idea why I don't post mine on a more regular basis. Today I'm showing you the products in my daily make-up bag.  
In an effort to actually use up make-up and to make my life easier in the mornings, I now have my daily make-up in a medium sized make-up bag. It makes the morning so much easier because I'm not sifting through my stash trying to decide what I want to wear, I just grab whatever is on top of my make-up bag and off I go. Gone are the days where I used to experiment with make-up and wear a different look every day, now I'm just about making myself look alive and semi decent.
Soon I'll do a post on the make-up I carry around with me, that'll be a very short post though because it's mainly just lip products.
As you can see from the photo above, things are getting a bit crowded, I need to do a clean out.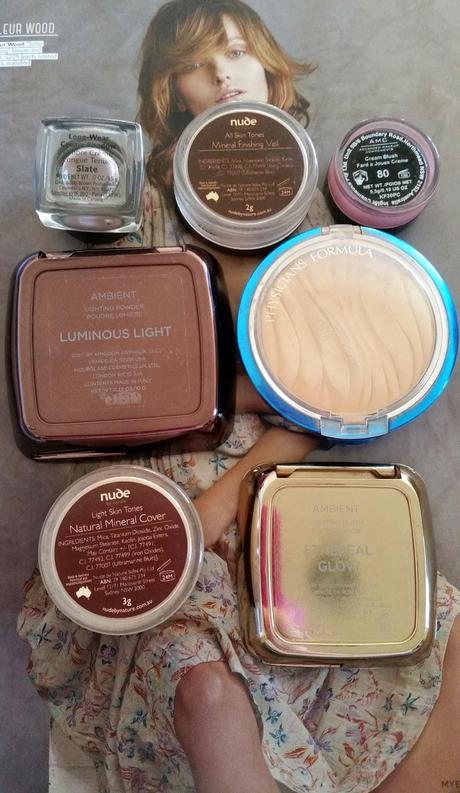 Bobbi Brown Slate cream eyeshadow, Nude by Nature mineral foundation and finishing powder, Inglot cream blush, Hourglass Luminous Light Ambient Lighting powder, Physician's Formula Mineral Wear powder, Hourglass Ethereal Glow Ambient Lighting blush.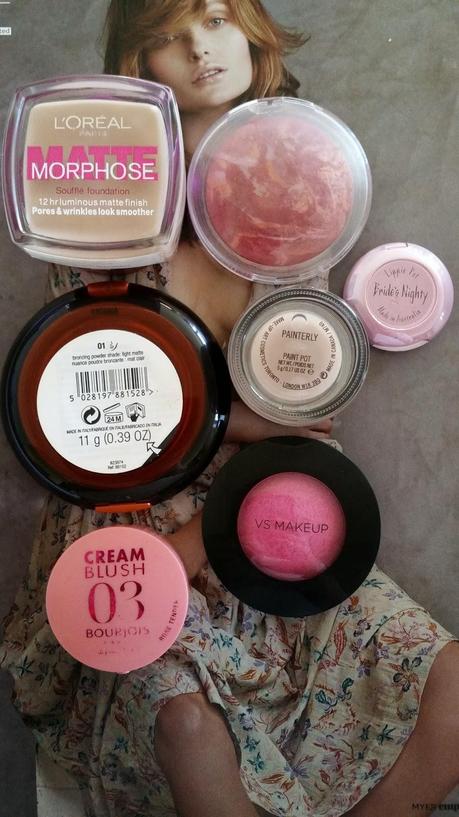 L'oreal Matte Morphose foundation. This is my HG foundation and it's been discontinued, I'm going to be so upset when it's finished, finding a good foundation is so difficult.
Essence Swirlpool baked blush, The Body Shop Honey bronzer, MAC Painterly paint pot, Harlotte Bridges Nighty lipstick, Bourjois cream blush, Victoria's Secret blush.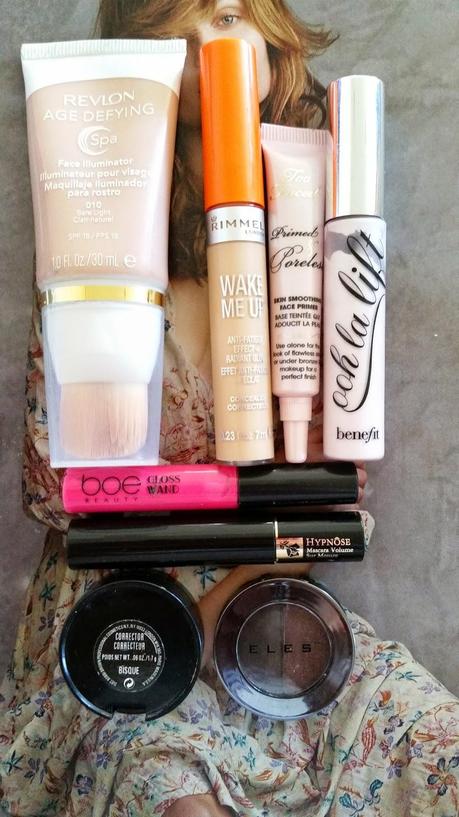 Revlon Bare Light Skinlights, Rimmel Wake Me Up concealer, Too Faced Primed and Poreless, Benefit Ooh La Lift!, boe lip gloss, Lancome Hypnose mascara, Bobbi Brown Corrector, Eles Chocolate Spice eye liner.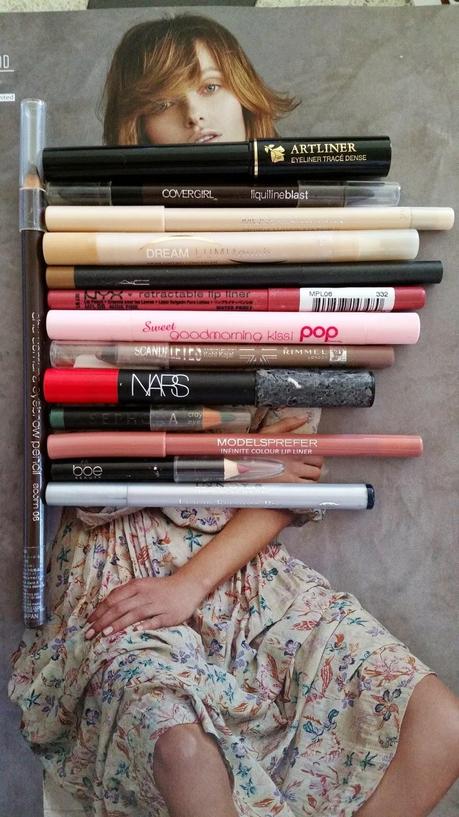 Shu Uemura Hard Formula brow pencil, Lancome gray Artliner, Covergirl Liquiline Blast, Models Prefer Nude Appeal Infinite Colour eye pencil, Maybelline Dream Lumi Touch concealer, MAC Brow thingo - the name has worn off but it's a thick, waxy stick that I never use, it needs to go in the B2M pile. NYX Nude Pink lipliner (I have no idea why they call this nude, it's far from nude, bright pink would be a more appropriate name). Pop Beauty Sweet Goodmorning Kiss, Rimmel Taupe Scandaleyes, Nars Dragon Girl, Sephora eye pencil, Models Prefer Always Nude Infinite Colour lip liner, boe lip pencil, Innoxa Navy Liquid eyeliner pen.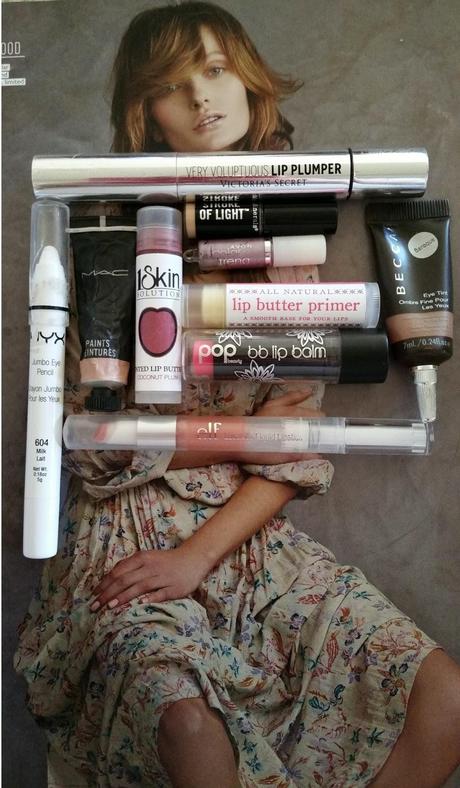 Victoria's Secret Very Voluptuous lip plumper, NYX Milk Jumbo eye pencil, MAC Untitled paint, 1Skin Solution Coconut Plum tinted lip butter, Bare Minerals Stroke of Light, Avon cream eyeshadow, Live Beautifully Lip Butter primer, POP BB lip balm, elf Luscious Liquid lipstick, Becca Baroque eye tint.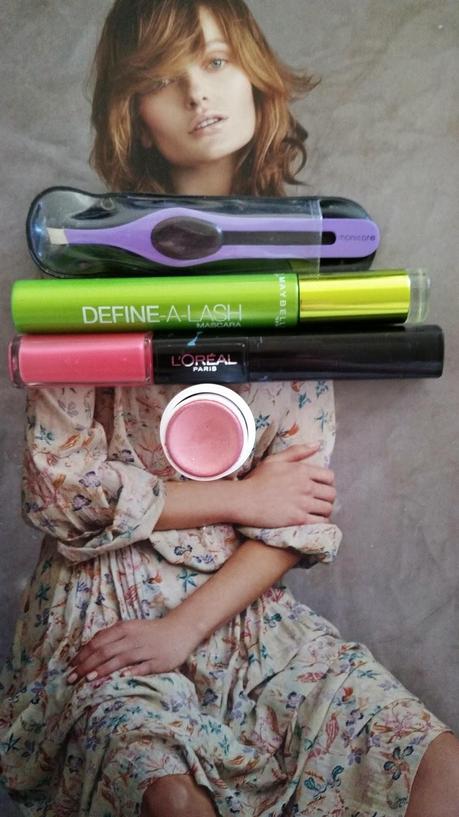 Manicare tweezers, Maybelline Define-a-lash mascara, L'oreal Blossoming Berry Infallible two step lipstick, elf Pink Lemonade All Over Colour.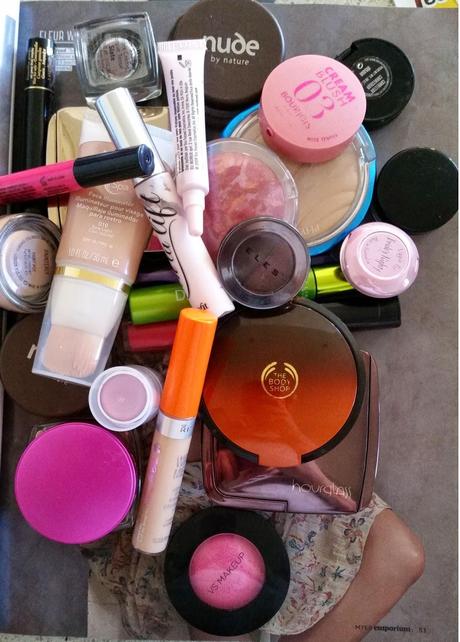 Everything all in a pile, or two piles to be precise.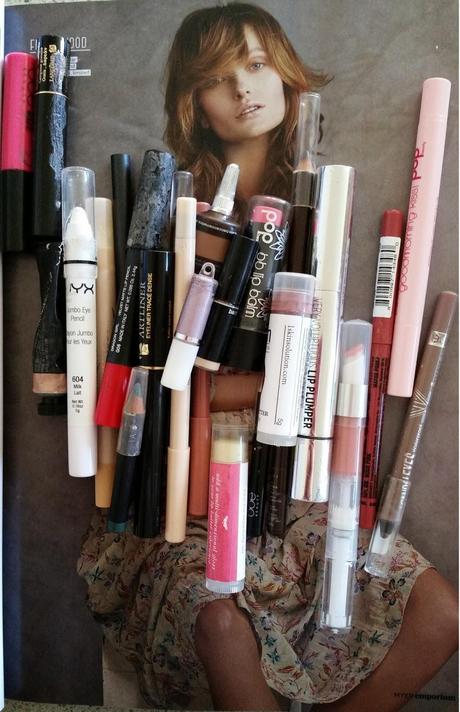 If there is anything you'd like to know more about or see swatched, please let me know.