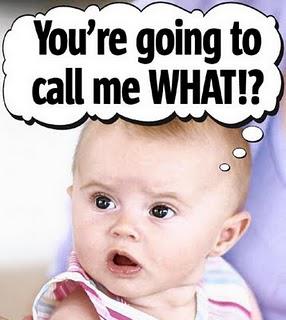 M
y son, who is a teacher in China, has the cutest stories. His students range from adorable little first-graders who still have their baby fat and who I'd like to adopt; to sassy, clever tweens; to studious, watch-me-kick-American-ass adults.
I love to hear him talk about what it's like to live in China, how Americans are viewed, and how different his way of life is there, especially compared to the college apartment he lived in before moving there. (Less beer, more money, to sum it up.)
But lately, I love hearing about his students' names.
Chinese people have an English name that they use whenever they're in an English speaking situation. When they're at English school, or if they're doing business with English speaking people, or in any situation when their real name is sure to be badly pronounced or the user is unable to write or understand Mandarin, which is pretty much every situation involving an American.
They sometimes don't choose English names like Mary or John, instead they choose English words that sound nice when they speak them. I'm pretty sure they don't care about the meaning of the word, because once it's their English name, that's what the word means.
I was laughing at some school papers my son showed me and noted that a large number of his students were named Tom. "And what's with
Die Van Gogh
?" I asked.  "Is that really his name?"
Yes, that's his name. And that was only a sample. One of the teachers made a list of all the funny names that the students at their school have. In addition to Die Van Gogh, some of the boys' names are:
Marker
Clever
Pizza
July
Rainbow
Garchomp
Celine Dion
Jacket
Mello
Mr. Bean
Mr. T
Dragon
Meghan
Stone
Rock
Anakin
Elvis
Gandalf
Satan
Supervisor
Poni
Dracula
Tiger
Tide
Vito
King
Bobo
Hermione
Aggie
Amy
Sunny
Washington
Columbus
Go-go-boy
And here's a sample of the girls' names:
Renee
(pronounced Rainy)
Abby
(pronounced A.B.)
Rainbow
Mermaid
Cool
Snow
Wonderful
Mushroom
Elodia
Eisley
Sweety
Shadow
Echo
Coco Chanel
Mumu
Stop!
(with exclamation point)
Hepburn
Tulip
Oliver
Hellothere
Anna2
Ice
Luna
Happy
Dimples
Pirate's Baby
My son's own students include boys named Apple, Dracula, Doomsday, Lupinelee, Stroumedere, Caesar, Clinton and Report, and girls named Louisiana, Wasabi, Yummy and Clevery. And a bunch of Toms.
I can imagine the teachers have some fun with the names when grading papers.
"Great report, Report!"
"Ice, Ice, baby, what were you thinking with this essay?"
"Keep up the good work, Stop!"
"Renee, Snow and Sunny should not be working on group projects together. Too much conflict."
"If Yummy, Rainbow and Dimples should ever team up to go up against Dracula, Doomsday, Satan and Dragon, call Disney studios: There's a movie in that."