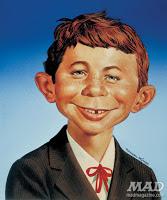 So what's with AOL these days?  You can be sure if the headline reads "The 10 Best New Cars" you'll get a long article about buying used cars.
My "home town" is in north central Florida.  Here's a few items AOL provided as my "local" news:
   "Wisconsin Assembly approves Milwaukee Bucks arena deal
   "Orlando Predators defensive back took the long route to football
   "If USOC finds a new city, Boston debacle could be forgotten."
Then there's this "news" item:  Seniors are looking for pot-friendly states in which to retire.  Really?  Like the most important factor for deciding where to retire for seniors is whether they can get legally high!  Sheesh!
Did your hear that Mark Cuban, billionaire owner of the Dallas Mavericks, is very excited about Donald Trump's candidacy for the Oval Office?  Isn't it nice when billionaires cozy up to one another?  Trump, in turn, has said he likes Cuban's team.  I wonder if they get together for coffee just to reminisce about the many rungs on their respective ladders to success?
The Arizona Cardinals just hired Jen Welter to be their coach - the first female coach in the NFL.  Can you imagine Ms. Welter running around the field during Cardinal training sessions, right in the middle of 300 pound behemoths?  What could go wrong?  And from what I've been reading in the media the past few years, some NFL players get their kicks beating up on women.  Be very careful, Ms. Welter!
This was a big news item on AOL today.  Blake Shelton moved wife, Miranda's, "stuff" out to the front porch!  Holy Crap!  Are you as tired as I am of hearing about Blake Shelton and Miranda Lambert's "He cheated, no she cheated" marriage problems?  Divorce already and shut up!
Walter Palmer is a dentist from Minnesota.  He's also a killer.  He's killed big game all over the world.  It gives him a thrill.  And he does it legally with all the necessary permits and guides so everything is OK.  Not long ago he killed one of Africa's most famous lions, Cecil; with a bow and arrow.  Just for the hell of it.  Fun and games.  Hey, Walter, that lion was your cousin, you stupid jerk!
Have you noticed that fruit is smaller this year?  I didn't think so.  But evidently that is the case, due in part to the ongoing drought in California.  Smaller fruit is sweeter, though, but that has not translated into bigger sales.  Evidently Americans like their fruit big, like their cars, houses, boobs and most everything else.  One good thing out of all this though, is there may be fewer fruitcakes given out next Xmas!