Style is personal and so is fashion!
But when you are ruling a stage and teaching the masses how to dress right, you really have to have a mass appeal. If not more, you atleast have to have an outstanding personality within your close fraternity and have the ability to convince people that you are stylish enough to talk of style.
Recently, saw a show of 'What Not To Wear', on TLC India, hosted by Soha Ali Khan and Aki Narula and have been wondering why would Soha Ali Khan dress people right.
Clad in a plain blue t-shirt, plain pink pants and matching plain blue shoes, she looked like an ambassador of 'colour block' trend that's honestly done with. I am also bored of her never changing middle partition hairstyle. 
I respect her and adore her for she is a woman of great lineage, a great actor, has a beautiful heart and can easily be termed as 'beauty with brains' but I strongly feel that she was not the appropriate pick for the show. I would also say that the stylist of the show could have changed this perception but that's not happening either.
Just want to conclude saying, "She is styling people but who will style her?"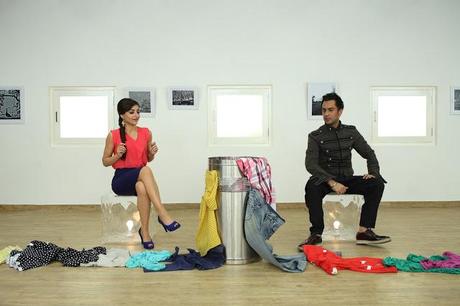 Image Courtesy: 
http://blogs.bbcworldwide.com