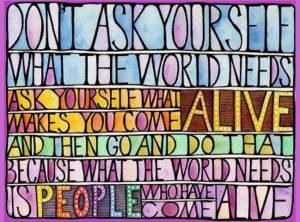 Yesterday I saw this picture on my Facebook feed and it made me feel alive. I'm grateful I know what lights my fire and I'm committed to doing something for it every day.
Acting and writing allow me to connect to people through storytelling, to explore ideas, perspectives and the many facets of life. I've dedicated myself to these things because I love them, and I'm so grateful there are jobs out there that let me share this value with the world.
But I also know not everyone feels like they've found what makes them come alive. And it can change depending on life stages, personal circumstances, experiences and even our values. So it's not always easy to know what makes you come alive, but sometimes there are clues.
What is it, in everyday life, that brings a smile to your face? What's something that you always want to make time for? Is it a particular topic of conversation, a social situation, or maybe something like watching kids play together, working out or gardening? Maybe it's a combination of things.
I'm no expert at this – I think it's one facet of life that always keeps us on our toes – but I do believe it's important to consider, explore and revisit the things that make us light up. Because when we find it, we can bring value to everything that we do.
Filed under: Acting, Personal, Writing Tagged: acting, Facebook, life, passion, what makes you come alive, Writing