I assume everyone tries to save some money to put aside because you never know what life throws at you. An accident, an illness...  Scary thoughts but it is best to get prepared for such conditions.   Legal And General has recently published an online calculator which is very interesting. Their research shows that 

on average, 

people in the UK could be on the breadline in just 29 days. Shockingly, this reduces to 14 days for working age families (18-64 year olds). Click here for the deadline to breadline calculator.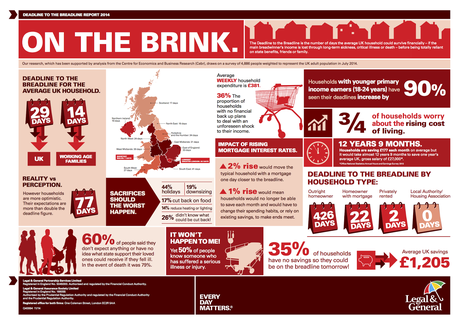 It got me thinking on how long we would survive in such a case.




What luxuries could we give up to get things better?




In our case, I could not live without my phone. 




I love buying stationary. Growing up, my dad had a stationary shop and we always had the chance to pick up whatever we liked. I think I could save some money reducing the amount I spent on notebooks,pretty papers and  washi tapes!




I could also live without my coffee machine. It makes lovely 

cappuccinos

 but let's face it! Those pods cost a lot. Also herbal teas are better for health!!




Which luxuries can you live without? 


This is a featured post.
Thank you so much for stopping by! If you enjoyed this post, please join us on Facebook,Twitter,Pinterest and G+. Click on the buttons on the right hand side to follow us on these platforms.