I took the quiz (which only takes 60 seconds) to see what shopping tribe i belonged to and was quite surprised to find i'm a High Street Pounder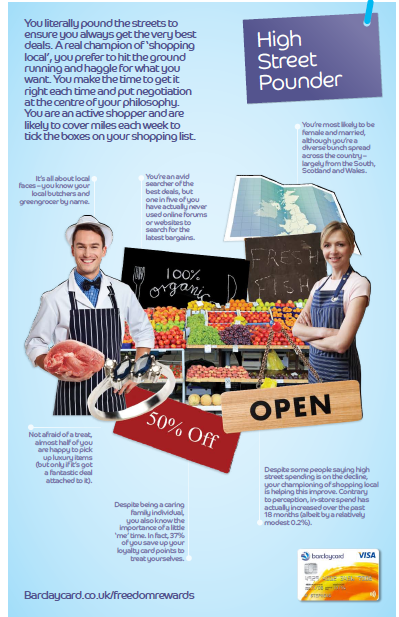 You literally pound the streets to ensure you always get the very best deals. A real champion of 'shopping local', you prefer to hit the ground running and haggle for what you want. You make an effort get it right each time and put negotiation at the center of your philosophy. You are an active shopper and are likely to cover miles each week to tick the boxes on your shopping list. Key facts about you:
You're most likely to be female and married, although you're a diverse bunch spread across the country - largely from the South, Scotland and Wales.
It's all about local faces - you know your local butcher and greengrocer.
You're an avid searcher of the best deals, but one in five of you have actually never used online forums or websites to search for the latest bargains.
Not afraid of a treat, almost half of you are happy to pick up luxury items (but only if it's got a fantastic deal attached to it).
Despite some people saying that high street spending is on the decline, your championing of shopping local is helping this improve. Contrary to perception, in-store spend has actually increased over the past 18 months (albeit by a relatively modest 0.2%).
Despite being a caring family individual, you also know the importance of a little 'me' time. In fact, 37% of you save up your loyalty card points to treat yourselves.
Some of this is true about me, but some is not (local fares and being married) but i do still like to shop on the high street (although i will often find it on the high street then look online for a good deal) and i do love a treat and me time. 
Now onto the good bit, the lovely people at Barclay Freedom Rewards are offering one of my lovely readers the chance to win a £60 Amazon voucher, which is perfect for buying
Christmas
gifts or treating yourself. All you need to so is take the quiz and leave me a comment telling me which tribe you belong to, simple! And i will pick one lucky reader at random, You can take the quiz at http://www.barclaycard.co.uk/freedomrewards/whats-your-shopping-style/ and Good Luck!c

Follow on BlogLovin
-
Like on Facebook
-
Follow on Twitter
- Follow on Instagram
*This post was written in association with Barclay Card Freedom Rewards