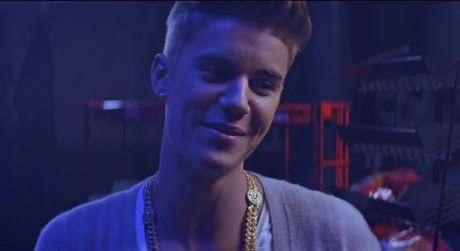 Justin Bieber
At the end of his VMA performance on Sunday night, Justin Bieber began to cry. This image has already launched debates about his motivations and as someone who has spent the past 4 years immersed in a movement to end men's violence against women by critically examining the destructive way men are socialized and the unhealthy standard of masculinity they're trained to embody, I was fascinated by this moment. But the focus on what was essentially a few seconds of his performance overlooks the many other ways Bieber's entire performance of his new single "What Do You Mean?" encapsulates the current experience of young heterosexual men in America in a largely unprecedented way.
First, Bieber models a complex attention to consent. I have spent the past four years traveling the country talking to high school and college-aged men about many topics related to masculinity, but especially about healthy sexuality and sexual interactions. In that time, I can't recall ever seeing a mainstream artist encapsulate such a healthy, deliberate approach to sexual consent with a female partner.
"What do you mean? / When you nod your head yes / But you wanna say no," Bieber sings. Not only does he model wanting to meet his love interest's desires as much as his own, but Bieber also admits that he's unclear about what those desires are. Especially in the context of a society that equates masculinity with self-assured certainty, this acknowledgement is crucial. By pondering what his partner actually means, Bieber unveils that there is strength in being curious and even uncertain about what his love interest wants — and that admitting that rather than guessing or making assumptions is likely the best thing for everybody involved.
Bieber also importantly acknowledges this remaining uncertainty even after his partner says "yes." In the midst of rising conversations about and policies advocating for affirmative consent, Bieber asks men to really question what enthusiastic consent looks like. If one's partner is saying yes, but is clearly held back by something, they should not move forward and use that "yes" as a means of self-defense. Men are constantly trained to defend themselves in these situations — to blame their partner, all women and even feminism for their own choice to cross boundaries. Bieber asks for the truthful perspective of his partner when men are usually taught that their own opinion of the truth is fact. He asks, "What do you mean? / When you don't want me to move/ But you want me to go."
But even beyond sexual consent specifically, Bieber highlights a major conflict at the heart of modern-day masculinity. Years of talking to straight men has taught me that when it comes to making decisions, they're often torn between genuinely wanting to listen closely to the women in their lives whom they love and value, and the destructive masculinity standards that encourage them to break rules and take risks to appear strong and, therefore, desirable.
These standards, of course, don't force men to rape: Men obviously make the choice to sexually assault another person, and, in fact, studies show that most rapes on campuses particularly are perpetrated by a small group of repeat offenders. But this common internal conflict does shed light on why so many men stay silent about this phenomenon — why they refuse to intervene or push back on the destructive phenomenon more generally.
And yes, of course, the part of the performance that has garnered the most attention — the fact that Bieber dared to display his emotions on one of music's largest stages to the roar of a giant crowd — is also important. Doing so modeled to young men everywhere that crying is not an act of weakness. It proved that there is strength in showing emotions other than anger. It, and his entire performance, serves as a reminder to men everywhere: Be yourself and, if something doesn't feel right, admit it, ask, and learn.