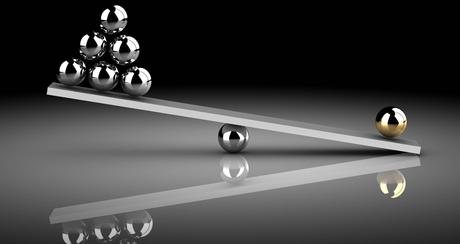 What is your unfair advantage?
When I was 12 years old, I remember pitching in a game with the winning run on third base with the game all tied up.  There were less than two outs and if the runner scored, the other team would win in walk off fashion.  I decided to go from the wind-up thinking that if the runner broke too early on a squeeze play, I'd notice it and still have time to adjust.
Sure enough, as soon as I started my motion, the runner took off towards home plate.  I casually continued my wind-up delivery.  The batter squared around.  The squeeze was on.  I don't remember what pitch the catcher called for but it didn't matter.  I knew what I needed to do.  
I drilled the batter right in the back with a fastball.  (Note: I do NOT recommend or condone teaching this to players)
Their bench erupted thinking they had just won the game.  They didn't.  A "dead ball" was declared on the hit batter and the runner had to go back to third base.  I pitched my way out of the inning and my team ended up winning in extra innings.
I don't share that to toot my own horn.  I share that story because when I was a young player, I had a major unfair advantage.  As soon as I picked up a baseball I was learning how to play the game from a former major league pitcher (my grandfather) and former college player and coach (my father).  Needless to say, I was learning things about the game at age 8 that many college players were not learning.  I mean seriously, what 12 year old would decide on his own to go from the wind-up for the reason I mentioned above and then be able to make that adjustment in the middle of a delivery?
I realized early that knowing how the game worked on that level was my ticket to success.  Other players may have been faster and stronger with better arms but I was able think circles around them.  That was my unfair advantage.
Every player needs to recognize what their strengths are and turn at least one into an "unfair advantage."  For some it could be their natural running speed and base stealing ability.  For others it may be hitting for power.  It could be their catching behind the plate.  It could even be their competitiveness or their never-give-up attitude.  Whatever it is, their unfair advantage makes them the best at it and therefore very valuable.  "Best" always has value.
When you identify your most valuable strength, learn everything you can about it and practice it until you master every aspect.  Make it what you are known for.  Force other teams to adjust to it.  Be so good at it that your opponents fear you.  It takes a lot of work but if you want to keep playing at the higher levels, at least one thing has to separate you from everyone else otherwise you are average.  Average isn't "best."  Average is easily replaced.
What's your unfair advantage?