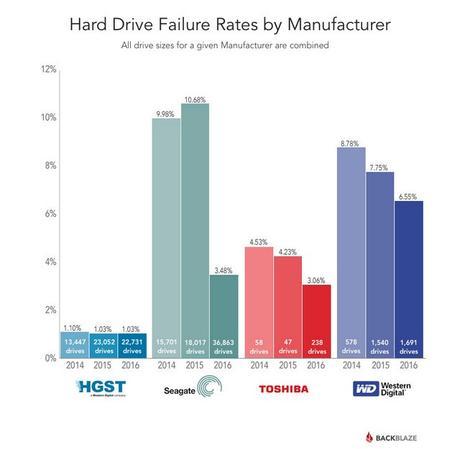 The rate of failure with the number of hard drives used by the company.
As you can see in the chart, Seagate seems to have improved their hard drives significantly over the last couple of years, managing to reduce the number of hard drive fails in 2016 down to only 3.48%.
Western Digital seems to have the highest number of fails while HGST is the least likely to fail. HGST is a company own by Western Digital, providing data storage options to only big data companies.
Considering the number of drives used and the rate of failure, I'd certainly avoid using Toshiba and Western Digital drives.
Read Backblaze's full blog post for more info.
(All images, trademarks shown on this post are the property of their respective owners)
Follow @nrjperera – Roshan Jerad Perera