In today's complex world of refrigeration, two types of appliances reign supreme: the side-by-side refrigerator and its similar but distinct sibling, the French door refrigerator. These two appliance options have dominated the designer kitchen space for quite some time now, edging out the older, utilitarian-looking designs of top- and bottom-mount freezer fridges. But which one, if either, is right for you? Let's take a look at the distinct differences between these two types of refrigerators to get the scoop.

What Is a Side-by-Side Refrigerator?
A side-by-side refrigerator is one that has a slim freezer compartment and a slim refrigeration compartment which run side-by-side from the top of the unit to the bottom. There are no individual drawer compartments that slide out with their own drawer, though there are inside drawers. Typically, the refrigerator side of a side-by-side fridge accounts for about three-fifths of the total fridge capacity. In total, these models offer about 21.5 to 30 cubic feet in volume.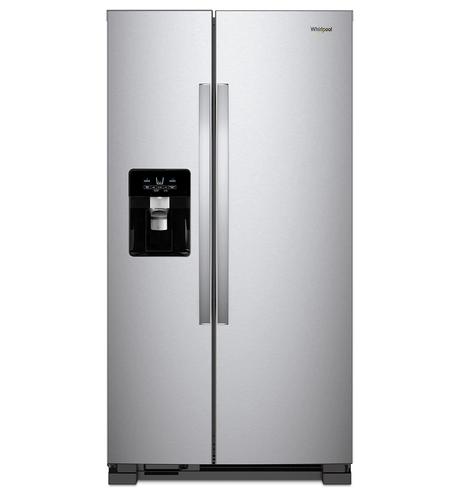 Whirlpool Side-by-Side Refrigerator
Benefits of a Side-by-Side Fridge
KitchenAid Side-by-Side Refrigerator
What Is a French Door Refrigerator?
Style-wise, side-by-sides tend to emit classic and retro vibes, harkening back to kitchen designs from the 1970s through the 1990s. They're also remarkably sleek and elegant, so they're perfect for homeowners who love a clean or minimalist feel. They come in a wide range of finishes, colors, and styles to match any kitchen, and virtually all of the big appliance manufacturers make their own versions. Like all modern fridges, they can be as high-tech and fully equipped or as simple as you'd like.

KitchenAid Multi-Door Refrigerator
Benefits of a French Door Fridge
Whirlpool French Door Refrigerator
Both a Great Choice for Style and Function
It Provides Easy Access to Both Compartments - With the side-by-side, fridge and freezer are treated equally access-wise. You get convenient access to both the main cooling area and the main freezing area and can arrange food based on what you reach for most often. With food easy to reach at any level, this is a great choice for homes with kids.
It Offers More Door Storage - Sauces, dressings, condiments-there never seems to be enough room for them in other kinds of fridges. Luckily, with the side-by-side, there are plenty of door compartments to keep all these jars and bottles neatly in their right place and easy to grab.
It Usually Has More Freezer Space - The freezer often gets the short end of the stick when it comes to modern fridges, but side-by-side options can change that. Many models of this style feature more freezer capacity and shelf space than top- or bottom-mount freezer options. This makes it a good choice for families that like to stock lots of frozen foods.
It Offers Plenty of Space Overall - Both french door and side-by-side fridges are top-notch picks for bustling families, offering as much as 30-plus cubic feet of food storage space. It may take a bit more work to organize based on what you need to access the most, but the slim compartments make all kinds of storage simple.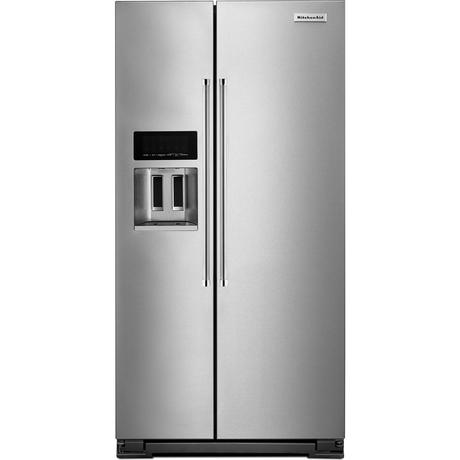 Unlike the side-by-side, a typical french door refrigerator is made with a refrigerator compartment with double doors on the top and then a slide-out freezer compartment on the bottom. They're similar in size and volume to side-by-side fridges, usually offering between 20 and 27 cubic feet of food storage space. Of course, the wider main compartments simplify chilling sheet pans, baking racks, and other larger items. They also often include separate cooling drawers with individual climate controls.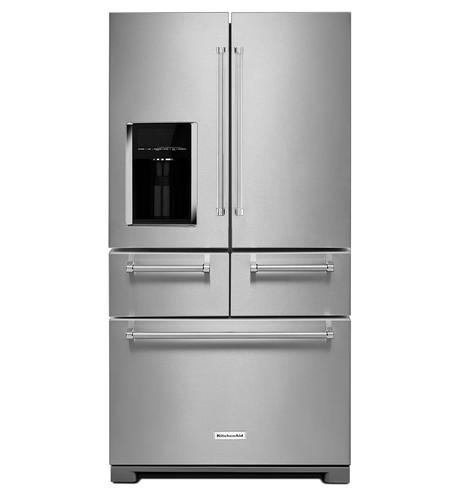 Because they made their debut in the 1990s, french door fridges tend to err on the contemporary side, offering more of a high-style and high-tech vibe. With that being said, they can fit right in with traditional and rustic kitchens as well, depending on the finish or model you choose. Truly, these models fit in anywhere, especially when you consider some of the cool new colors and finishes available.

It Uses Less Energy - Generally speaking, french door fridges rank lower on the energy consumption scale. This is, in part, because they allow you to open only part of the fridge at a time, allowing less energy to escape. Make sure to check the EnergyGuide Label to compare usage.
It Features Larger Compartments - If you do a lot of baking or cooking in large batches, you're going to need ample room to store those sheet pans and baking trays. French door fridges open up to a wide, open compartment that lets you store wider and bulkier items.
It Offers Easier Access - You may know that top-mount freezer refrigerators are more efficient than most other styles of fridges, yet they get virtually no love from consumers. What gives? The fact is that we don't open the freezer nearly as often as we open the fridge, so having to bend down to access it is a drag. The french door option eliminates this problem and keeps oft-accessed compartments within reach.
It's Modern and Stylish - The stylish simplicity of this type of refrigerator helps it edge out the competition a lot of the time, ensuring that it remains in style for the foreseeable future. And, since it's virtually synonymous with high-end, stylish kitchens, you can't go wrong with this choice!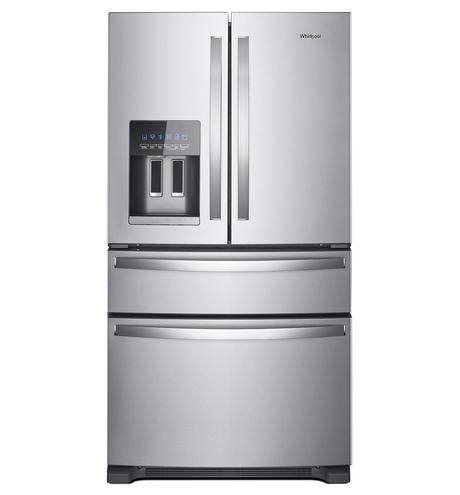 If you're weighing your options between a french door or side-by-side fridge, you're already most of the way through your journey! You really can't go wrong with either of these options, especially if you stick with highly rated models by brands like Samsung, KitchenAid, LG, GE, Whirlpool, Maytag, or Frigidaire. And, at the end of the day, as long as your choice suits the needs of your family and your kitchen, you can rest easy knowing you've made a good decision.