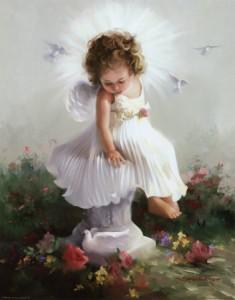 When I see the term "Angel Baby" I think of a baby loss that has happened late during pregnancy, at birth or after being born. I see many mothers calling an early miscarriage an "Angel Baby" too.
I have suffered 2 miscarriages, both before 9 weeks of pregnancy, I do not call those losses "Angel Babies". I have suffered 2 miscarriages, which many women do. But when asked how many children I have, I have 6, not 6 alive and 2 Angel Babies.
Miscarriage is the loss of a pregnancy at any stage up to the 24th week. A loss after this time is called a stillbirth. Most miscarriages occur before 13 weeks of pregnancy, but some occur later.
About 1 in 7 confirmed pregnancies end in miscarriage. But, the rate of miscarriage is much higher than this. As many as 1 in 4 pregnancies end in miscarriage. This is because in many cases a very early pregnancy ends before you miss a period, and before you are aware that you are pregnant says http://www.patient.co.uk.
I guess if I had lost a baby later during pregnancy then yes, it would be more traumatic and I would class that as a lost baby, maybe even an Angel Baby. Am I wrong to believe a loss in early pregnancy is sadly just a miscarriage?
To be honest I really do not know what an Angel Baby is, yet see the term used frequently by mums on my Mums Facebook Group.
Is an Angel Baby used as a term to describe an early miscarriage?
Is an Angel baby a loss during pregnancy at a specific time?
Is an Angel Baby a baby who has passed away during or after birth?
Is an Angel Baby who passed away at any time after being born into the world?
Just what is an Angel Baby?