If you've browsed through your fair share of luxury kitchens, you may have noticed a recurring theme-namely, that they all feature high-end refrigerators with a custom, integrated look.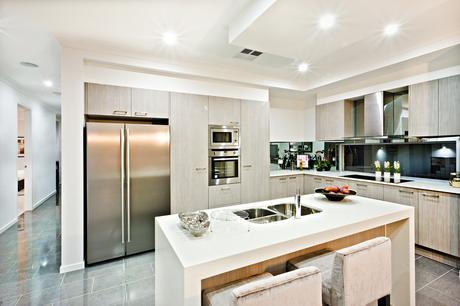 While these built-in refrigerators offer a seamless design and a high-end look, the high price tag that comes with them can be a major obstacle for homeowners. Fortunately, installing a counter-depth refrigerator in your kitchen can help you achieve a similar look for much less.
What exactly are counter-depth refrigerators, and are they a good fit for your kitchen? Let's take a closer look.
Standard-Depth vs. Counter-Depth Refrigerators
Unlike built-in units, standard-depth refrigerators and counter-depth refrigerators are both freestanding units. The difference between these two freestanding units is how much they protrude from your kitchen cabinetry.
Standard Depth Refrigerators - Standard refrigerators are typically 35-36 inches deep, while your kitchen counters are only 24-25 inches deep. Put simply, a standard refrigerator is naturally going to stick out roughly six inches or more from the kitchen cabinets, which doesn't look nearly as polished.
Counter-Depth Refrigerators - Counter-depth refrigerators have a shallower depth (normally 24 inches, with three inches for door thickness) and are thus designed to fit in seamlessly with your kitchen cabinetry.
Keep in mind that counter-depth refrigerators will still jut out slightly from your countertops. However, it's far less noticeable than a standard refrigerator and will cost you thousands less than a true built-in fridge.
Why Choose a Counter-Depth Refrigerator?
While it's true that most people want a counter-depth refrigerator for its seamless design, there are other benefits to this type of unit. Counter-depth refrigerators are shallower than standard refrigerators, which makes it easy to grab items from the fridge.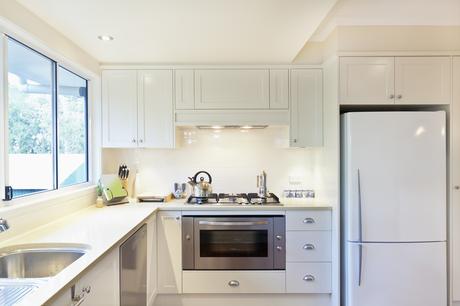 The shallow depth also makes it easier to see everything in your refrigerator. This helps reduce the number of nasty surprises you might experience when you suddenly find old food hiding in the back of your fridge.
Is your ultimate goal to make your small kitchen more functional and pleasing to the eye? A counter-depth unit can help you achieve both by saving valuable wall space and giving your small space a modern look. Plus, you won't lose much space in your fridge because most counter-depth refrigerators make up for it in their extra height and width.
The Best Counter-Depth Refrigerators
Counter-depth refrigerators have become increasingly popular in recent years. Today, there is now a large selection of counter-depth refrigerators in various brands and styles.
Which counter-depth refrigerators will best suit your needs? Here are just a few of our top picks:
Best Counter-Depth French Door Refrigerator: KitchenAid KRFC704FPS - The KitchenAid brand has long been recognized for its quality refrigerators, and this counter-depth french door refrigerator is no exception. Featuring fingerprint-resistant stainless steel and nano-etched shelf edges to contain spills, this nearly 24 cubic-foot refrigerator is a worthy addition to any home.
Best Counter-Depth Side-by-Side Refrigerator: Whirlpool WRS571CIHV - Whirlpool is another reliable refrigerator brand worth considering. This stylish unit features fingerprint-resistant, odor-eliminating technology and a temperature management system to keep food fresher for longer.
Best Bottom Freezer Counter-Depth Refrigerator: Summit FF948SSIM - Working with a small space? This 22" 8.8 cubic-foot top freezer unit is thin and small enough to fit into tiny spaces. It also has a stylish, stainless-steel finish and features reversible door swing for increased flexibility.
Best Top Freezer Counter-Depth Refrigerator: KitchenAidKBBL306ESS - This ENERGY STAR counter-depth refrigerator features a stainless steel finish and a matching platinum interior that will fit into any luxury kitchen design. This unit also has ball-bearing rollers and glides in its crisper drawers to allow an easy in-and-out movement when loaded.
Things to Consider
There are plenty of reasons to choose a counter-depth refrigerator for your home. However, there are a few things you'll want to keep in mind before you buy:
Price - Although a counter-depth refrigerator will cost you far less than a built-in unit, it's going to be more expensive than your standard fridge. In fact, the higher price tag is usually the first clue that you're looking at a counter-depth refrigerator and not a standard.
Measurements - Don't forget to measure your space and check the dimensions of any counter-depth refrigerator you're eyeing. Getting the true dimensions of a counter-depth refrigerator can be surprisingly tricky due to variances in refrigerator models, kitchen cabinetry, backsplashes, and trim.
When installing your counter-depth refrigerator, make sure to leave around two inches of space between the cabinet and the refrigerator for proper airflow. Having too little space between the two can negatively impact your refrigerator's performance and potentially push it into an early grave.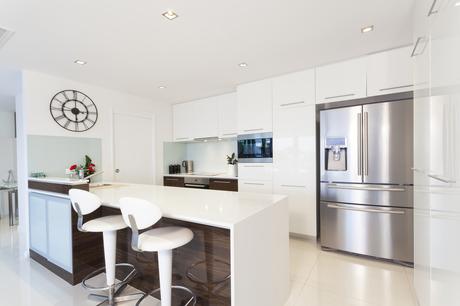 Investing in a Counter-Depth Refrigerator
While counter-depth refrigerators are pricier than your standard refrigerators, the hefty price is well worth it for the built-in look and space-saving benefits you get in exchange. Don't forget that you can take advantage of financing options to get the counter-depth refrigerator you want without needing to pay for it all upfront.