One of the bourgeois-bohemian, of course! I'll admit I only became familiar with the term since living in Paris. David Brooks, author of Bobos in Paradise, defined bobos as "highly educated folk who have one foot in the bohemian world of creativity and another foot in the bourgeois realm of ambition and worldly success." In reference to the French version, The New York Times explained: "Bobo takes over where the old Mitterrand-era label "gauche caviar," or caviar socialist, left off. Less political and more materialistic than that group, French Bobos design their lifestyles in a mix that includes the rarest luxuries, middle-class classics, senior citizen string-collecting strategies and student-style cheap 'n' chic." What a classification, huh?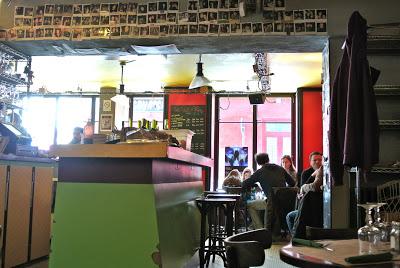 Especially as I apparently live amongst them. While researching my post on Joséphine Caves Parisiennes, I found a negative review which read: "someone in the 17th has told their friends that there is a cool underground rock club on rue Moret and they are bringing their HSBC gold cards in droves." Ahem. Though I recognize the privilege I have to be pursuing a master's degree in Paris, please know that I am living completely on loans and only have flexible spending money because I reside in a true chambre de bonne. And, 9/10 times I brunch on the weekends, I do so at my neighborhood 3 Pièces Cuisine.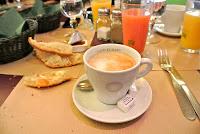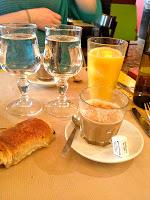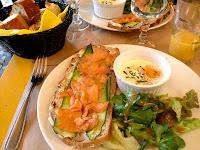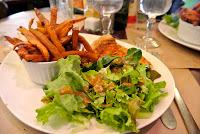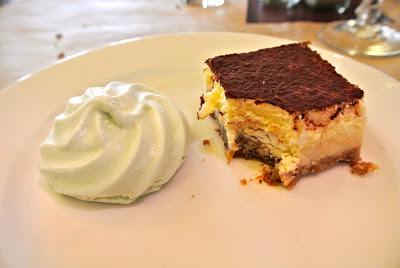 This casual, hipster-like eatery is both cool and cheap. For only 11€, half the price (or more) of most Parisian brunches, I can enjoy a noisette, fruit juice, croissant or pain au chocolat, quiche/tarte/tartine with salad, fries, and/or maybe a baked egg, plus dessert. The coffee may not be "the best" but the overall brunch is great fuel for an afternoon of studies. It's so nice to have such an affordable habit in the 17ème. Maybe one day I'll be confident enough in my French to check out the happy hour scene; according to one Parisian twenty-something I recently met, 3 Pièces Cuisine becomes a pretty fun bar, too... bobo

 or not.