Not a whole lot, it would seem.
This past weekend, I enjoyed a number of new experiences in Boston. Yes, this was my third trip to the city, but my best friend, Emily, made sure nothing overlapped with my last visits--or very little, at least.
What made the weekend even more exciting was that it fell in line with two holidays--Cinco de Mayo and the Kentucky Derby. Needless to say, there were many festivities going on around the city and we definitely joined in the fun.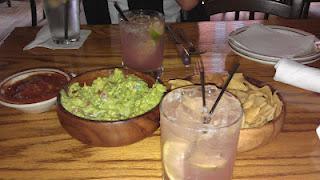 Papagayo chips, guac and pomegranate margarita
Shortly after I got off the plane and met Emily at her office, we made our way to a Mexican restaurant,
Papagayo
in the Waterfront District, and got the party started early, ordering the special margarita of the day, along with some chips, freshly made guacamole and quesadillas. We spent most of the afternoon catching up on each other's lives, getting lost in long conversations about jobs, relationships, the future and random stories that only best friends can understand. Before the day got too nostalgic, Emily's coworkers met us out at the bar for some Corona's, sangria and more margaritas--and an over abundance of chips and salsa. Before the drinks could hit us too hard, we left Papagayo and headed over to Emily's apartment in the swanky Beacon Hill neighborhood.
We quickly dropped off bags, changed outfits and headed out for the evening to Harvard Square, the hipster-filled neighborhood right next to the Ivy League university. There we met up with Emily's friends at
Border Cafe
, a Mexican and Cajun-style restaurant. The place was packed with a variety of groups, from bubbly students to young businessmen to growing families. The restaurant was vibrant and bright, with banners, streamers, and sombreros hanging all over the colorful walls. It was a battle just to reach the bar, where I had to scream our drink order to the bartender. Luckily, he's used to the wild atmosphere, and delivered our margaritas in a flash, poured perfectly over ice and rimmed with salt. We had to wait for about half an hour before being seated, but we had our deliciously strong margs to keep up happy, so definitely not the worst wait I've ever had a restaurant.When we sat down, the waiter brought baskets of warm chips and scrumptious salsa. We all ordered more margaritas and beers, and then put in our dinner orders. I got chicken enchiladas, with a side of beans and rice...all for less than $7. So much great food for cheap, and in Boston (well, Cambridge), it was awesome! We finished off the evening at Cambridge Common, where I tasted a local brew called Narrangansett (I'm not clear on the exact pronunciation, so please don't ask).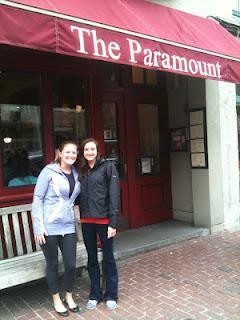 I would have liked to spend more time in
Harvard Square
, it was super cute and eclectic, with so many different shops and eateries and attractions. The neighborhood has been around for over 100 years, so it holds a lot of history and culture, on top of a modern atmosphere. Emily has already put it back on the list for my next visit.
The next morning, Emily and I got up and went to brunch at a famous joint in Beacon Hill called
The Paramount
. This legendary spot has been around since 1937, serving up breakfast, lunch and dinner, cafeteria-style all week long. The line can stretch out the door, and when we got there, it was nearly there. But Emily told me it was worth the wait, so we stuck it out. I kept looking for a hostess to put our name in for a table, but I was quickly informed that is not the way it works here. You wait in line to order your food, and they will not seat you until you have your meal. This guarantees that food is served hot and fresh, made right in front of your face. You just have to hope that a table opens up by the time you reach the counter. At first, I wasn't sure this system would be efficient, but I was pleasantly surprised. Tables consistently turned over, and no one was ever left standing with plates in their hands waiting for an opening. I ordered a spinach, feta cheese and tomato omelette, and Emily got the broccoli and cheddar omelette, both served with toast and home fries--which are some of the best I've ever had. After breakfast, we had a girly afternoon filled with manicures, pedicures and shopping along Charles Street.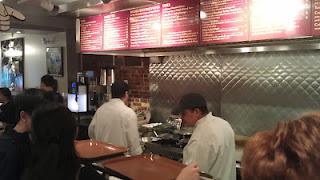 Paramount Kitchen

That evening, we hopped on the T and made our way to Central, another neighborhood across the Charles River in Cambridge. We went over to one of Emily's friend's apartments where we watched the running of the Kentucky Derby. (We put a friendly wager down, and I ended up picking the winning horse, I'll Have Another!) We had a couple drinks there and then went to grab a quick bite before meeting a few more friends out at Miracle of Science Bar, which fosters a peculiar--yet awesome--fascination for chemistry, making it the epitome of geek-chic. It's menu is hand written on the wall in the form of the table of the elements, and the crowd is varied between hipster artists and adorable nerds.  After one or two beers there, our crew made our way over to
The Field
, a divey, Irish pub that was oddly welcoming despite being somewhat dark and dingy. The crowd is laid back, friendly and fun, and there are plenty of ways to keep yourself entertained, including pool tables and darts, which our group gladly played until closing time.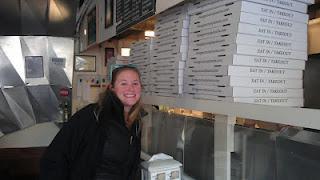 Emily with the Upper Crust boxes
Sunday, Emily and I woke up late, and slightly hungover, but nevertheless eager to jump into the day. Emily planned for us to go to the Red Sox game at 1:30, so we rallied ourselves and got ready. After a minor mishap with trying to print the tickets (I think my next gift to Emily will be a printer) we headed down Charles Street to grab a quick bite before heading to the stadium. We stopped at Upper Crust, another local favorite serving up large slices of thin crust pizza. I would have liked to try one of the featured pizzas, like the Beacon Hill (sun-dried tomato and breaded eggplant) or the Uncommon (bacon, pineapple and jalapeno pepper) or the Swellesley (Arrabbiata, with parmigiano-reggiano, chorizo, crushed red pepper, garlic, olive oil and basil). However, they only sell single pieces of cheese, pepperoni or the slice of the day. Lucky for me, the slice of the day was broccoli and feta, so we got one of each kind and split them.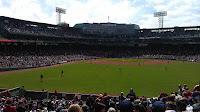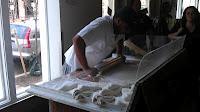 We jumped on the green line and made our way to Fenway, where the true Boston sports fans live and breathe for their beloved Red Sox. The area around the park is smorgasborg of pubs and bars, souvenir shops and food stands. The vibe is inescapable, and you cannot help but be pulled into the excitement, even if you aren't a Sox fan--and I'm really not. Still, I found myself cheering for them as they went up against the Baltimore Orioles. We were a little nervous about the weather, so we put on a couple extra layers in case it was too cold. But once we found our spots in the bleachers, we found we didn't need them at all. The sun was beating down so intensely, I peeled off everything until I was just in a tank top. I even got a sunburn! The Red Sox fell behind early, but managed to fight their way back with a grand slam from rookie Will Middlebrooks. At the end of the ninth, it was tied 6-6. Emily and I figured someone would score in the next inning or two, but we were wrong. The game turned into an epic battle, spanning 17 innings and nearly six hours. We left after the 12th, so we didn't see the end, but it was not a good day for the Sox.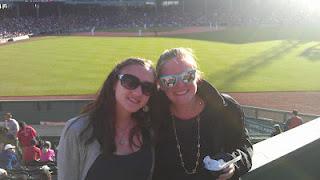 Emily and I had a pleasant stroll along Commonwealth Avenue, a beautiful street lined with old brick townhouses. We walked through the Public Gardens and Boston Common before strolling back into the hilly, tree-lined streets of Beacon Hill. Since I was in Boston, it was necessary to have some seafood, so we grabbed some sushi rolls from a place called Fin's right around the corner from her apartment. We brought it back to her place and enjoyed the delectable spicy tuna roll, Boston Roll and Rainbow roll, along with a lovely glass of Malbec.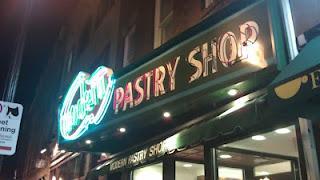 We were thoroughly enthralled with the season finale of Amazing Race as we ate our dinner, but we also had the thought of one of Boston's best desserts on our mind. (No, not Boston Cream Pie, though it is sinfully good.) The treat I am referring to can be found on Boston's North End, also known as Little Italy, in one of two famous pastry shops:
Mike's
or
Modern
. The dessert: Cannolis. There is a debate as to which one serves the best, and I was determined to try at least one from either spot. But Emily couldn't record the show, and the pastry shops closed at 10. What were we to do? We made an executive decision. Since it was a two-hour finale, and it would take us 40 minutes to get there and back, we opted to miss most of the first hour and run over to the North End, hopefully making it back in time to see the last crucial hour of the show.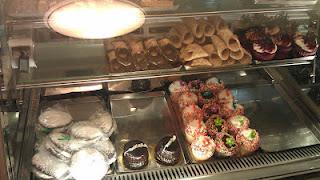 And so the race began. We walked--at a quickened pace--up to Faneuil Hall, through the Market and over to the North End. Again, I would have loved to spend more time in this area, with its Italian restaurants and cute boutiques. However, we were on a mission. Since we reached Modern first, that's where we went--and Emily insists it's actually better than Mike's. The second I walked in, I was in heaven. The treats lining the shelves transported me back to my days in Rome, and the desserts in the glass case made my mouth fill with saliva. Even though I was still somewhat full from the sushi, I knew I could make room for this. I ordered the chocolate-dipped shell with the classic ricotta filling, which they sprinkled lightly with powdered sugar. We practically sprinted back to Emily's apartment, with one or two close encounters with cars and cobble-stoned streets. Once there, we dove right into our cannolis, and much to my elation, it was phenomenal. I mean, there really are no words. It was all I could do not to scarf it all down in bite. I made sure to savor each moment.
The perfect ending to a fantastic weekend in Boston.