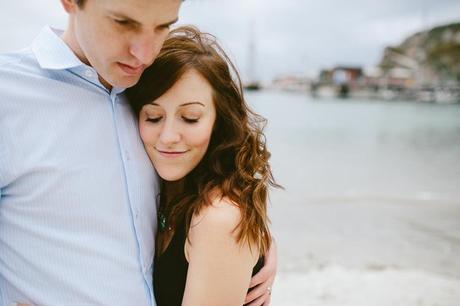 Brett and I have officially been together for ten years.
!!!
To write about this decade seems trite, because I know I cannot do justice with words what my heart would say about all the things I've learned, all the mistakes I've made, all the ways I continue to be surprised by Brett and the fact that he wakes up every morning and chooses to love me before pouring a bowl of cereal and turning on ESPN.
It's amazing, really, to love and be loved by someone for ten whole years. 
I've witnessed our love grow from infatuation to the kind of love where you see someone for who they really are—faults and all—and still love them in spite of those flaws. I can remember a time where I thought Brett had no faults at all, and he probably thought the same of me (maybe not, mine are more obvious). It was short-lived of course, in those few months and maybe even years leading up to our wedding where we basically thought the other person was perfect in every way and aren't we so lucky to have found each other?
I think we had been married for exactly two weeks when I realized just how imperfect Brett was. He probably started noticing my faults on day two of marriage because let's be honest: I was real selfish back then.
Our first year of marriage was hard. We argued a lot, bickered a lot, gave each other the silent treatment a lot. I slammed a few doors and cried somewhat regularly. I'm sure some people would say that maybe we weren't ready to get married at the ripe ages of 21 and 25 but to them I say, who is ever really ready to get married? What human is ever truly prepared to dive headfirst into selflessness and sacrifice?
We survived the first year. The second year was better. We adjusted to living together and created a routine that mostly revolved around frozen yogurt and reality TV shows and conversations about expectations. I learned to give him space when he came home from work and he learned to listen without giving advice. He accepted the fact that I never replace the toilet paper roll and I got used to the way he always gets water in the toothpaste cap. I vacuumed, he took out the trash, we each folded our own laundry. He helped me make this blog. I baked him chocolate chip cookies.
The hard thing about getting married young is that you're not only promising to love someone for the rest of your life; you're promising to love the person they will become for the rest of your life. 
I'm sure this goes without saying, but my 18 year-old self and my 28 year-old self are quite, quite different. Brett's 22 year-old self and 32 year-old self might as well be completely different people. Together we have morphed into new, grownup versions of ourselves: chasing dreams, succeeding and failing, experiencing identity crises every other year. We've lived out our entire twenties together, and how strange and wonderful it has been to do that as a team.
Together we have bought and sold a house, made two babies, and set up life insurance like a couple of responsible adults. We've traveled to Greece and New York and Las Vegas and Hawaii and learned how to share space in the same suitcase. We've experienced life and death and everything in between and learned how to love each other through the peaks of our greatest moments and through the trenches of devastating grief. Our marriage has survived every arrow thrown between us, thanks to God's grace and living room therapy (and real therapy once or twice).
We've witnessed miracles together, watched two pink lines appear on two pregnancy tests together, and cried together as our first son entered the world. We've watched each other become parents—an experience that at times, feels otherworldly.
We've seen our brightest mountains and darkest valleys in this decade, but when I think of the past ten years as a whole, I see mostly love and hard work. Because despite what you see outside this house, behind closed doors it is hard work to love someone every single day for ten years. It is hard work to put on a smile and ignore that crusty plate over there and apologize and forgive and stay up until 2am talking about your relationship when your relationship needs to be talked about. It is hard work to offer grace again and again, and again, and then again.
We are learning as we go, and it's safe to say that over the course of a decade, we've learned a lot. I've learned that sometimes you need to go to bed angry, despite what everyone told me before I got married. I call BS on that advice and offer the following instead: sometimes you need eight hours of sleep and the perspective of a pink sunrise in the morning to realize just how ridiculous that fight was. I've learned that our fights are rarely ever, ever about the dishes, they are always about Something Bigger than dishes. I've learned that appreciation—verbal and otherwise—go a long, long way in marriage. You cannot say "thank you" enough. You cannot say "I love you" enough. You cannot show your partner how grateful you are for their existence, their help, their support, their unconditional love, enough. The act of expressing appreciation is limitless, and yet there is always a shortage.
I've learned that marriage exposes you, brings sin to the surface, and forces you to confront all the things about yourself you'd rather keep locked away in a sock drawer for all of eternity. I never realized how hard I was to love until I married someone who loved all the rotten, selfish, stubborn parts of me.
I can think of a lot of things I've done right in this marriage, but I can think of more things that I've done wrong. Maybe Brett can say the same (you'll have to ask him).
But despite those wrongdoings and mistakes, despite the arguments and slammed doors, despite the harsh words we have said in times of anger and desperation, at the very core of our relationship, there is still love. There is friendship. There is hope and affection and honesty. I hate to oversimplify it, but sometimes simple is best.
Ten years later, in its simplest form: we still love each other. We're still standing in the kitchen with our hands intertwined, our toddler in the high chair and another baby kicking in my belly. We're still laughing at each other and laughing at ourselves and dreaming big dreams for this family of ours.
And as I look around the room before he leaves for work, with crumbs littered on the floor and a stack of unopened mail sitting on the counter and all of the exhausting adultness of our lives so very prevalent, I cannot help but smile and be grateful for all it.
Here's to another ten years, Brett. Thank you for choosing to love me every day. Thank you for leaving me the last of the milk, for putting gas in my car every Tuesday morning, for fixing my blog every time it needs to be fixed, for picking up Chipotle when I cannot fathom cooking, and for the million other tiny things you do for me. I love you today, tomorrow, forever.